Apart from big features like Next-gen alerts, Slack integration and Issue Configuration, we're always working on smaller enhancements as well. Last year we put together a list of ten little improvements, because around here it's not always the size that counts. After seeing how well it was received, we took the hint and decided to make it a tradition! Now the time has come to (re)introduce you to the next round of smaller features we've recently rolled out.
Let's take a look at them together!
1. Ignore a whole issue category
Don't care about a certain issue category? You can now ignore all its issues at once! Quick example: If you don't use Twitter Cards, ignore all issues from the issue header and we won't report any more problems we find related to them.

2. More context in broken links exports
When exporting pages with broken links, you can now also see the link target in the export to quickly identify the problematic pages.

Similarly, exports of broken links now also tell you where each link is coming from so you can get right to fixing them.

3. Export page relations
Another one for the exporters! Now you can easily export relations of a page, no matter what type they are. Just pick a link type in the Relations panel…

… and start an export from the top right corner of the screen.

4. Filter on changes in specific columns
When a lot of changes are happening on your website, it might be tricky to quickly find the ones you're looking for. Newly added filter options let you easily pick the relevant columns and see only the changes that affected them:
Changed in any selected column
Use this to find pages that were changed in at least one of the columns you've selected.
Changed in all selected columns
This will show you only the pages with a change in all the selected columns.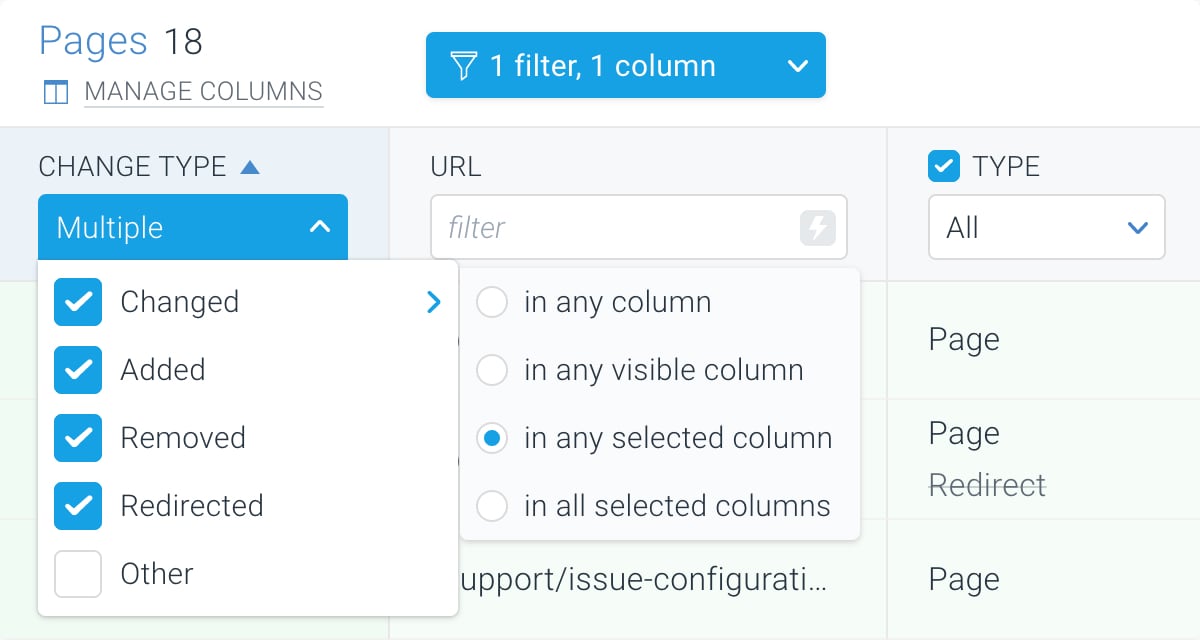 5. Set up HTTP Authentication
Do you have a staging or testing environment for your website? Letting ContentKing monitor it helps you discover nasty problems before they can make it into production. To make this even easier, we've recently started supporting HTTP Authentication, which you can set up in the Monitoring section of Website settings (opens in a new tab).

6. Discover pages missing from an XML sitemap
When it comes to a website size, only the sky's the limit, making it pretty tough to figure out which pages are in your XML sitemaps and which aren't. But not anymore! You can now easily filter in the In XML sitemap column on Pages to help you find the ones you are looking for.

Can't find the In XML Sitemap column? You can enable it by editing your Column Sets.
7. Search and segment on Discovered date
Looking for the recently added pages? Just filter on less than 7 days ago in the Discovered column on Pages.
TIP: Create a segment on this to have the new pages always right at hand.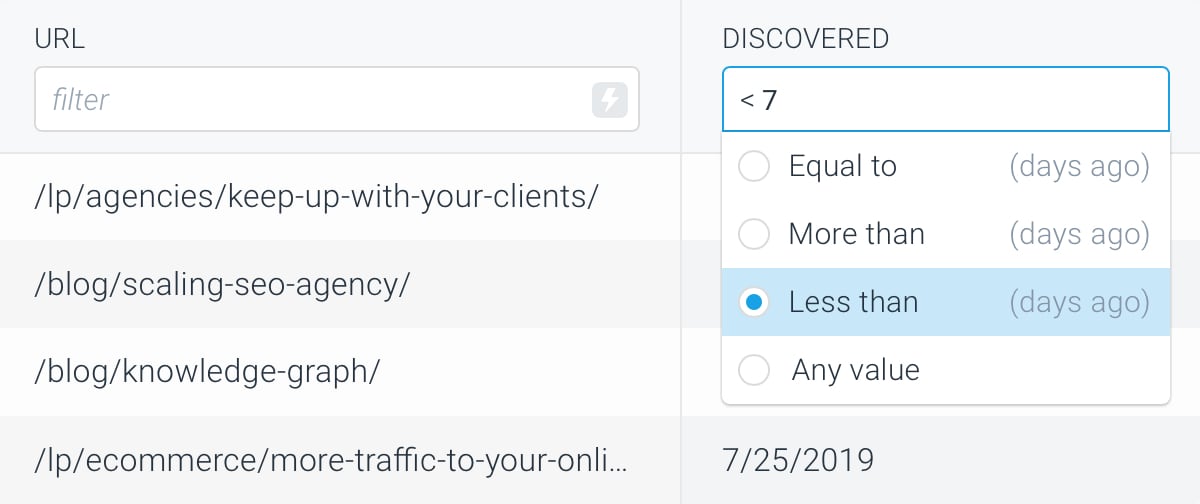 Can't find the Discovered column? You can enable it by editing your Column Sets.
8. See affected pages in one click
Red bars in charts on Issues are now clickable! Open any issue and click on the red bar to see which pages are affected in a single click.

9. Purge orphan pages
Want to clean orphan pages (opens in a new tab) from your website in ContentKing? You can now easily remove all pages that don't have any incoming relation by clicking on the Purge orphan pages button in the Website settings (opens in a new tab).

10. Export the list of XML sitemaps
Does your website have many XML sitemaps? We feel your pain: navigating through them must be a nightmare. Now you can easily export them from the XML Sitemaps viewer (opens in a new tab) to share them directly with your colleagues.