You stand at the challenging but exciting intersection of marketing and web technology — and you need to be on top of both. After all, the impact you can make as a technical SEO has never been bigger and the web is only getting more complex.
That's where ContentKing comes in. It provides all the data you need to excel, in real-time. What's more, it audits your websites around the clock and proactively alerts you to important issues. Your job is demanding enough as it is — it's time to say goodbye to all those hours or days stuck waiting for data collection to finish.
Trusted by the best
Join 2,000+ customers like:
Real-Time Auditing & Alerting
Protect your rankings against bugs and regressions
Traditional crawlers are reactive. You start them and then wait for them to collect all the data. That waiting is costly. Not only does it mean you're working with stale data, but in the time it takes to get the results, search engines may have already crawled pages 2 or 3 times.
ContentKing Monitoring™ is different. Our platform tracks your websites 24/7, auditing in real-time and proactively alerting you whenever your attention is needed. Leave the always-one-step-behind approach in the past.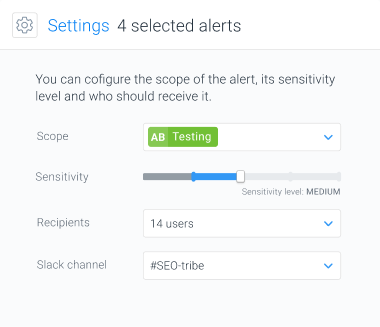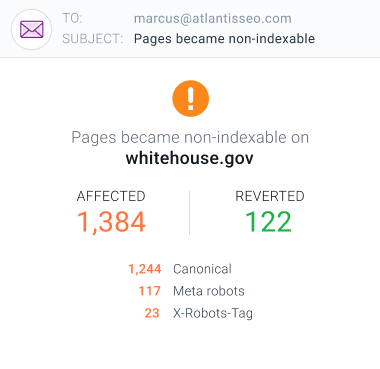 "Page titles were removed on 5,000 key transactional pages that were live and receiving a high amount of traffic. ContentKing rapidly alerted us, but this single incident could have cost upwards of $200,000!"
Change Tracking
A full changelog you can rely on
Monitoring is not "just" limited to auditing. Our unique Change Tracking™ technology records every technical and content change occurring on your websites, providing you with a full changelog.
Curious what changes were made yesterday, last week, or a year ago? No problem at all. All data is collected in a stateful index and easy to access using our lightning fast search. A true time-saver.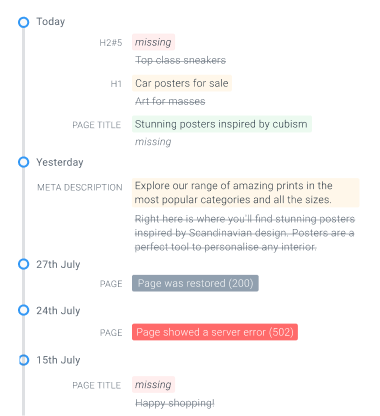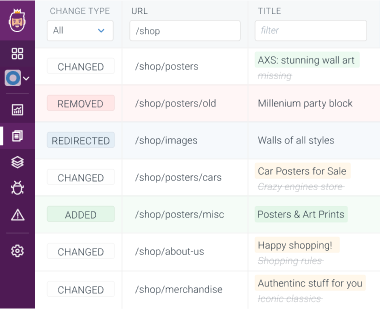 "We had several outages on Bitbucket.org and wouldn't have found out without ContentKing. That would have certainly cost organic traffic and business."
Advanced Configuration Options
Tailor the platform to your needs
We understand that no website, organization or challenge is the same. That's why ContentKing comes with extensive configuration options to tailor the platform to your workflow and priorities.
Set up advanced ignoring rules on several scopes and configure test parameters for our auditing engine. Define which alert types should be active, how soon specific alerts should trigger and their routing. And of course you have full control over how our engine should behave while monitoring your website.
So although ContentKing comes with smart defaults to get you up and running immediately, you have 100% freedom to adjust it to fit your exact needs.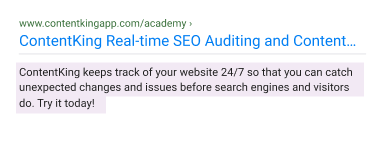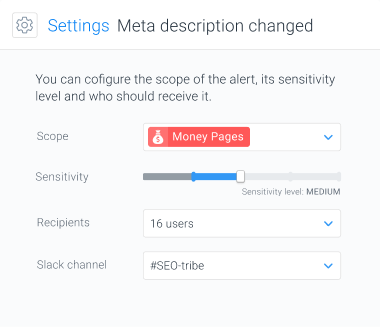 Integrate with our API
Use our API to work with your data in any way you want
Our platform provides all the functionality and data you could ask for, but you're not bound to working with our app in any way. Integrate with our well-documented APIs and easily extract all your data to integrate it with your existing tooling or other data processing needs.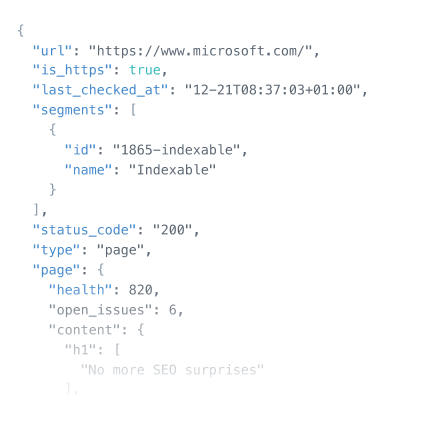 Your current data, ready and waiting, 24/7
ContentKing Monitoring™ removes the tedious process of manually collecting and processing data, and replaces it with a stateful index powered by lightning fast search. Access and work with your data — at any time, from anywhere. Always up-to-date, with continuous auditing and proactive alerting built in.
Discover why tech SEOs love ContentKing
Get up and running in 20 seconds
Trusted by the best
Join 2,000+ customers like: