What sets marketplaces apart from nearly all other websites is that the content is not created by an in-house team. Instead, you're dealing with a vast amount of content generated by your users and data feeds automatically adjusting your website's content.
But with so much content being created without your control, how do you know everything is working correctly? How can you keep track of the state of your content, and whether search engines can access it properly?
Simple: ContentKing.
Trusted by the best
Join 2,000+ customers like:
Content Overview
Get overview and know what to focus on next
ContentKing helps you quickly get your bearings on even the largest websites. Slice and dice the website in any way you want, and zoom in on exactly the sections that matter most to you.
Not sure what to work on next? ContentKing will tell you what parts of your website are doing the heavy lifting and which issues are holding them back, making sure your precious time is never wasted.
Having an actionable overview like this has never been easier.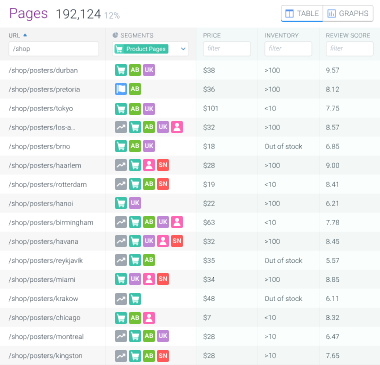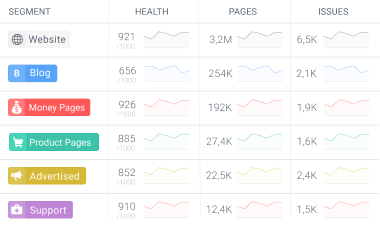 Change Tracking
Track user-generated and feed-driven content
The ContentKing platform includes proprietary Monitoring™ & Change Tracking™ technology to keep track of changes on your website 24/7. Quickly see what content was added yesterday, last month, or last year.
Deep-dive into changes made to individual pages or across the entire website. Whatever you need, you can rely on ContentKing's lightning-fast search and filter features to provide exactly the insights you need.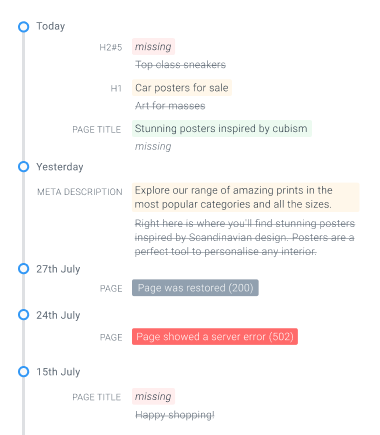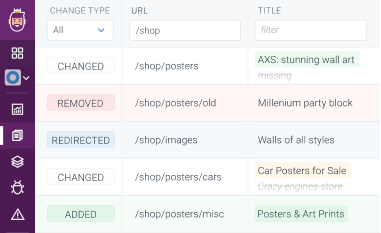 Real-time Auditing at Scale
Discover growth opportunities, in real-time
With content being added and changed continuously without anyone on your team involved, it's essential to keep up and make sure search engines can make sense of it all. That's why ContentKing does auditing in real-time. No more manual or scheduled crawling – continuous auditing ensures you're working with the freshest data and in line with the latest SEO best practices.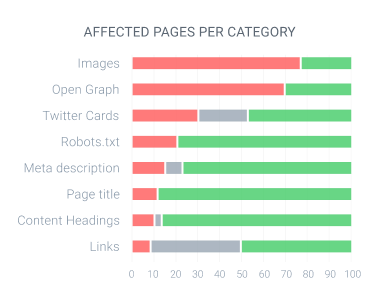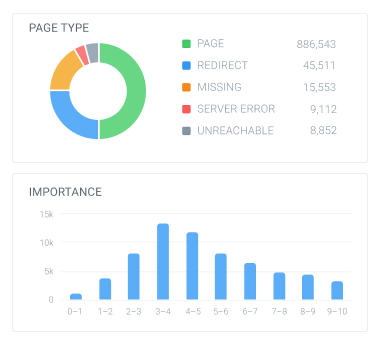 Proactive Alerting
Get notified when action is required
ContentKing Alerts™ let you leave the always-one-step-behind mindset in the past, where it belongs. As ContentKing monitors your website around the clock, it continuously keeps track of changes and audits your pages and sends instant notifications the moment it detects an issue.
For the first time ever, you and your team will be able to consistently fix problems before they impact your search engine visibility.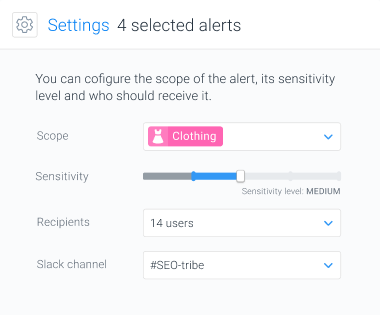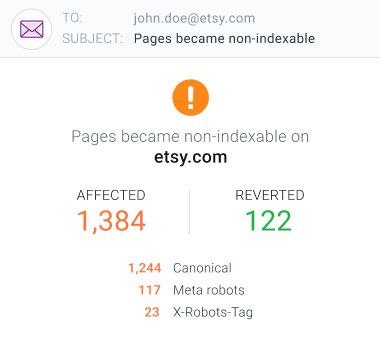 "A CMS issue caused our main SEO content entities to disappear. This had happened to us once before and back then it led to immediate drops in average ranking across our best performing keywords. This time we had ContentKing, which let us identify these issues and solve them before our keyword positions started dropping."
Take back control of your content
Dynamic content generated by users and automated feeds keep your machine running. It's time to get rid of the chaos that, up until now, has been part of the deal. Take back control and keep track of what's actually changing on your website. With ContentKing Monitoring™, Change Tracking™ and Alerts™, it's easy.
Take back control of your content
Get up and running in 20 seconds
Trusted by the best
Join 2,000+ customers like: