One thing our customers love about ContentKing is the vast amount of information they can work with on the Pages screen. But having all this information at your fingertips presents a relatable challenge: keeping an eye on the bigger picture.
Not too long ago we introduced the ability to customize the Pages screen, allowing you to select which columns you want to display. Today we're taking it one step further by rolling out Column Sets.
Get ready, use Sets, GO!
What information you need is always determined by the task at hand. Column Sets lets you isolate the data you need for certain tasks into groups and actively switch between them. Working on SEO? Use the SEO Set. Making sure your OpenGraph and Twitter Card implementation is correct? Switch to the Social Set.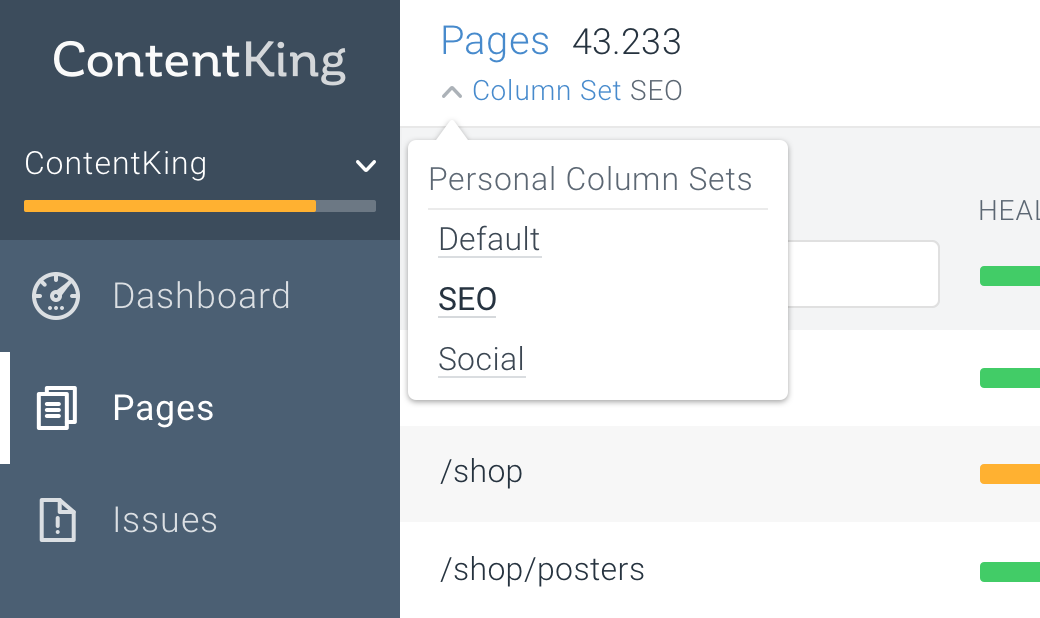 Out of the box, ContentKing comes with three default sets, but don't let that stop your creativity. Column sets are fully customizable and creating completely new sets is snap, so go for it!
Don't keep it all to yourself
Digital marketing is about teamwork. That's why you can share any Column Set with your team. When creating or editing a set, simply select whether you want to share the set with your team, or keep that beauty all to yourself!
Column Sets is a powerful feature that strikes a balance between having an effective overview of the situation and filtering the information provided to fit the task at hand. Make sure to benefit from this new feature today!