Content is your business. But creating and publishing it is only the beginning – at the end of the day, you need people consuming it. For most publishers, that's where Google and other search engines come in.
Given the enormous impact search engine visibility has on your bottom line, it's essential to keep track of what's changing on your website 24/7. What's more, you need to be proactively alerted about any problem that may impact your organic performance.
Trusted by the best
Join 2,000+ customers like:
Real-time Auditing at Scale
See how to improve and instantly index new content
You can write the best content in the world, but if search engines can't access or make sense of it, it's not going to perform well. That's why ContentKing audits your website in real time, immediately checking new content as it gets published.
Quickly discover technical issues on new or recently updated pages and how they impact search engine visibility. With ContentKing, it's all a breeze.
ContentKing also supports Real-time IndexNow, and can notify supported search engines when content is added, updated or removed on your site, all in real time.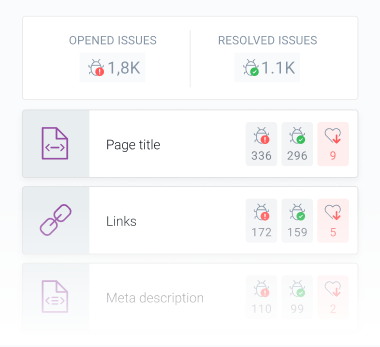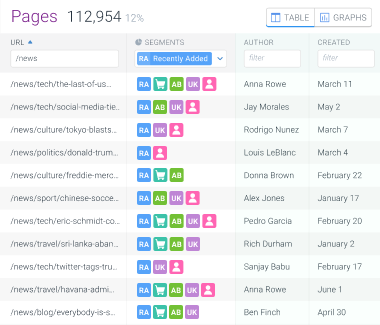 Content Overview & Change Tracking
Keep track of content being created and updated
If there's one industry where content production dwarfs almost every other, it's the publishing industry. At those immense volumes, though, how do you keep track of it all? How to see what content has been created, and what's been updated? That's where ContentKing comes in.
Our unique Change Tracking™ technology makes sure you're aware of every change that matters. Instantly see what content was added yesterday, last month, or a year ago. Deep-dive into changes made to individual pages, or across the entire website. Whatever you need, you can rely on ContentKing's lightning-fast search and filter features to supply you with actionable insights.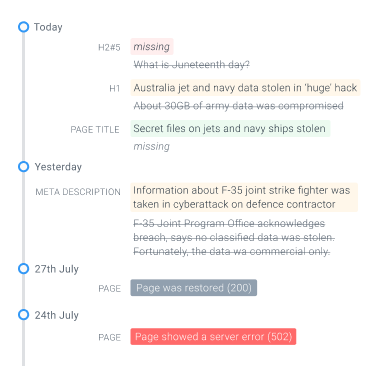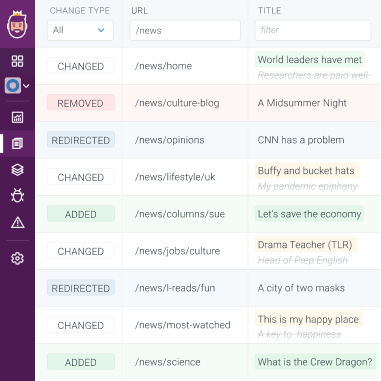 Overview and Topic Clusters
Capitalize on growth opportunities
Having vast amounts of content gives you a lot of firepower, but more content means more work keeping it all organized so it makes sense to your visitors and search engines. That's where ContentKing helps out.
Easily search across your entire website with our lightning-fast index and create topic clusters using our powerful segmentation features. It also helps you quickly uncover problems that may be preventing your content from getting indexed and improve your internal linking structure.
With ContentKing, you have all the insights you need to ensure optimal search engine visibility, without all the static of false positives and non-issues. Get those search engine positions you deserve, and the loyal readership they provide.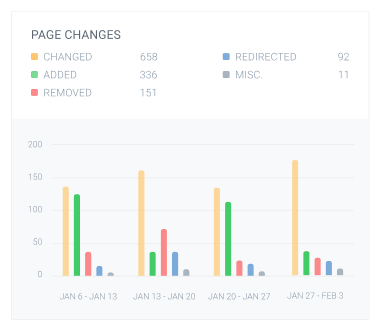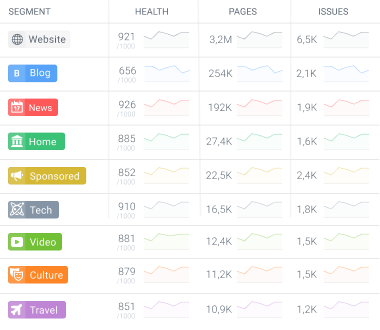 Proactive Alerting
Catch problems before your rankings are impacted
Big websites have a lot to lose, and the complexity that makes it so difficult to spot problems and changes before it's too late. With ContentKing Alerts™, you're finally a step ahead of everyone else.
ContentKing monitors your website 24/7, constantly auditing your pages and keeping track of changes. Whenever it spots deviations exceeding the thresholds you configured, you are immediately notified.
No more "surprises", but a notification system that for the first time ever gives you and your team a fighting chance and the opportunity to fix problems before your traffic drops.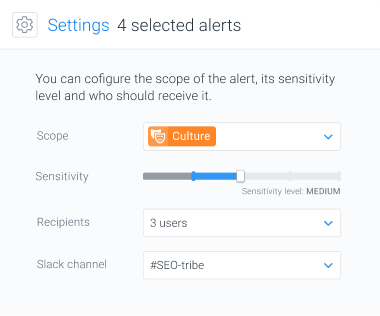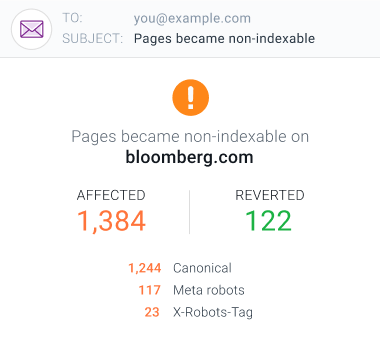 Collaborate across multiple disciplines
Work together with your team
Creating successful content is team effort – a well-balanced combination of numerous disciplines, working together to ensure your content performs. From content creators to SEOs, social media marketers and everyone in between.
ContentKing lets you bring the whole team together and collaborate to ensure your content makes the impact you're looking for. It is the perfect platform for that: the carefully designed interfaces and integrated knowledge base make it very accessible to anyone working with content.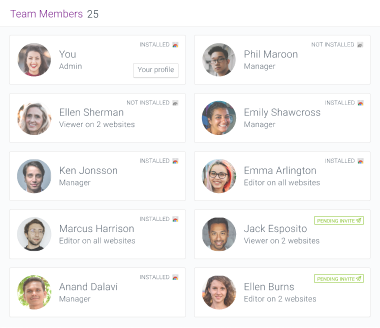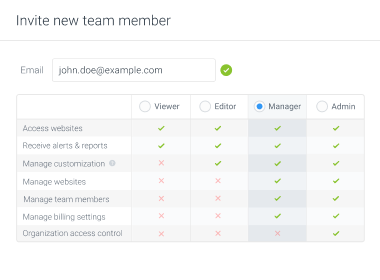 Give your content the reach it deserves
With content being your bread and butter, it's essential to arrange it so Google and other search engines are able to make sense of it all. ContentKing makes auditing and optimizing your content a breeze. What's more, with Change Tracking™ you can finally keep track of what's really changing on your website.
Take back control of your content
Get up and running in 20 seconds
Trusted by the best
Join 2,000+ customers like: