As an agency, you're responsible for your clients' digital marketing performance and success. Meaningful? Definitely. Gratifying? Usually. One thing is certain, though – it's a battle on many fronts.
ContentKing spun out of a successful digital marketing agency fighting that battle for over a decade. We took that time in the trenches and turned it into a powerful platform to help others get out of them.
Trusted by the best
Join 2,000+ customers like:
Change Tracking
No more "client gone rogue"
We know that the client means well and wants to do the right thing, but "optimizing" page titles across the website without consulting you does. not. help! Thankfully, the days of this going unnoticed are over.
ContentKing keeps track of your clients' websites 24/7, alerting you immediately whenever a change is detected. Whether it's page titles changing, pages being removed, or links breaking, you will know instantly, allowing you to step in immediately and work with the client to resolve the changes before any damage is done.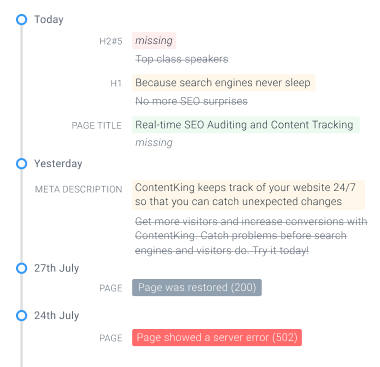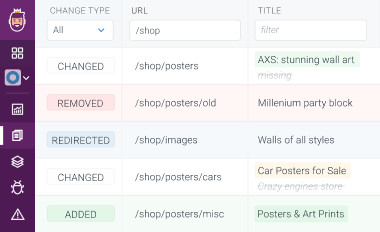 "Page titles were removed on 5,000 key transactional pages that were live and receiving a high amount of traffic. ContentKing rapidly alerted us, but this single incident could have cost upwards of $200,000!"
REAL-TIME Auditing
Proactive notifications for critical issues
The days when monthly audits kept your bases covered are long gone. Today's fast-paced markets require answers now – not when the next reporting cycle comes along. With the competition at their heels, your clients simply cannot afford to sit on unresolved technical issues or unexpected content change for weeks. And fortunately, now they don't have to.
ContentKing lets you say goodbye to the scramble of always being one step behind. It continuously audits your clients' websites in real-time. This means that you – and the client, if you want – get notified instantly when a technical issue is detected.
Swap out the long lists of "surprises" in monthly reports for a notification system that, for the first time ever, gives you and your clients the opportunity to fix problems before their rankings are impacted.
Proving your added value to your clients has never been easier.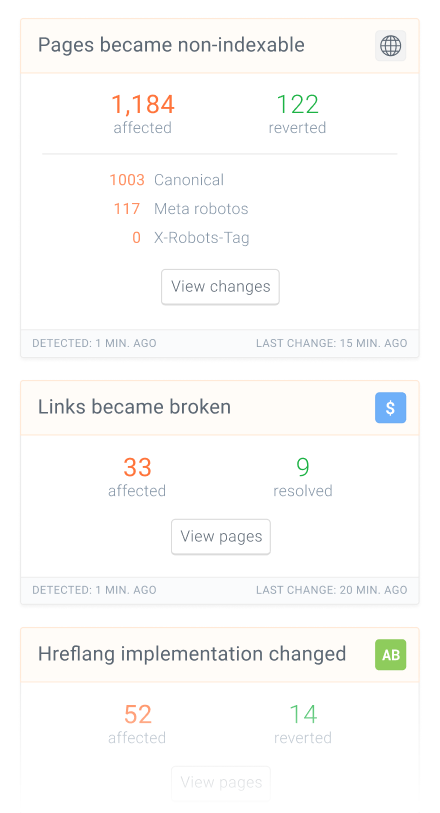 Productivity
Do (so much) more
Working for an agency is notorious for its high pressure. You're already at (or even beyond) capacity for clients and websites and then sales walks in with another awesome client for you. It's a tense environment with lots of challenging work and never enough time.
That's why it's important to have a reliable platform that will take work off your plate, not add to it. ContentKing does exactly that by supplying you with the data you need, whenever you need it. No more waiting for a crawl to finish and then realizing you missed an important section. ContentKing puts actionable insights at your fingertips, 24/7.
Proprietary Change Tracking™ technology ensures you will know if anything changes and, if so, what exactly it was. Stop wasting time poking around the entire website, trying to spot differences – now you can quickly zoom in on exactly what needs to be fixed.
We believe in automating whatever you can. It frees you up to work on tasks that only you can do, whether that be content creation, digital PR, or simply spending more time communicating with your clients and stakeholders. Now you can invest your time where it matters most and ContentKing will take care of the rest.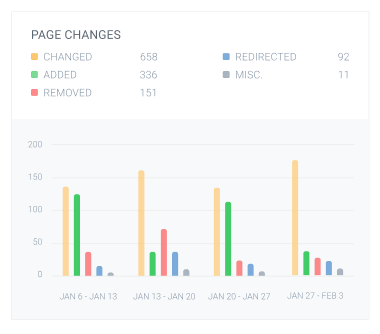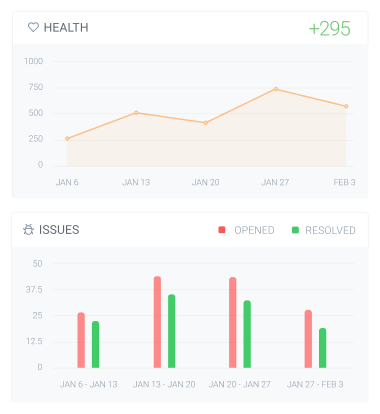 "ContentKing has improved our technical SEO productivity by around 30%."
Collaboration & Actionable Reporting
Get buy-in and see your advice implemented
You may deliver solid, search-engine-result-page-changing advice every single day, but if it never gets implemented, what's the point? The leading reason advice from SEO agencies ends up forgotten in someone's drawer is the lack of actionability. Decision-makers just don't have the time to abstract the todos from a 130-page report.
That's why ContentKing was built around the concept of getting buy-in. Where other SEO tools oversimplify results and leave dangerous blindspots in the data, ContentKing is different. No need to sacrifice accuracy for simplicity – we made sure you have both. We achieved that in two ways: making the platform as accessible as possible (even to non-SEO professionals) and giving you the tools necessary to isolate what truly matters.
Hundreds of agencies use ContentKing to collaborate with their clients and external development teams. Fully adjustable access rights keep processes streamlined, while the advanced configuration options allow you to tailor the platform to exactly what matters to your clients' business.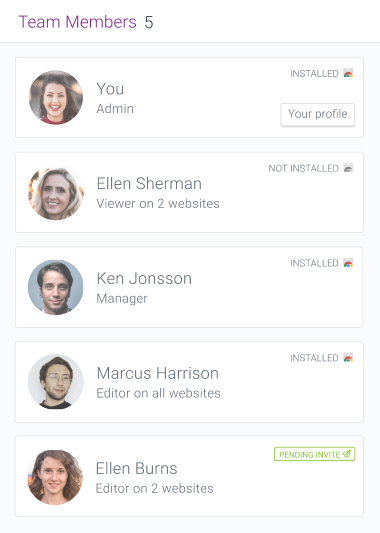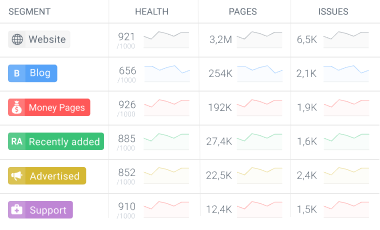 Training & Onboarding
From trainee to power user
The ContentKing platform is designed for every skill-level of SEO. Intuitive, scalable features built on actual use-cases and backed by the industry's highest-rated knowledge base – the ContentKing Academy. As the only solution on the market to bring monitoring, alerting, and change tracking together, ContentKing is the perfect training ground for new recruits.
The real value shines through once training is over, though. Experts with 10+ years of experience enjoy extensive power user features that let them handle larger clients single-handedly.
ContentKing is the first platform where both experts and beginners feel at home, and work together for the success of their clients. That's what happens when you cut through the static with a reliable platform built on state-of-the-art design and a rock-solid auditing engine.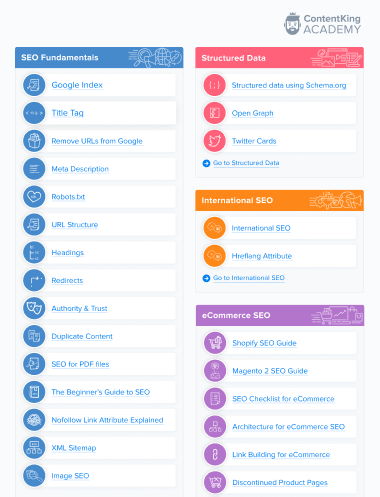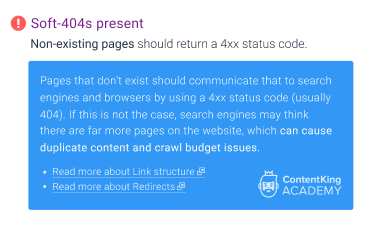 It's time to level up your agency
Take the next step for your agency
Get up and running in 20 seconds
Trusted by the best
Join 2,000+ customers like: