In today's world, you need to move fast. The pressure is always on to deliver value, but hardly anyone understands the complexity of the environment you are in.
With digital driving the bottom line and businesses expecting everything to be ready yesterday, the struggle is real. In such a context, it's easy to overlook something and ship a change with unexpected consequences.
That's where ContentKing comes in. It watchdogs your websites in real-time and actively informs you of problems, so you can fix them immediately. Love automation? Integrate our Reporting API with your existing QA and deployment processes.
It's time to start safeguarding against issues going into production in the first place.
Trusted by the best
Join 2,000+ customers like:
Real-Time Auditing & Alerting
Catch those bugs and regressions before it's too late
ContentKing Monitoring™ keeps track of your website 24/7, auditing in real-time and proactively alerting you whenever something goes haywire.
With ContentKing you leave the always-one-step-behind mindset in the past. For the first time ever, you will be able to immediately remedy problems before they affect your visitors and rankings.
Advanced configuration options allow you to route alerts to the right people and can even be integrated with Slack for faster response.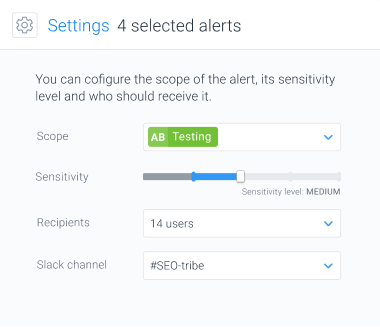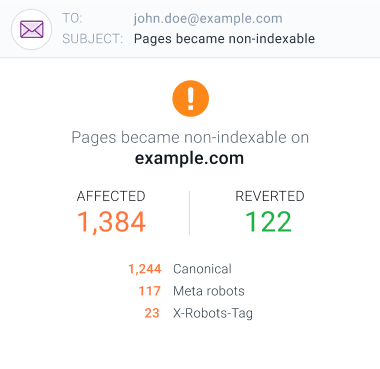 "We had several outages on Bitbucket.org and wouldn't have found out without ContentKing. That would have certainly cost organic traffic and business."
Your source of truth
A full changelog you can rely on
As it analyses your pages, ContentKing constantly takes snapshots of them. But what's truly incredible is that it puts these snapshots on a timeline, providing you with a full history for any URL.
And of course you can search through all those snapshots in a flash, allowing you to travel back as many releases as you want and see exactly what changed, and when. A true time-saver.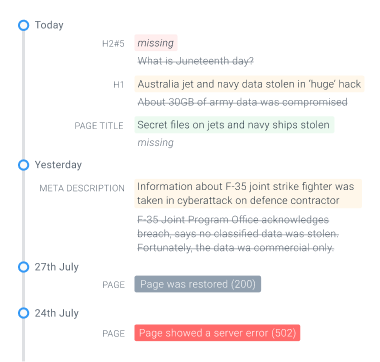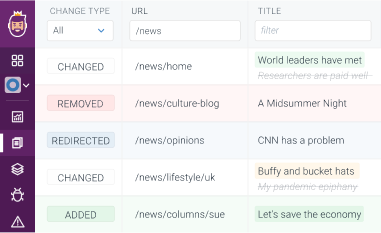 Monitor all your environments
Ship value, not bugs
Whether it's a technical issue or a content change, any deviation is picked up by ContentKing. Thanks to its proactive alerts, you can fix the issue before it ends up in your production environment.
You're not limited to monitoring only production environments, either. ContentKing Monitoring™ can be configured to access and monitor your staging and acceptance environments as well, so that you can do full tests before the change even comes close to production.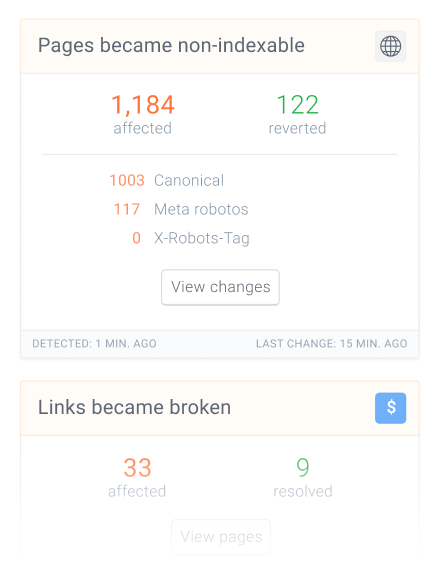 "Page titles were removed on 5,000 key transactional pages that were live and receiving a high amount of traffic. ContentKing rapidly alerted us, but this single incident could have cost upwards of $200,000!"
Advanced Configuration Options
Tailor the platform to your needs
There is so much general-purpose tooling on the market aimed at beginners. Sure it kinda works for someone just entering the field, but the oversimplified results leave you virtually unarmed in your arena.
ContentKing is different. True, we put a lot of effort into making it as accessible as possible, but we refuse to sacrifice usefulness for simplicity. Our platform ships with smart defaults, but you're in full control, with a vast array of configuration options at your disposal.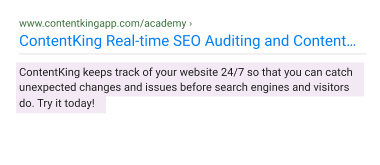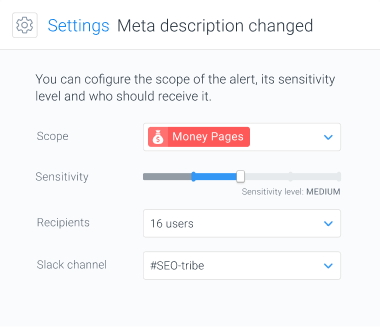 Integrate with our API
Use our API to work with your data in any way you want
The ContentKing platform provides you with all the functionality you need to keep track of changes, detect issues and receive actionable alerts. That said, you're not bound to our app to work with your data. Integrate with our API and easily extract all your data to integrate it with your existing tooling and workflows.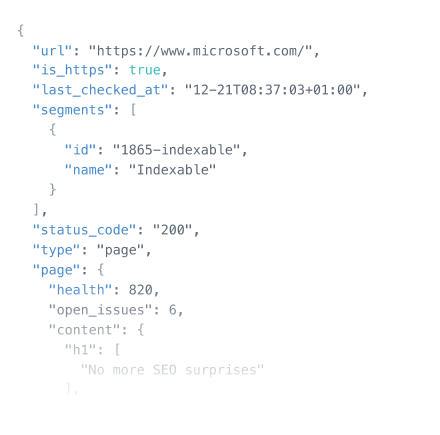 Ship with confidence
Discover why developers love ContentKing
Get up and running in 20 seconds
Trusted by the best
Join 2,000+ customers like: