Connect with Slack and Microsoft Teams
ContentKing integrates with Slack and Microsoft Teams, pushing alert notifications right to your team's workspace.
Using ContentKing with Slack or Microsoft Teams facilitates team discussions and ensures your team is instantly aware of any problem or unexpected change.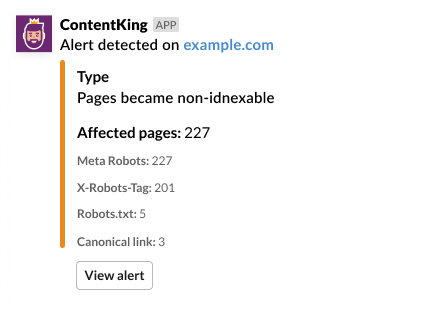 Connect with Google Analytics
Connect your ContentKing account with Google Analytics to pull in pageviews, bounce rates, page values and much more.
Check your Google Analytics metrics page-by-page or use the website-wide overview to quickly identify your key traffic pages. Whatever you need, the data is at your fingertips.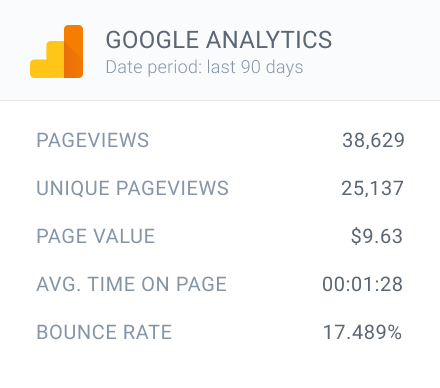 Connect with Google Search Console
Integrating Google Search Console is a breeze, and once set up ContentKing immediately displays impressions, clicks, CTRs and positions for your entire website.
Check the Google performance for any page, or zoom out and check the performance across the whole website.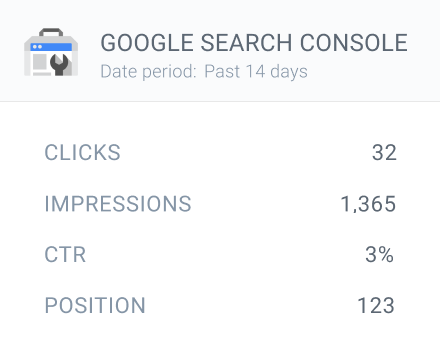 Connect with Google Data Studio
Whether you want to share the results of your SEO efforts with your internal team or with your clients, ContentKing's Google Data Studio connector makes it easier than ever before!
Report on page changes, issues and health for the entire website or specific segments. The connector comes with a beautiful reporting template to get you started right away.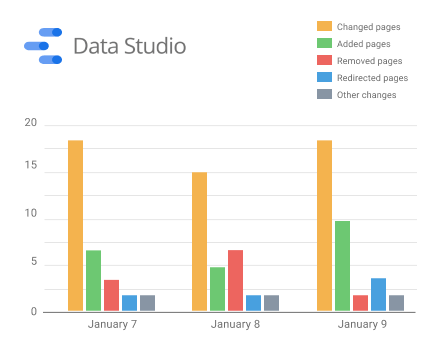 Set up Real-time IndexNow
ContentKing notifies supported search engines of content changes for you in real time.
Using real-time monitoring, ContentKing tracks every change happening on your site. Each change is instantly assessed and automatically submitted to IndexNow. But no need to worry, we won't submit any negative changes, we'll alert you instead.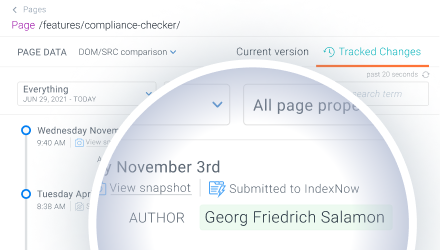 Connect with Adobe Analytics
Connect with Adobe Analytics to pull in your key metrics and enrich your ContentKing data. Whether you want to look up data for a specific page or segment across the entire website, the Adobe Analytics integration makes it a breeze.
With ContentKing you turn your analytics data into insights that everyone can act on.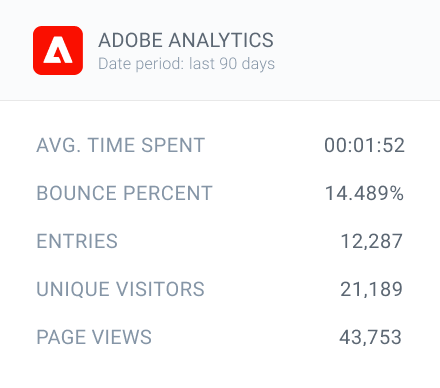 Install the Chrome extension
No more switching between tabs in your browser! ContentKing's Chrome extension lets you see metrics, metadata, tracked changes and issues directly in your browser.
Turbo-charge your workflow with the ContentKing Chrome extension.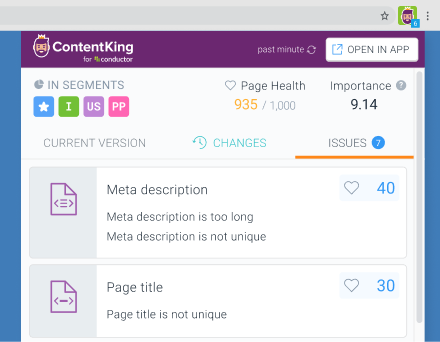 "ContentKing is fully integrated in our release cycles."
Integrate with our Reporting API
Need to integrate with other tools, embed ContentKing in your reporting portal or want to do some heavy lifting with your data? Integrate with our Reporting API and work with your data in any way you want.
Whatever your use-case, the Reporting API makes it a breeze to extract and work with your data.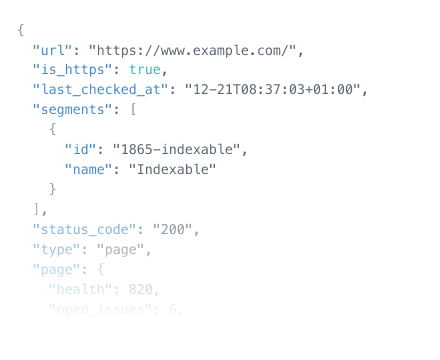 Integrate with our Data Enrichment API
Take your monitoring a step further with our Data Enrichment API.
Decide which metrics matter most to you and push them directly to ContentKing. Combine custom page metrics and data with other on-page properties that ContentKing is already monitoring.