Keep track of all website changes
Whether it's the copywriter not following the content strategy, a botched release by the developers or a client gone rogue.
In a world where small changes can have a devastating impact, it's paramount to stay on top. That's why ContentKing Change Tracking™ keeps track of everything that matters.
Whether you want to pull up newly added pages, removed pages or check what has changed inside your pages, it's all a breeze with ContentKing.
"If we see rankings or traffic improve or worsen, we can turn to ContentKing for insights."
Search through history
ContentKing keeps a full history of all changes on your website, allowing you to travel back in time as much as you want.
Want to know what changed last week, or are you curious what your website looked like a year ago? Whatever it is, ContentKing has the answer.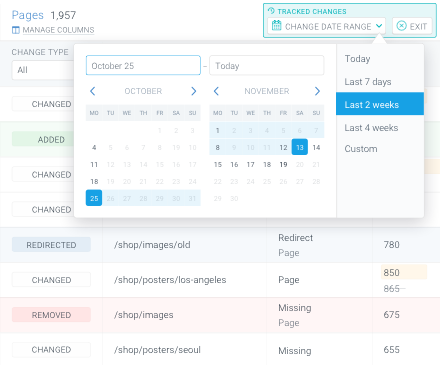 Zoom in on any page's history
On top of the full website overview, you can just as easily use ContentKing to zoom in on any specific page and check its full historic record.
For every page ContentKing keeps a full changelog, allowing you to scroll through the full history of changes to the page title, meta description, hreflang implementation, canonical link and everything else.
Need to look under the hood? With a single click you can see the request and response headers, or even the full HTML page source of any of the historic snapshots.
A time machine for your robots.txt file
The directives in your robots.txt file are like a crawling manual for search engines. A single mistake in this "simple" file has the potential to make your website completely unfindable in search engines.
That's why ContentKing immediately alerts you whenever your robots.txt file changes. What's more: you can travel back in time, and see and compare every single robots.txt revision. Learn more about robots.txt monitoring.
Change Tracking™ on custom elements
ContentKing monitors all important SEO elements on your pages. Titles, meta descriptions, H1 headings, robot directives, and much, much more.
With Custom Element Extraction you can go even further than that and track any element you want.
Custom Element Extraction is powered by ContentKing's proprietary Change Tracking™ technology, allowing you to track any change in your custom elements.