Alerts
Alerts notify you about all important changes that happen on your website. By default, you receive them via email, but you can also get them via Slack (more about the Slack integration here).
Alert types, definitions, and incidents
ContentKing Alerts consist of three different concepts: Alert types, Alert definitions, and Alert incidents.
Alert types
Alert types are the types of changes that you can be alerted about by ContentKing.
At this moment, ContentKing offers these alert types (we are continuously extending this list with new alert types):
Content
Page titles changed
Page titles removed
Meta descriptions changed
Meta descriptions removed
H1 headings changed
H1 headings removed
Relations
Links became broken
Hreflang implementation changed
Canonical links changed
Canonical link target became non-indexable
Off-page canonical links on non-indexable pages
Pages
Pages changed type
Pages became non-indexable
Analytics
Analytics tracking removed
Visual Analytics tracking removed
Platform
Robots.txt became not accessible
Robots.txt changed
Non-canonical hostname domain variant stopped redirecting
Non-canonical protocol domain variant stopped redirecting
SSL certificate expiring soon
Segments
Pages entered a segment
Pages left a segment
Pages entered or left a segment
Alert definitions
Alert definitions are specific configurations of an alert.
Apart from an alert type (see the list above), a definition also includes other settings like scope, sensitivity, recipients, and Slack (see Configuring Alerts).
This means that for one alert type, there can be multiple definitions with different configurations.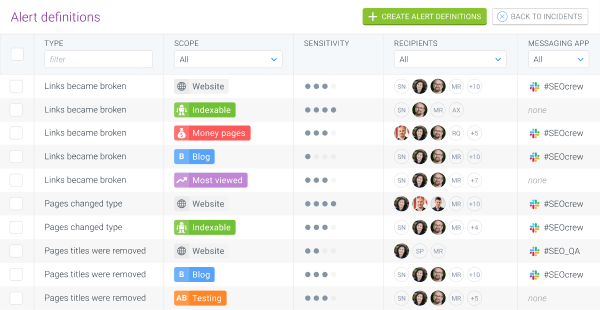 Please note that it is not possible to create multiple definitions for the Platform alert types, as those can only apply to the whole website and have universal settings.
Alert incidents
Alert incidents refer to the specific events on the website that you are alerted about.
You can always find active incidents (incidents that are currently happening on the website) and past incidents when going to Alerts in ContentKing.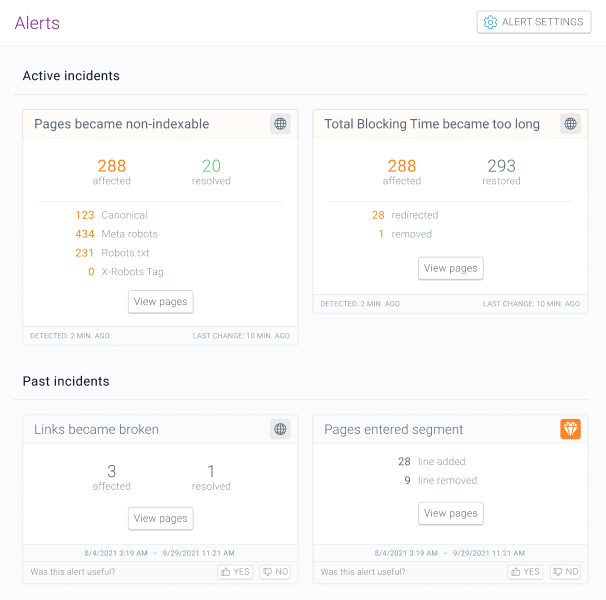 Alerts vs. Tracked Changes
Alerts and Tracked Changes are two distinct features of ContentKing.
The Tracked Changes feature allows you to view all changes that ContentKing has detected on your website. Depending on your plan, you can track changes historically up to 60 months back (see our Pricing).
Alerts are proactively sent by ContentKing when important changes are happening on the website, allowing you to react to these changes in time. Alerts are sent if the type of the change and the impact it has on the website or selected segment meet the alert configuration.
The best practice for the use of ContentKing Alerts is to not get alerted about every single change that is being detected on the website, as not all changes are important enough to require an alert.
If you need data about all changes that ContentKing has detected on the website, you can always get it using Tracked Changes.
When do alerts open and close?
An alert opens when an incident occurs on the website that triggers the alert based on the alert definition.
You can always find all the incidents that ContentKing is currently detecting on the website in the Active incidents section of the Alerts screen.
When an incident isn't active anymore, the alert closes. There are two reasons why an alert closes:
The problem is resolved (or the change is reverted) on all affected pages. In this case you receive a second email and Slack notification explaining that the alert was resolved.
No changes to the alert incident (newly affected or resolved pages) are detected for 24 hours.
When an alert closes, it's not being updated anymore and the incident moves from Active incidents to Past incidents in ContentKing. If ContentKing then finds a new page with that change, a new alert opens.
What does an alert look like?
Email
When you receive an alert via email, it will look like this: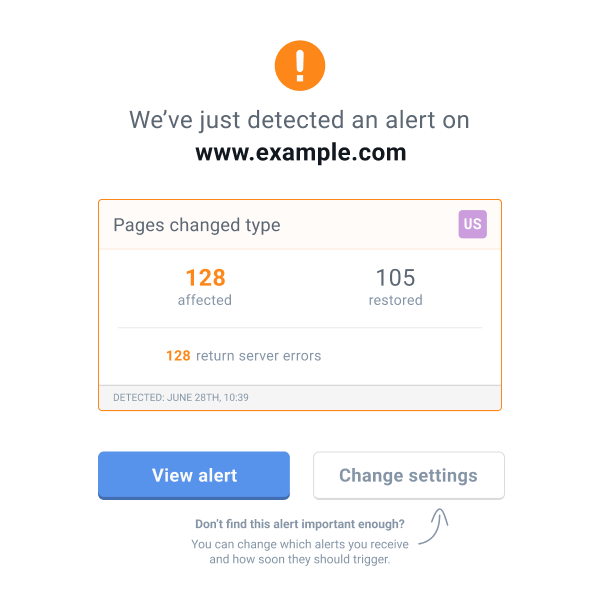 Certain alert types also offer additional information about the changes.
For example, in the screenshot above you can see that from the 2,231 pages that changed type, 658 were redirected, 812 were removed, and 761 returned server errors.
When an alert is resolved, the email looks like this: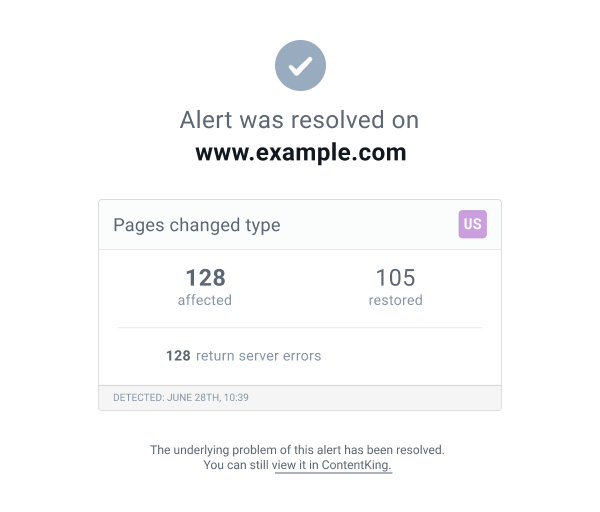 Slack
When you receive an alert via Slack, it will look like this: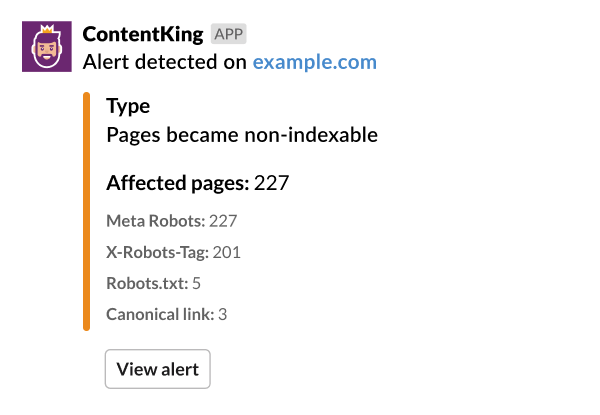 When an alert is resolved, the Slack notification looks like this: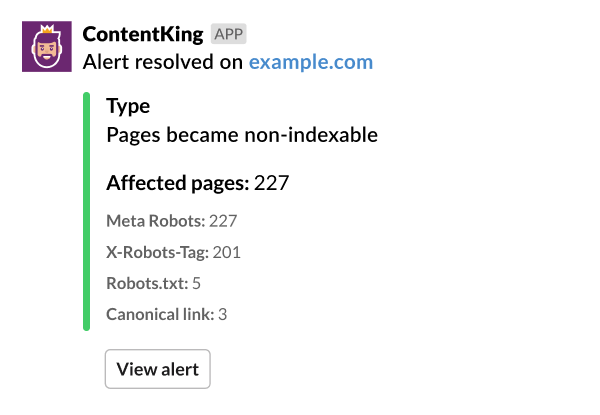 Rate our alerts to help us make them even more useful
In the second email and the second Slack notification that is sent when an alert is resolved, you can also leave us feedback about the alert.
Your feedback is extremely valuable to us as it allows us to make the alerts even better and more useful for you.
You can also leave feedback about the alerts on the Alert incidents screen in the app.

Configuring alerts
If you want to learn how to configure the ContentKing Alerts, you can continue to Configuring Alerts.