Industry News
News Roundup: WordPress SEO Plugins to Disable Core XML Sitemaps
Have you been on vacation or simply too busy to follow happenings in the world of SEO? Take a three-minute break to find out what SEO enthusiasts discussed the most last week.
WordPress SEO Plugins to Disable Core XML Sitemaps
Recently, WordPress announced (opens in a new tab) that within a cooperation plan with Google, it will include an XML sitemap into its 5.5 version core.
Although deploying an XML sitemap to all WordPress 5.5 sites can help increase their visibility for search engines, it raises questions on how plugins already providing sitemap generation will react.
Yoast Has "More Sophisticated Sitemaps"
One of the most popular Wordpress SEO plugins is Yoast which has been providing the automatic XML sitemap generation for years.
In a reaction to the latest announcement, Yoast said that it would simply turn off the default XML sitemap in WordPress 5.5 automatically.
Yoast added that they welcome the decision to implement XML sitemaps to all sites by default, but they feel that their XML sitemap has better functionality.
"The new XML sitemap feature in WordPress 5.5 is very basic. The one in Yoast SEO is sophisticated, with a number of enhancements and performance improvements," Yoast has said in their FAQs (opens in a new tab) regarding the new core update.
If you're using Yoast and move to the updated WordPress version while keeping your XML sitemap setting, no action on your part is required.
Are your XML sitemaps still working correctly?
Monitor your website with ContentKing and immediately learn about any malfunctioning XML sitemaps.
SEOPress Has Core Sitemap Automatically Disabled Since Latest Release
Similarly to Yoast, SEOPress (opens in a new tab) takes measures against the automatically generated XML sitemap in WordPress 5.5.
The plugin has already disabled the automatic Core Sitemaps in their latest release.
The SEO Framework to Support Core Sitemap Without Integration
In response to the announcement, another popular WordPress SEO plugin —The SEO Framework (opens in a new tab) — will give its user a choice of which XML sitemap they prefer to use.
Users can stick with The SEO Framework's (TSF) sitemap or switch to the Core Sitemap provided by WordPress 5.5.
"When you enable TSF's sitemap, Core Sitemaps are disabled. When you disable TSF's sitemap, Core Sitemaps will become accessible again," The SEO Framework said in an announcement (opens in a new tab).
At the same time, the plugin won't currently integrate with the new Core Sitemap. "Core Sitemaps do not listen to the indexing state enforced by TSF. This will cause issues with search engines," the plugin developer explained.
The SEO Framework has also stated that they don't recommend using the new Core Sitemap.
"We don't believe the Core Sitemaps are beneficial for most WordPress sites. We stubbornly kept our sitemap simple; it's easier for us to maintain and faster search engines to process. Search engines crawl your pages more quickly using TSF's sitemap, no matter your website's size."
Rank Math Considers their XML Sitemaps More Robust
Another WordPress SEO plugin that will disable the Core Sitemap automatically is Rank Math (opens in a new tab).
To clarify why they have decided so, Rank Math's Bhanu Ahuwalia said: "We also disabled the Core's Sitemaps in the last update. As of now, their functionality is limited and once they work on making it more robust, we will remove the code present in RM and use core's functionality to keep the plugin lightweight."
Google Search Quality Raters Don't Directly Influence Ranking
It's no secret that Google has thousands of human employees who help the search engine evaluate websites all over the world. But how do they impact your websites' rankings? Google's Danny Sullivan has shed some light on the matter in his recently published insights.
With billions of searches conducted daily on Google, the search engine has to mostly rely on automation. But sometimes, a human touch is required to provide the fairest evaluation outcomes.
That's why Google chooses to get input and feedback about whether their ranking systems and proposed improvements are working well. And by working well, they mean that the ratings follow the publicly available guidelines (opens in a new tab) that "describe in great detail how our systems intend to surface great content," Google says.
Google employs over 10,000 of these human Search Quality Raters, who mainly help the search engine evaluate the authority and trustworthiness of certain websites.
However, Sullivan explained the role of these human evaluators (opens in a new tab) and has confirmed what we've known for a long time—they don't directly influence rankings.
"Once raters have done this research, they then provide a quality rating for each page. It's important to note that this rating does not directly impact how this page or site ranks in Search," Sullivan notes.
"Nobody is deciding that any given source is 'authoritative' or 'trustworthy.' In particular, pages are not assigned ratings as a way to determine how well to rank them."
Instead of a direct ranking factor, Google uses their input as a data point that helps them measure how well their system works.
And apparently, humans are not the only part of the ranking process that doesn't play that much of a direct role in the process. To find out more, read Barry Schwartz's recent take on What is not a Google search ranking factor (opens in a new tab).
Google Search Console Announces API Update
After a year of hard work, the job is almost done: on Thursday, Google announced (opens in a new tab) that they will soon implement changes to the Google Search Console API.
"You might have already noticed some minor changes, but in general, our goal was to make the migration as invisible as possible," Google said in the announcement.
"This change will help Google to improve the performance of the API as demand grows."
The API should remain backward compatible, and currently, there are no changes in terms of functionality.
The announced changes will only affect you if you're querying the API yourself for your own data or you maintain a tool using that data (e.g. a WordPress plugin).
Overall, there are three changes you should be aware of:
Changes in the Google Cloud Platform Dashboard:
In the Google Cloud Console dashboard, you might see a decrease in the old
(legacy) API value. In the new one, on the other hand, you'll see an increase.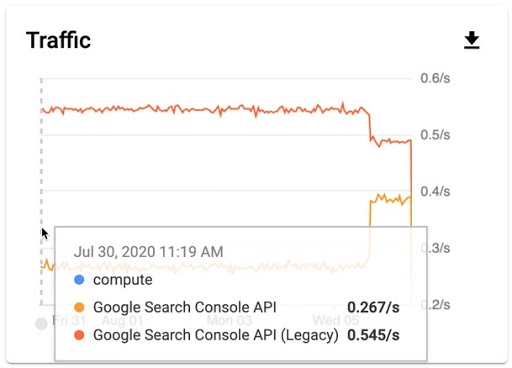 According to Google, this is the same API, just under the new name.
API usage can be monitored on the new Google Search Console API page (opens in a new tab).
API Key Restriction Changes
If you have previously set API key restrictions, this update will most likely require you to change them.
To enable your API calls to be migrated automatically to the new API infrastructure, you need to make sure the Google Search Console API is not restricted.
If your API restrictions are set to "Don't restrict key," you're all set.
If your API restrictions are set to "Restrict key", the Search Console API box should be checked as shown in the image below.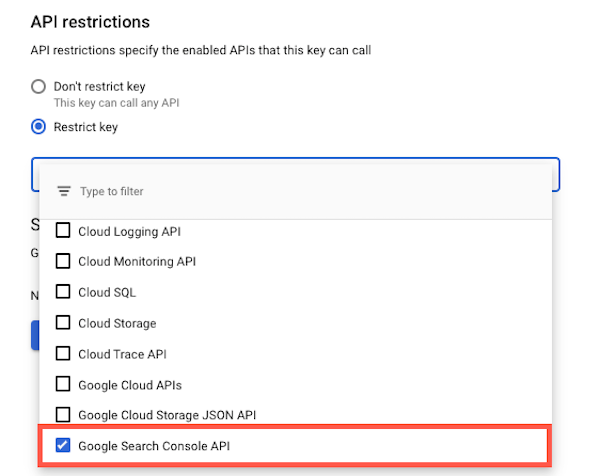 Discovery Document Changes
You should pay special attention to the changes if you're querying the API using a third-party API library, or querying the Webmasters Discovery Document directly. By the end of the year, Google will drop the support in the Webmasters Discovery Document.
Bing Webmaster Tools to Expand on Image and Video Reporting
Recently, Bing successfully launched a new version of its Webmaster Tools with many new and updated features. Now, the team behind the platform has suggested that they also plan on expanding its image and video reporting.
Currently, Bing Webmaster Tools provides search performance report functionality to its users. But it doesn't allow you to filter the data by verticals such as web, image, video, or even news—options that Google Search Console has recently introduced.
But based on a recent Bing Webmaster Team comment on Twitter (opens in a new tab), it appears that the team will soon elaborate on the search performance data with reports on images and videos. Additionally, they might also include functionality to show you the traffic coming from knowledge panels.
Keep up to date!
Sign up for our newsletter and follow us on social media: