Industry News
News Roundup: Google Postpones Mobile-first Indexing and Much More
There's no doubt that SEO is among the most dynamic industries in the world. Monitoring what's currently moving the needle, and what you expect will move the needle in the future, is vital for your SEO success. To keep you in the loop, we've covered five SEO news items that you might have missed last week.
Mobile-first Indexing Gets Postponed to March 2021
It's no secret that Google has been taking mobile traffic very seriously. So much so, in fact, that the search engine aims to index mobile versions of websites first instead of desktop versions.
The origin of this mobile-first indexing approach goes back to 2014 (opens in a new tab). Initially, Google planned to launch mobile-first indexing in September 2020. However, due to unprecedented events that are currently turning the whole world upside down, they've now announced that the shift will be postponed until March of next year.
This gives more time to webmasters who aren't prepared for the shift yet to make sure their prime content is accessible on both desktop and mobile.
To succeed in the transfer, Google suggests making sure these three conditions are adhered to:
Firstly, you should make sure that Googlebot can see your website on mobile. Meta robots tags (opens in a new tab) on your mobile version should remain the same as on desktop, and you should be well aware of what you're blocking on your website. Adopting a suitable approach towards the lazy-loading of images can also help you make your mobile version more visible to Google.
Secondly, primary content should be the same on desktop and mobile. As the term "mobile-first indexing" suggests, from March 2021, only the content shown on the mobile version will be used for indexing and ranking in Search.
"If it's your intention that the mobile version has less content than the desktop version, your site may lose some traffic when Google enables mobile-first indexing for your site, since Google won't be able to get the full information anymore," Google suggests.
And finally, you should make sure to follow the best practices for images (opens in a new tab) and videos.
Bing Launches WordPress Plugin for Automatic URL Submission
Taking up 6.99% of the searches conducted in the United States (opens in a new tab) between June 2019 and June 2020, Bing continues to play a notable role in sending organic traffic to your website. And now, Bing Webmaster Team has just made it easier for WordPress users to get their newly published content indexed by Bing automatically and immediately.
The team has launched the open-sourced Bing URL Submissions Plugin (opens in a new tab) that enables automated submission of URLs from WordPress sites to the Bing index. Once configured with a Bing Webmaster Tools API key obtained from the Bing Webmaster portal, the plugin automatically detects page creation or updates in WordPress and submits the page's URL behind the scenes, ensuring that the site's pages are always fresh in the Bing index.
The plugin also offers some other handy features that let you e.g.:
Toggle the automatic submission feature on and off.
Manually submit a URL to Bing Index.
View a list of recent URL submissions made from the plugin.
Retry any failed submissions from the recent submissions list.
Download recent URL submissions for analysis.
You can download the plugin (opens in a new tab) and browse the code at its GitHub repository (opens in a new tab).
Google Search Console Now Lets You Filter Traffic from the News Tab
Analyses of your organic performance in your Google Search Console can now be a bit more in-depth with a new update. The platform now lets you filter traffic coming from the News tab in Google Search.
The new option is accessible in the Performance Report part of GSC which contains all of the site's Google data. The data show clicks, impressions, and click-through rates for any links visible in the News tab. Note that this does not include "Top Stories" results—which actually send news sites the most traffic.
The new filtering option complements other filters that are part of the Performance Report Search Type dimensions.
With the new addition, the Performance Report now contains these filter types:
Web, providing results that appear in the All tab in Google Search. (Note that Image and Video results shown in the All tab in search results are also counted for the Web type.)
Image, providing results that appear in the Image search results tab.
Video, providing results that appear in the Videos search results tab.
News, providing Results that show in the News search results tab.
The traffic data coming from the News tab, which can be especially handy for publishers, is available from June 2020 forward.
Twitter Carousel Back on Google After Hack-related Removal
Two weeks ago, Twitter suffered the most severe hack in its history. Attempting a major cryptocurrency scam, the attackers compromised popular Twitter accounts belonging to Barack Obama, Joe Biden, Bill Gates, and Elon Musk, among others.
Twitter has admitted that the hack was of unprecedented proportions and that the attackers successfully manipulated their employees and used their credentials to access internal systems.
In reaction to this cybersecurity breach, Google decided to remove the Twitter carousel from its Search results. According to Barry Schwartz, the removal happened on July 16 or so, and it applied to all Twitter accounts.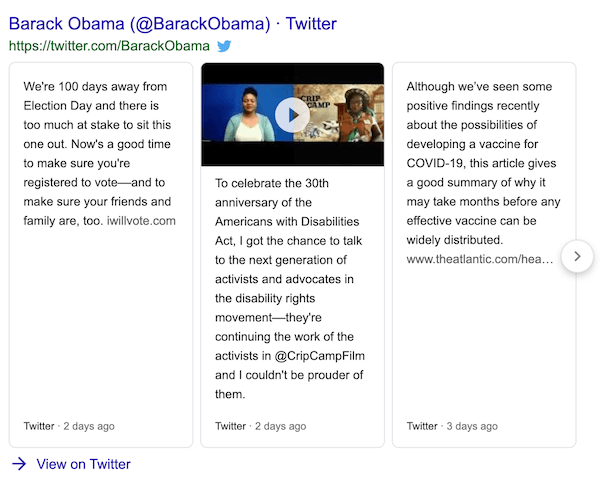 "We can confirm we have temporarily removed the Twitter carousel from Search following Twitter's security issues. Before restoring the feature we will carry out a careful review," a Google spokesperson told Search Engine Land (opens in a new tab).
It's rare for Google to take such radical action after a cyberattack.
From July 20, the Twitter carousel—which has become a popular way for marketers to reach high positions in search results—has been back in Search.
Despite the temporary mute, Twitter reportedly didn't lose any organic traffic.
Google Kicks off Commission-free Sales
In an act that might disrupt the eCommerce market, Google decided to permanently waive commissions on products sold via the "Buy on Google" checkout option.
"'Buy on Google" is an option for customers to purchase products without leaving Google search results. Now, the search engine is making it free for retailers to sell products through these results directly.
"Today, we're taking another important step to make it easier for retailers to sell on Google. Soon, sellers who participate in our Buy on Google checkout experience will no longer have to pay us a commission fee," Google said in an announcement (opens in a new tab).
"By removing our commission fees, we're lowering the cost of doing business and making it even easier for retailers of all sizes to sell directly on Google."
Why is Google doing this? Firstly, it's an opportunity for the search engine to outcompete services such as Shopify or Paypal that charge their users a service fee. Secondly, by waiving the fee, Google can have more users spending time on Google Search and thus viewing its ads.
However, even though the "Buy on Google" option may save retailers money, it can easily betray them in the long run. With this commission-free option reducing the final price, there is a higher chance that users won't need to visit the retailer's website. This can make the retailer miss out on other lead-generators, such as newsletter subscriptions or membership registrations.
These circumstances are something businesses need to consider before entering the program.
Want to never miss important SEO news again?
Then sign up for our newsletter and follow us on social media: