Learn how to leverage the power of Featured Snippets to your advantage. Love them or hate them, these content-rich SERP enhancements have the ability to significantly uplift traffic and conversions so winning them in the right cases can result in fantastic growth.
Hi Izzi! Can you tell us a little about yourself?
Hi! I'm an SEO Manager at SIXT (opens in a new tab) - we're a global car rental and mobility service company based in Munich, Germany. I'm originally from Manchester, UK but moved over to Munich five years ago to start as an intern here in the SEO team. During these 5 years in the industry, I've become hooked on all things SEO and love testing and learning as much as I can.
In 2018, I started speaking at conferences across Europe and since then, I've been rated the top speaker at four events, and spoken twice on the (terrifying) main stage of BrightonSEO (you can find my April 2019 slides here (opens in a new tab)). I also co-host an entertaining/educational digital marketing podcast with my best mate and CRO-expert, Nils Kattau, which is very creatively named "The Izzi & Nils Show (opens in a new tab)".
And we've heard you have a thing for featured snippets?
Yes, I do have some kind of obsession with Featured Snippets… and SERP features in general! SERP features can be Featured Snippets, Knowledge Panels, Local Packs, Quick Answers, Product Embeds, entity carousels, and other sorts of richer search enhancements that differ from the usual blue link result.
Featured Snippets are those prominent, fancy answer boxes which provide a large snippet of content from your page above all other organic results, which is why they're usually nicknamed "Position 0".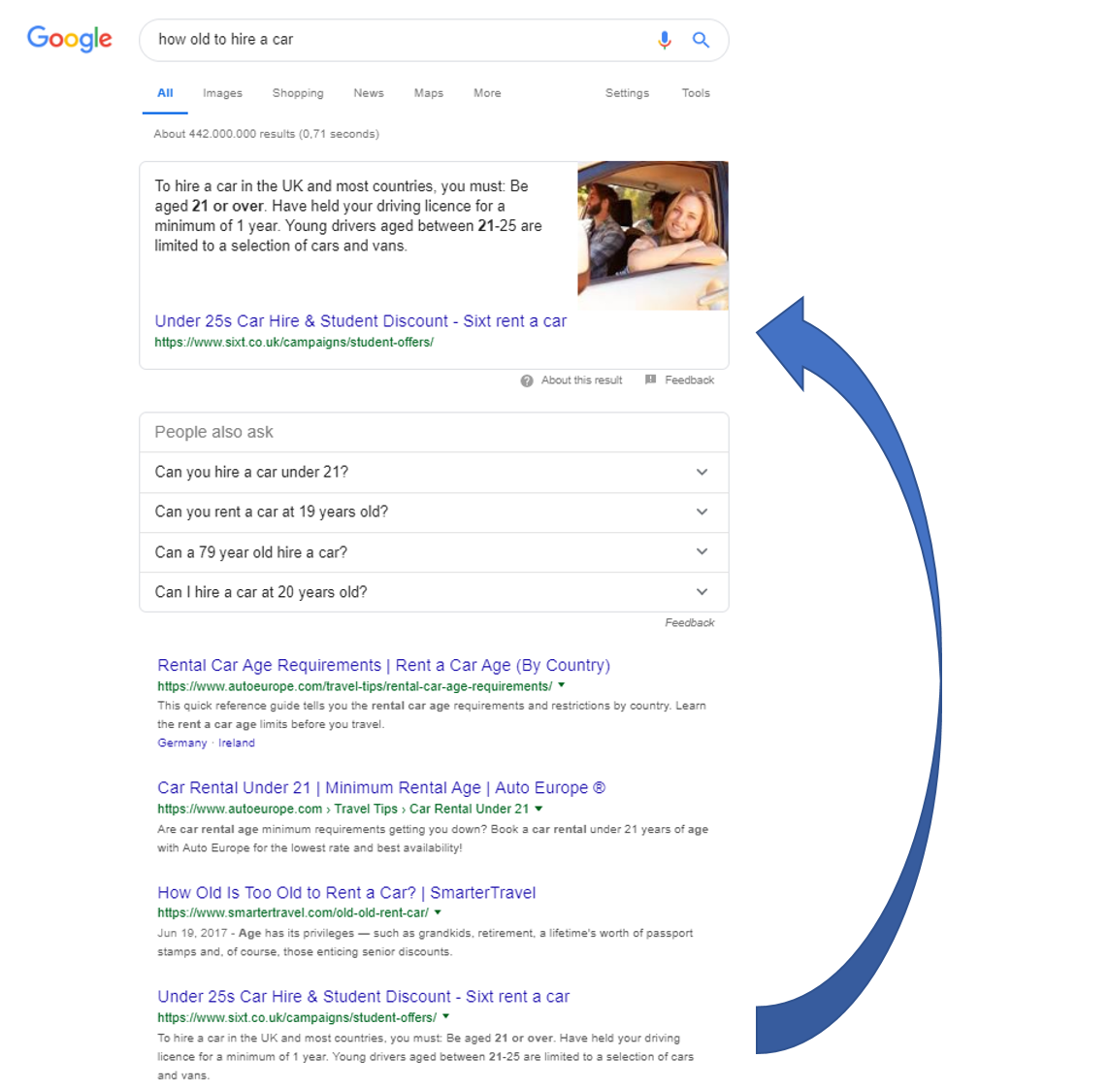 Where does your passion for featured snippets come from?
We have a really cool initiative in our team where we are encouraged to become experts in a specific SEO topic and act as the main contact and project manager for those areas. When this initiative first started, it was my role to become the team expert in Schema.org and Structured Data. Naturally, I started to test applying Schema.org markup (opens in a new tab) wherever I could. When I ran out of relevant data to structure, I started creating new content (such as data tables, how-to guides, and FAQ content) just to be markup ready.
These experiments with Structured Data and enriched content led to the triggering of many brand-new Featured Snippets for transaction-intent queries (for example "hire a bmw 2 series" - see below). Featured Snippets are mostly shown for informational type queries, and this started back in 2017 when they were very rare, so I was fascinated with what was happening. I ended up digging a lot deeper into the topic, researching as much as I could, and perfecting a formula that we could scale across our sites. Our Featured Snippet landing pages bring really impressive uplifts to our incoming traffic and revenue worldwide, and it gives me some lovely case studies I occasionally present on stages.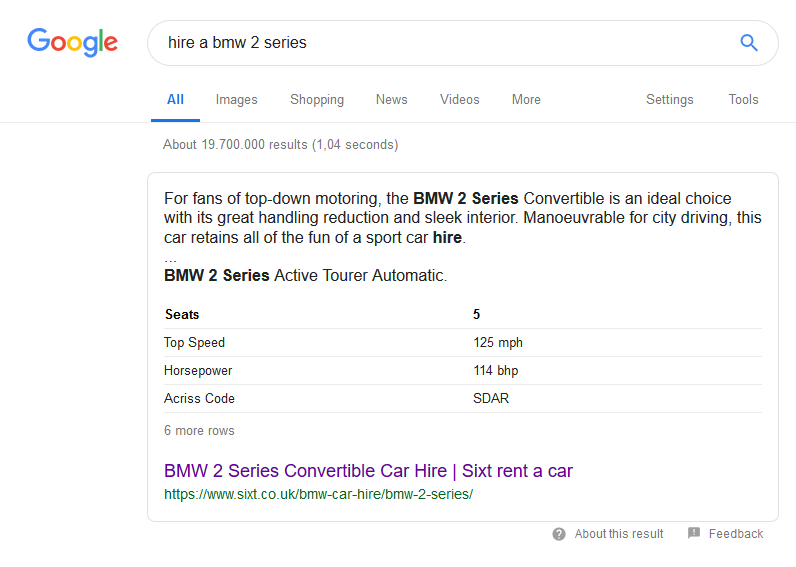 Since this initial project, I still spend time staying on track of changes to Featured Snippets and universal SERP Feature enhancements - it's a little bit of an SEO interest of mine and I'm often tweeting about new findings.
Why are featured snippets important?
Anyone working in Search knows that Google's result pages are getting heavier with SERP Features every day. Depending on the varying goals of the searcher, queries yield Knowledge Panels, Local Packs, Quick Answers, Product Embeds, aggressive ads, entity carousels, and all sorts of search enhancements.
What this means is, our own organic results are competing with a myriad of features and if we don't do our best to be present or represented well enough, we could stand to lose traffic, customers, and brand recognition. Featured Snippets are so important for SEOs to be focusing on because they're one of the last prominent organic SERP-features that we can take advantage of and directly impact.
Not only this, but there is a strong connection between voice search responses and Featured Snippet results, especially with mobile device voice queries. In many cases, the Featured Snippet text will be read aloud as the response to a voice query. Therefore, optimizing for achieving Position 0 placements is a worthwhile strategy to be prepared for ongoing advancements in conversational search.
So featured snippets are about answering search queries basically?
That's what they're aiming to be, yes!
They're trying to be as efficient at solving questions as "Knowledge Cards" - the quick answer SERP feature that provides Entity data results. These guys are triggered for answer-intent queries like "When was Jurassic Park released" where Google can confidently provide data from their Knowledge Graph. The important difference between Knowledge Cards and a Featured Snippet is all about URL attribution. See how the below result provides the data, but does not link to where that data is taken from. This is because it's taken from the connected Knowledge Graph.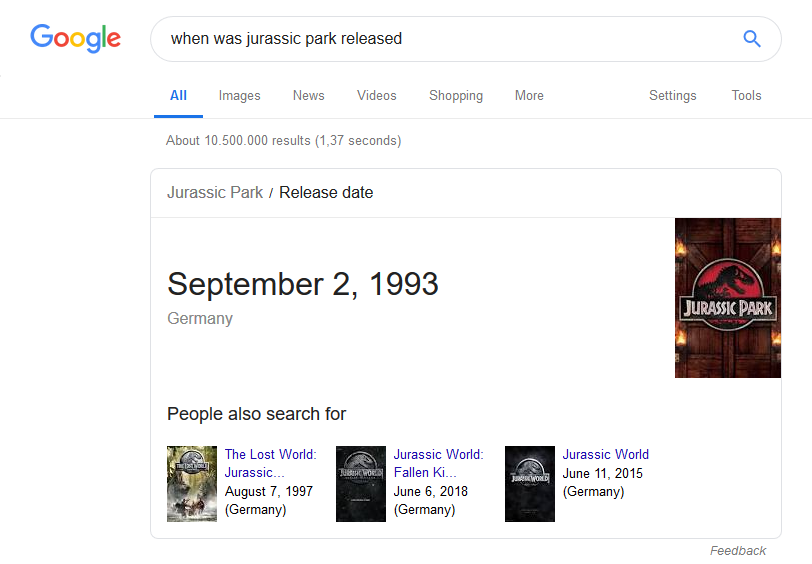 Featured Snippets, on the other hand, are much more present for research-intent queries, in which a searcher may be requiring additional information to satisfy their query. For example, "how long to bake a cake" can be solved with a cooking time, but Google knows that a confident response will depend on different variables and that there is a high chance the searcher will want to carry out the action of baking a cake. Therefore, this will trigger a Featured Snippet where a URL to the associated landing page is presented below the content box, and they can research more.
How does one earn featured snippets?
Unlike earning Rich Snippets (opens in a new tab), there is no set recipe to winning Featured Snippets - more a collection of best practices as well as a ton of trial and error. The most effective strategy is to find what works for you and interweave winning variables into SEO efforts so that Featured Snippets generate organically without repeat assessment. This definitely requires time, patience, and tinkering, but it's the most effective method for your Position 0 grabbing future.
To find your Featured Snippet recipe, this is the general step-by-step process I like to stick to:
Research all relevant Featured Snippet opportunities and then create priorities based on click-worthiness and achievability.
For research, many SEO tools can already show you which Featured Snippet chances are out there for you to target, but you should also work to discover brand new content possibilities that could trigger a Featured Snippet. I like to do this by working with customer service teams to find problems we can solve on our pages, collecting on-site feedback and complaints, and looking to Knowledge Panel and PAA Box results for inspiration. This is not only good advice for finding Featured Snippet opportunities, but for creating useful content in general. There could be a ton of research related queries out there that you are not yet covering.
Provide top quality content that serves the user's need.
In order to rank in the coveted Position 0 spot, you need to ensure what you're nominating is factual, written for actual humans, and hits the searcher's intent. Using sources, data and authority help prove your statistics and explanation are sound.
Structure the content in the most relevant format for the user and for Google.
Featured Snippets are shown in three different layouts (paragraphs, lists and tables) so you should structure your content in a way that is most likely for machines to categorize and grab. For example, "how to", comparison, and method related queries usually trigger a list and "why" or "what" common questions will most likely display a paragraph. Clear structuring of content, such as using tables, HTML lists, concise paragraphs and clear headers is also a good practice for UX and readability.
Strengthen the landing page with additional, related information.
Providing enhanced and relevant content around the subject gives further use to your visitor, but also proves to Google that you are a strong source of knowledge on the topic as a whole.
Provide explicit meaning by using Schema.org markup.
Although not a requirement for Featured Snippets, its presence can help search engines understand the context of the data you are nominating for the Position 0 result. Properties you can use include QAPage, FAQPage, itemlist, and how-to.
Make it clickable!
Use explanatory diagrams, enticing headlines and by ensuring lists are bulked out with further steps. Of course, you need to be providing high-quality and satisfying content to achieve the result in the first place, but it takes additional optimization to ensure the Featured Snippet is performing well at driving engaged visitors to your website too.
What are your thoughts on zero-click SERPs?
The harsh reality that the majority of searches are resulting in no-clicks were brought to light by a fascinating CTR (click-through-rate) study put together by Rand Fishkin. In all honesty, the fact that 54% of UK and EU mobile searches (opens in a new tab) result in no click doesn't scare me too much because the type of queries contributing to zero-click SERPs (those pure-answer-intent queries) can be satisfied with one glance.
A potential customer of mine will need to click-through to my site to satisfy their intention and that's what I'm hoping to bring: more meaningful website traffic. Yes, I'm in the business of driving more clicks, but I'm uncaring about short visits that don't bring value. This is why it's also important to ensure associated entities are enriched and aligned, i.e. GMB/directory listings, Knowledge Panels, Wikipedia entries, and so on. I want those factual, informational queries like "sixt miami phone number" to be satisfied on the SERP and not by a fast page visit followed by a bounce.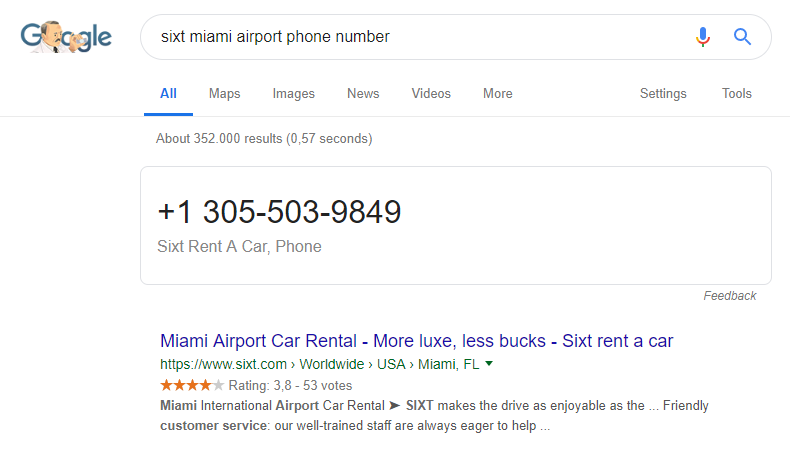 If a business does rely on visits from informational query traffic, they should focus efforts on strengthening their brand recognition so that users actively seek answers to their questions with them. Encourage users to visit your site directly, or with branded searches to carry out their task, and not in Google's SERPs.
Can you influence whether or not a link to your content is shown by Google?
You should always aim to achieve that "More items…" tag below your list Featured Snippet in order to highlight the fact that there is more to learn on the below page. Bulking out your Featured Snippet content is a good practice to improve its CTR, but this should only be done in cases when relevant and necessary.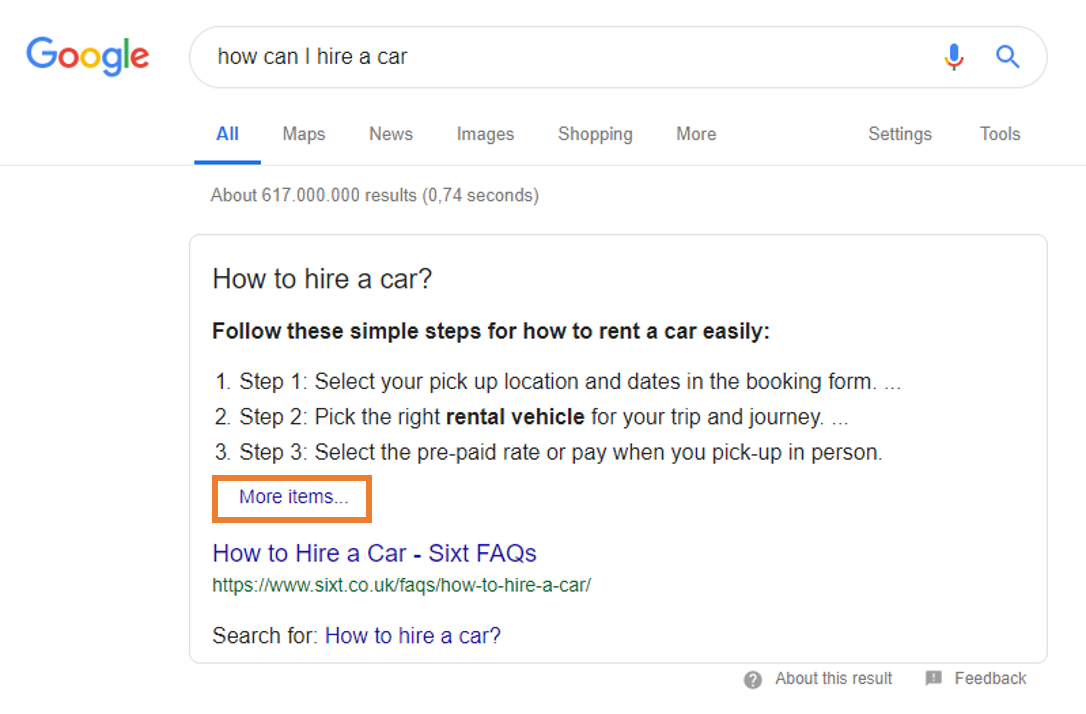 Generally speaking, your classic Featured Snippet will always feature a "blue link" to your content below. However, there are different types of Featured Snippet variations which now also provide query-refinement links that take you to another refined Google search. I call them "Entity Featured Snippets" as they pull known entities from the landing page's content.
These can be useful for you – for example if a list article or comparison site is mentioning your brand and is taken for the Position 0 spot, you stand to gain good prominence there. Isn't it fabulous that a competitor's Featured Snippet could win you website traffic?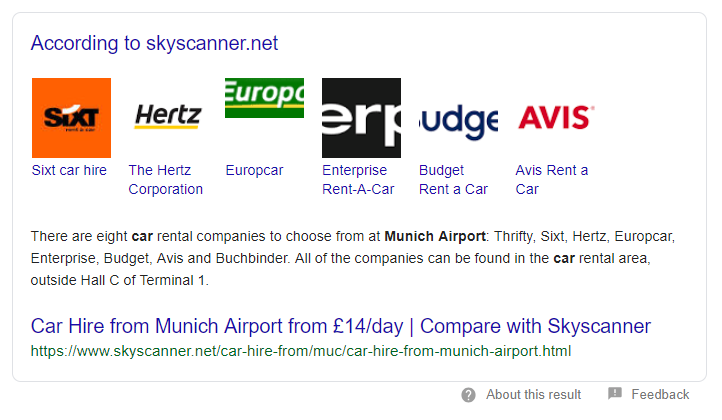 What role do Bing and DuckDuckGo play in all this?
Of course, these search engines follow suit as to what Google rolls out, and Featured Snippets are no exception.
Bing have really aggressive Featured Snippet variations which show tabbed content grabbed from the URL. In some cases, the whole page's text can be read on the SERP - scary, right? However, these are more Rich Result and Featured Snippet hybrids as there can be more than one per SERP, and the snippet enrichment falls below each result.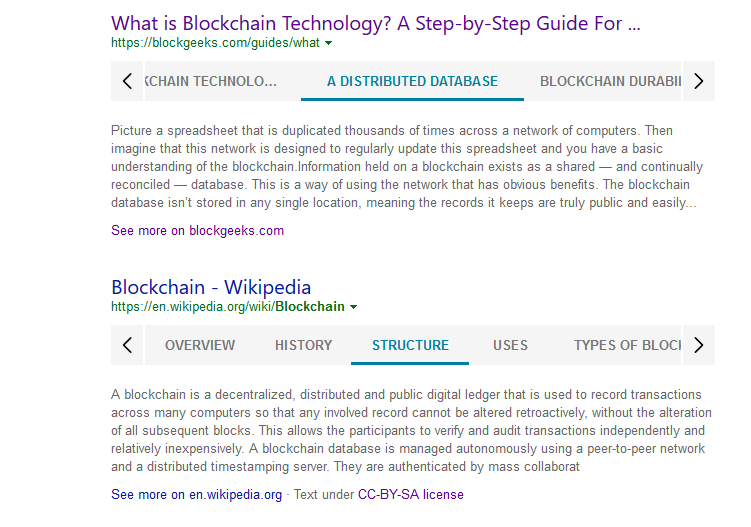 DuckDuckGo is also slightly malicious with their content stealing. Their Featured Snippet variations are displayed on the right-hand side, and can be expanded so that the entire method or list is directly viewable on the SERP.
We can no longer say Google's Featured Snippets are evil after seeing their content-heavy counterparts in other search engines 😉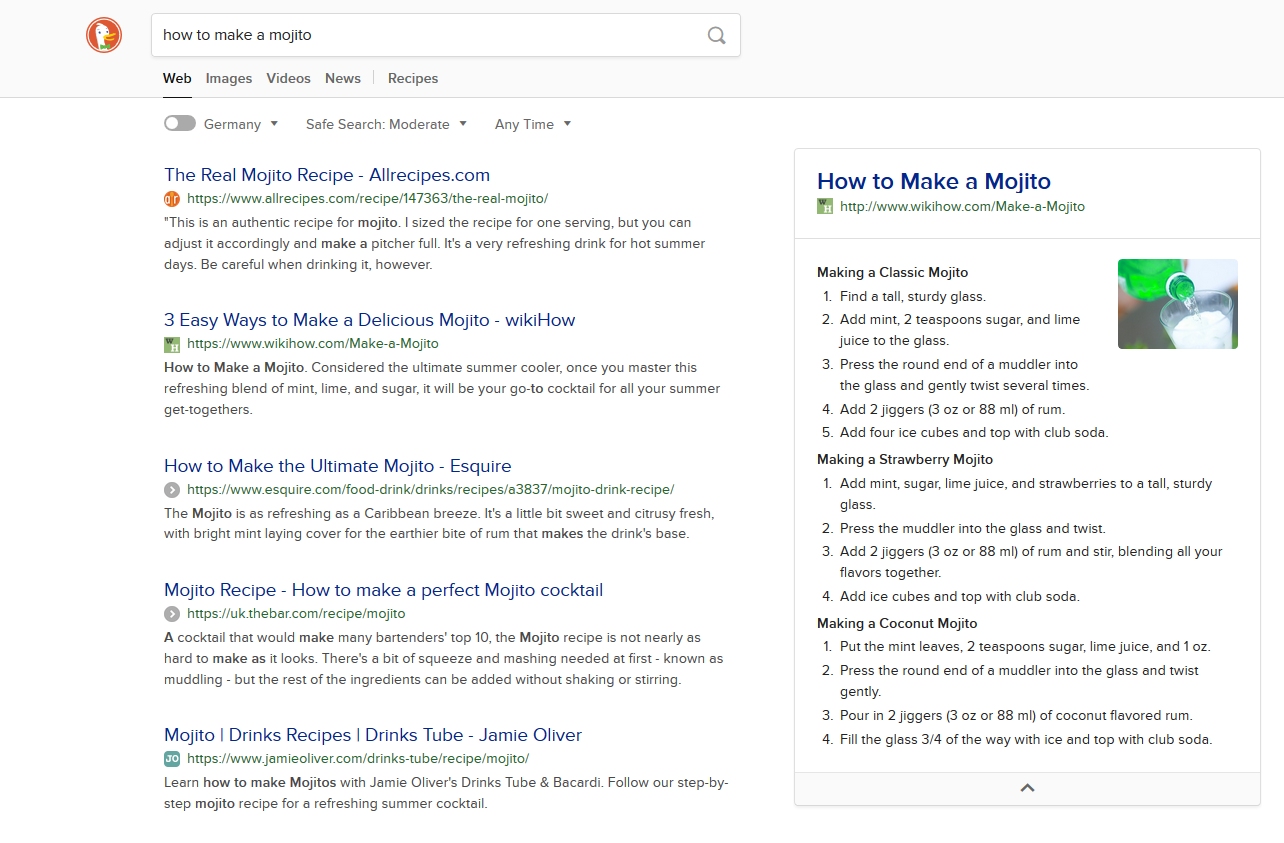 If you could give the readers one tip on featured snippets, what would it be?
Learn how to leverage the power of Featured Snippets to your advantage. Love them or hate them, these content-rich SERP enhancements have the ability to significantly uplift traffic and conversions so winning them in the right cases can result in fantastic growth.
However, achieving them for queries that can be directly satisfied on the SERPs may suck if your incoming traffic is a focus KPI but you should still evaluate if it's worth hunting them. The additional outcomes of a Featured Snippet; such as achieved brand awareness, voice search results, reducing short clicks to your site, and also one-upping competitors can still be a worthy gain.
Continue reading in-depth interviews with SEO specialists
You can check out our previous editions of SEO in Focus here: