You asked, and we listened.
ContentKing now integrates with Microsoft Teams, pushing the most important alerts directly in your team's workspace!
As one of the more requested features, our new integration makes it easy to stay on top of your SEO efforts. If pages become non-indexable, a title changes on a key page, or just about anything else — you'll be notified.
Here's everything you need to get started with our new Microsoft Teams integration.
Receive Teams notifications when alerts open and close
When an alert opens, it will be instantly pushed to Teams so your team gets notified in real time.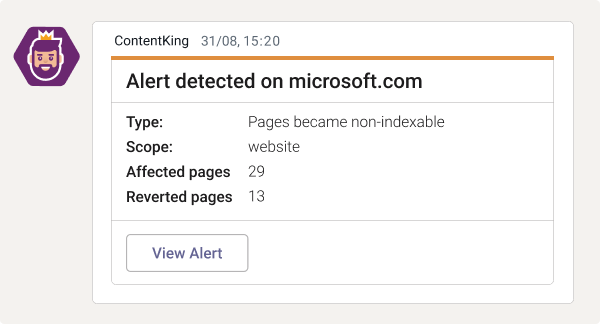 You'll also be notified when an alert closes. This way everyone will know when an issue has been resolved, so you can keep your entire team in the loop without having to chase anyone down for a status update.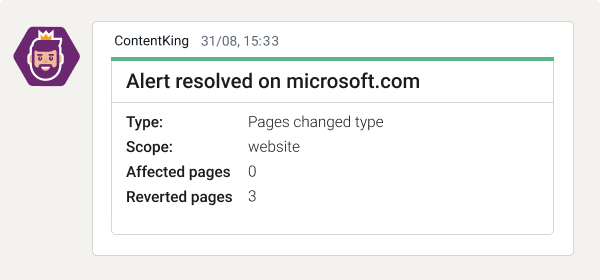 Configure your alerts to fit your workflows
Whenever you create a new alert definition or edit an existing one, you can decide if you want to also receive it via Teams.
And alerts are fully customizable.
Maybe you want to receive alerts for any change or issue, or only be notified to the most important issues on your top pages. Have the power to choose which issues or changes you want to be alerted about, or which part of the website, and who should get notified.
Get started today
And the best part about our new integration? You can get started right away.
This feature is already available on your ContentKing account — connect ContentKing with your Microsoft Teams today!
Connect ContentKing with Teams (opens in a new tab)
Need help setting it up? Learn more in our support article, or reach out to us if you have any questions.