Keep track of all robots.txt changes
One wrong character in your robots.txt can prevent search engines from accessing your site.
As an SEO, it's your responsibility to know what's going on on your site. That's why you need to be alerted about changes to your robots.txt as soon as they are made.
With ContentKing Alerts™, you can fix robots.txt issues before search engines notice them.
The robots.txt is the most sensitive file in the SEO universe. A single character can break a whole site.
Robots.txt became inaccessible? Be alerted.
An incorrectly set up robots.txt file may be holding back your SEO performance. Making changes to it has the potential to make big parts of your website inaccessible for search engines.
ContentKing Alerts™ have you covered. Configure who should get alerted and when.
Get alerts in-app, by email or connect with Slack and Microsoft Teams. With ContentKing Alerts™ the right people get alerted at the right time.
DON'T MISS ROBOTS.TXT ISSUES
A time machine for your robots.txt file
Not only does ContentKing immediately alert you when your robots.txt changes, ContentKing also keeps an historic record of all changes that were ever made.
Easily travel back in time and see and compare every single robots.txt revision.
With ContentKing you get a full changelog, to provide you with the accountability you need.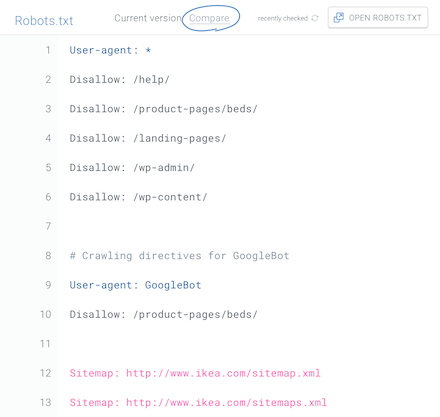 GET YOUR ROBOTS.TXT UNDER CONTROL
How ContentKing is different
Traditional crawlers are passive. You need to configure a crawl, wait until it completes and then manually try to spot the differences from the previous crawl. This is slow, expensive and error prone. And what about problems occurring between crawls? How will you know in time?
ContentKing is the only SEO solution on the market to continuously monitor websites.
Thanks to its Alerting™ and Change Tracking™ technology you have a fair fighting chance for the very first time. Finally you can solve problems before your visibility is impacted.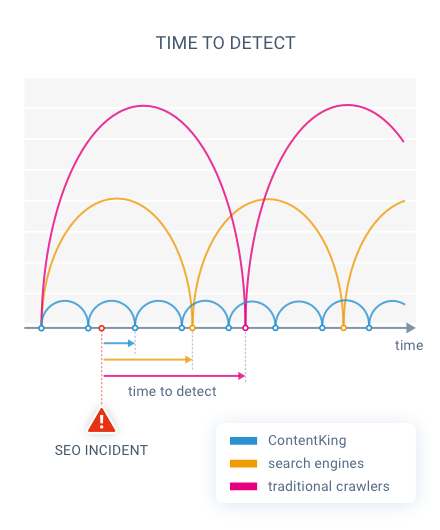 GET STARTED IN JUST 20 SECONDS
Trusted by the best
Join 2,000+ customers like: