Keep track of all robots.txt changes
One wrong character in your robots.txt can prevent search engines from accessing your site.
ContentKing Monitoring™ keeps a watchful eye on your site's most important file, tracking every change and alerting you when issues occur.
As always with ContentKing, this all happens in real time so you can fix robots.txt issues before search engines even notice.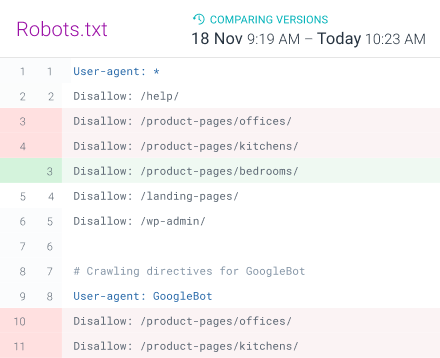 Robots.txt became inaccessible? Be alerted.
Don't let unknown changes to robots.txt files hold back your SEO performance.
Be covered with ContentKing Alerts™.
Configure who should get alerted and when. Get alerts in-app, by email or connect with Slack and Microsoft Teams. With ContentKing Alerts™ the right people get alerted at the right time.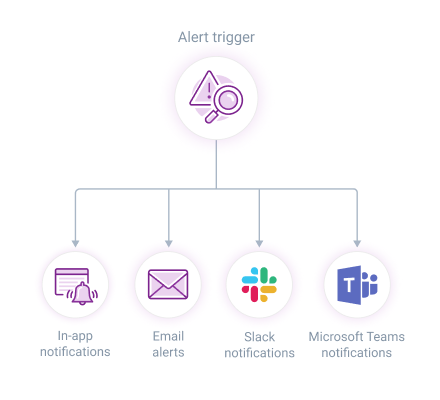 The robots.txt is the most sensitive file in the SEO universe. A single character can break a whole site.
A time machine for your robots.txt file
Easily see and compare all changes that have happened in your robots.txt in one place.
With ContentKing you get a full changelog, to provide you with the accountability you need.
See every version of your robots.txt with details on what changed, snapshots of HTTP headers, and if it was seen by search engines.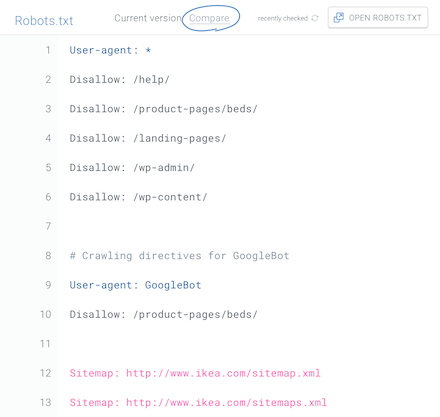 Real-time SEO data available with one click
As the only real-time SEO solution, ContentKing continuously monitors your robots.txt file and provides you with a clean and focused overview of any changes.
On top of that, we make it easy for you to take action.
Need to show the response and HTTP headers to your colleagues or the technical team? Easily download your robots.txt data and forward it directly to them.
Thanks to its Alerting™ and Change Tracking™ technology you have a fair fighting chance for the very first time. Finally you can solve problems before your visibility is impacted.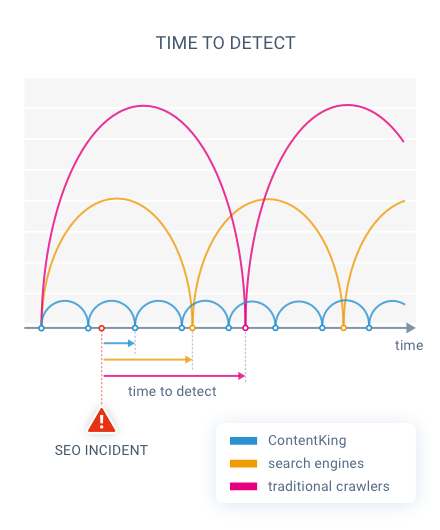 Monitor your robots.txt with ContentKing
Trusted by the best
Join 2,000+ customers like: