SEO in Focus
Technical SEO: what is it, and why is there such a growing demand?
I think the technical side of things is the most important part of SEO! It's like building a house; you need a good strong technical foundation to build the rest on top - the content and links.

So many times I have seen a site that has really good content, and a lot of relevant links and associated authority, struggle so much to perform organically because they have awful site speed, poor internal linking and a poorly configured robots.txt (among many, many other problems).
Hi Tom! Can you tell us a little about yourself?
Sure! I'm Tom Pool - the Technical SEO Manager at an awesome Reading based SEO agency called BlueArray (opens in a new tab) - where we focus purely on SEO!
I am responsible for the technical output of the agency, getting to work with really big clients like The Post Office and RAC, as well as a lot of smaller startups.
My first speaking slot ever was at Brighton SEO in April 2018 - where I spoke to around 700 people about Command Line Hacks for SEO.
Since then I've had a couple more speaking gigs, including one at BlueArray's very own first organised meetup - ReadingSEO (opens in a new tab)!
I'm also delivering training sessions on the more technical side of SEO, with the most recent one being at April's Brighton SEO 2019, focusing on SEO Auditing! I'm really looking forward to getting out there, and to speak and deliver training sessions more (I'm doing a training session in London for BrightonSEO in June, as well as one at September's event), as it is something that I really enjoy doing; it is both challenging and a massive learning experience.
How did you get into technical SEO?
This one's a great story!
I actually joined BlueArray as Simon's (the Founder) first hire, as an apprentice who had never heard of SEO before, and very new to digital marketing in general! I quickly learned that SEO is such a fun and fast moving field, and I think everything started to click a couple of months in and I started to really enjoy performing technical audits on different websites.
Fast forward a year, and the company had grown to around ten people.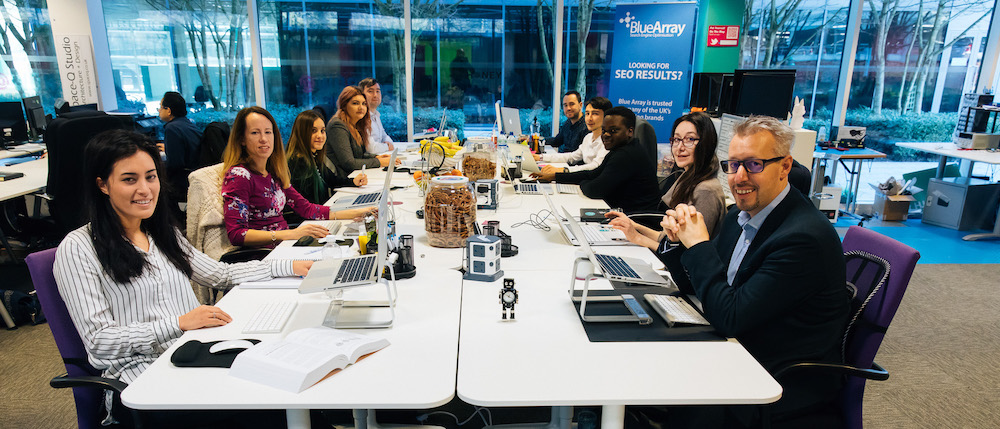 I started to specialise within the more technical side of SEO - that I really enjoyed, and discovered that I had a knack for. I have an Engineering focused background, so I found that the 'take things apart to see how they work' mentality was something that really translated across to technical auditing.
How would you describe technical SEO, and the roles it plays within SEO?
I think the technical side of things is the most important part of SEO! It's like building a house; you need a good strong technical foundation to build the rest on top - the content and links.
So many times I have seen a site that has really good content, and a lot of relevant links and associated authority, struggle so much to perform organically because they have awful site speed, poor internal linking and a poorly configured robots.txt (among many, many other problems).
As soon as a site fixes their crippling technical issues, we can see directly attributable effects:
Users engage with the site more, because it is faster, more logical, with all important content and pages within easy reach
Increased crawling activity from Googlebot, as the site is more attractive to crawl
An increased organic performance, due to the above factors
Technical SEO is way more than internal linking, robots.txt configuration & site speed - I find that the best definition is that Technical SEO is everything to do with the setup & configuration of a website, focusing on how a site can be optimised to appear to be the best when being crawled, rendered and indexed.
I find the technical side of SEO to be the best side of this awesome industry, as it is always evolving with so many areas to keep informed about!
Of course, you cannot just focus on technical SEO - if you don't have any valuable content or any relevant authority within an area, the most technically sound website will not be able to cut it, especially in this ever more competitive web. You really need a trifecta of these three main pillars of SEO to be able to perform as well as you want.
What trends do you see for the technical SEO field?
I see a lot of increasing trends within the technical SEO field. One is of course a continued focus on mobile first and site speed - especially within this new era of the Mobile First Index.
Internal linking is also something that many websites overlook, with masses of facets, filters, breadcrumbs, fancy header navigations and horizontal & vertical linking structures. Having these things is not a bad thing, but sometimes the best possible thing to do is to simplify things a bit, and just make sure that the most important pages are linked to in ways that make sense. This has been a focus for many technical SEOs for a while, that I'm sure will continue.
I find that log file analysis has also started becoming more of a talked about, important area of technical SEO. Google (and Bing) have shifted towards more 'not provided' data within their tools, as well as only providing 1,000 row exports from Search Console - making it harder to gain decent insight. Of course, more data can be gained through the API, but it can be slightly trickier to get the data you want.
When you are responsible for a number of domains with page counts into the millions, the top 1,000 rows of data are not enough to satisfy, so turning to log file data is one of the only options we have. They can show every single visit your site has got from all bots, and can help identify so many potential issues & problems - crawl traps, bottlenecks, legacy pages you forgot about, waste of crawl budget - to name a few.
I find that there is a massively growing need for quality technical advice, especially more recently, following the onslaught of Google Algorithm updates and changes. Clients are always looking for ways to improve their sites, and technical SEO can bring a lot of value to the table.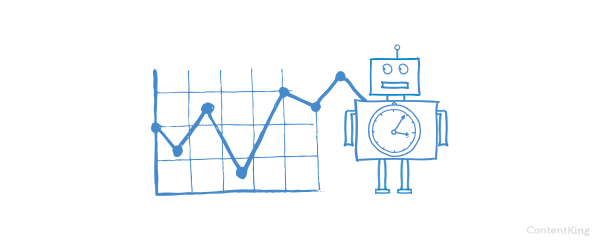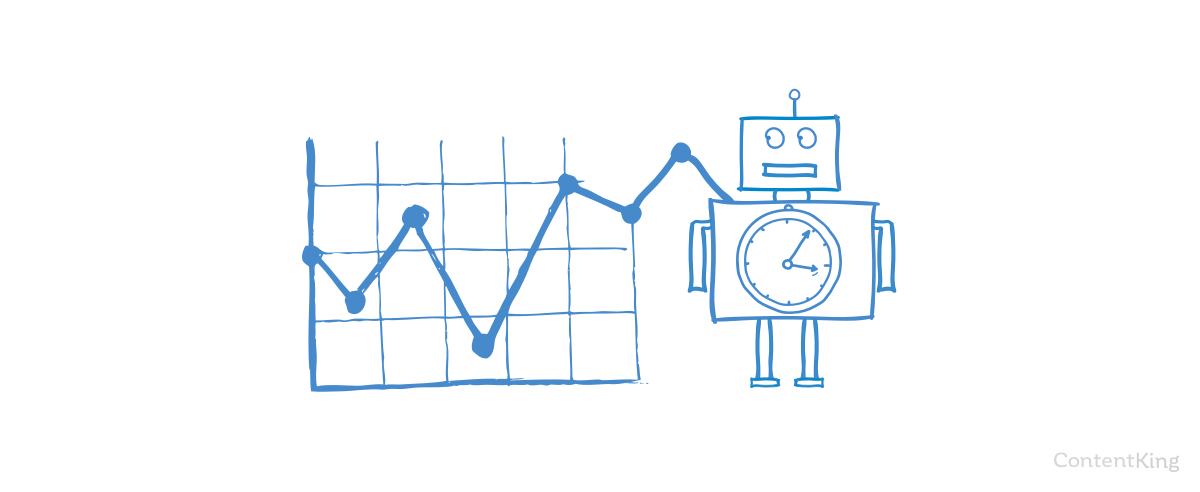 Why is there a continuously growing need for technical SEO?
Due to a high number of recent Google Algorithm updates that have shaken the SERPs up a bit (and almost definitely destroyed some people's companies in the process) it is imperative that clients get the best possible information to ensure that they stay ahead of Google.
Pure white hat SEO is the best route to take - for a more sustainable and defensible strategy, but for people who do not do SEO on a daily basis, and perhaps manage a website's/companies other needs, navigating the amount of information out there can be a minefield!
In short, the more businesses that are created, and the more websites that are made, the more need there will be for a solid technical SEO foundation with which to build upon.


Chained redirects
How do you feel about people calling technical SEO makeup?
I remember a while ago, just after I started in the SEO industry, a few articles were published, mentioning that technical SEO is just 'makeup'. While I see the argument (and thoroughly disagree), that technical SEO is a thing 'that is nice to have', the exact same argument could be made for the other main pillars of SEO - and then we'd just have a load of superficial nothingness!
I believe that technical SEO is as important as the content that is in place on a site, without the other, a site will be going nowhere at all. Each of these factors should complement each other, with content that is technically sound, and a technical foundation that supports quality content.
What does it take to become a technical SEO?
It's notoriously difficult to hire for a technical SEO role, as the ideal candidate needs a mix of a logical and creative personality, as well as the ability to really think outside the box when it comes to the more niche SEO problems.
I find that so many marketers focus on content or link building, and so few specialise in technical, perhaps dissuaded by the talk of logs, bots, servers and X-robots directives!
I think a passion for finding out how things work and a desire to learn more goes really far when looking to specialise in technical SEO. It is for sure not a role for every marketer, but every person in this industry should at least have a good solid foundation of technical knowledge to work with.
It is something you can only progress so far by just reading about it - you really have to get stuck in and involved, experiment lots and see what works (and what doesn't!)
What areas of technical SEO are developing most rapidly?
I think the whole industry is improving and developing very rapidly, which always keeps us on our toes! JavaScript is of course a hotly debated topic, with a lot of discussion around how Google can actually render and index it. I for one can't wait for the next Googlebot update - so it can be in-line with the current Chrome version; it will be super interesting to see how they index content moving forwards.
Dynamic rendering is also an awesome topic, where Googlebot gets the full HTML version of a site, and users get the JS version. It's the best of both worlds, where Google gets the easily indexable content, and users get the awesome functionality of JS.
I also believe that schema is going to evolve beyond what we currently recognise, with a massive increase in no-click searches, and how business & website owners deal with the potentially massively reduced number of clicks.
How do you keep up with the technical SEO field that's so rapidly evolving?
Lots of Twitter! I spend part of my evenings reading up on any latest developments on Twitter, various SubReddits (r/seo, r/techseo, r/bigseo) and of course browsing through the myriad of search engine related publications. As I mentioned earlier, I experiment a lot with a couple of random sites, to see what happens when I implement certain things. I also try to keep up with BlackHat forums, to see how the other half live!
It also really helps to work in a company as open and as collaborative as BlueArray, where discussion of SEO problems is promoted and there is always someone to debate the effects of technical implementations with.
What advice do you have for people wanting to get into technical SEO?
Do it!! I find it is the most fun area of SEO, with so many advancements and a lot of evolution. Start by reading resources, and then start your own website - experiment lots! Try and get penalised (on your own site), see the effects, and start again! I find the best way to learn something is by doing, as practical experience counts for so much.
There is so much to learn - I still learn something every day about this industry, and I have never got bored. If you like finding out how things work, and seeing how you can affect crawling, indexing and rendering, it's a great opportunity. Above all - it's great fun!
Continue reading in-depth interviews with SEO specialists
You can check out our previous editions of SEO in Focus here: