No more time wasted figuring out how your website is doing! Your new personalized dashboard in ContentKing now gives you a quick overview of everything that matters to you about your website in a single click! Tailor it to your needs:
Select the segments you care about; and
Choose a time period that you want to analyze or report on
Want to explore it immediately? 👉 Personalize your new dashboard right now (opens in a new tab)!
Most recent website changes
Need to quickly check how many pages were recently added, changed, removed, or redirected? The answers to those questions and many more are now just a click away: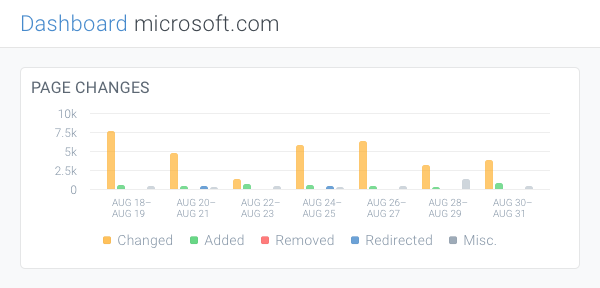 Issues being solved or introduced
ContentKing audits your website 24/7 and highlights issues that deserve your attention. But after you fix those issues, you want to see results – how many issues were resolved, how many issues opened and how did all of this impact Website Health? Now this information is laid out in front of you in clear, beautiful graphics: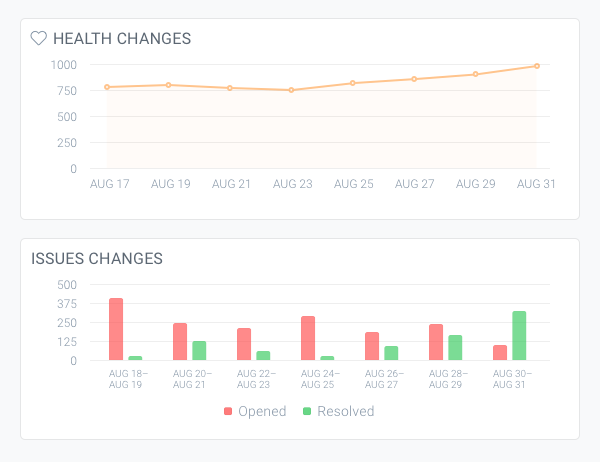 Overview of your website
How is your website doing overall? How many pages are there, and how many issues and alerts need your attention? A clear, actionable overview of your website is now always at your disposal: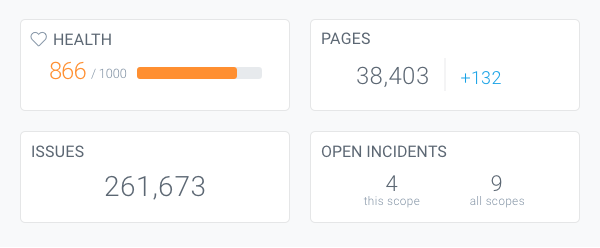 How many pages are missing, and what portion of your website is not indexable? You can now see this in an instant: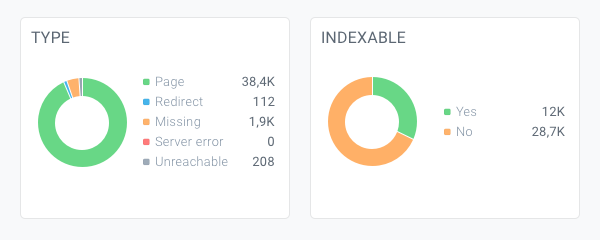 Dive deeper with a single click
Did you spot something that you want to investigate more? Go for it! All widgets are clickable, making it easy to find out exactly what happened.

Visualize your segments
Don't let the gorgeous visuals distract you – this feature packs a punch! Keeping your entire website in great shape is hard. With your new personalized dashboard, you can now choose what parts of the website are the most crucial to you. Just pick the segments you care about (opens in a new tab) and you'll always see their overview on your dashboard.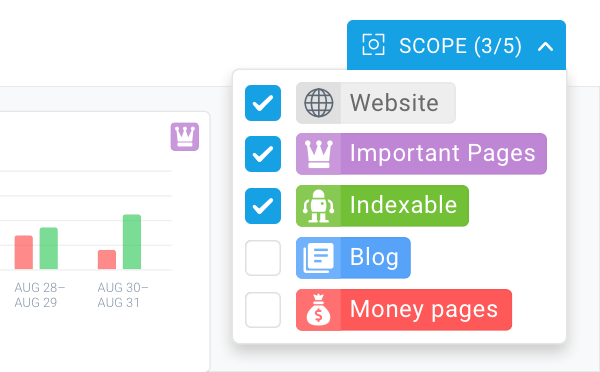 Instant, real-time reporting for any date range
The new dashboard takes reporting to a whole new level! This is not your regular static report. Thanks to ContentKing's Change Tracking™, you can travel back in time to get a single overview of all important changes for any date range you're interested in. We're talking
Yesterday
Last week
This week
The last 4 weeks
Or any other date range you want…
and all without ever leaving the main screen.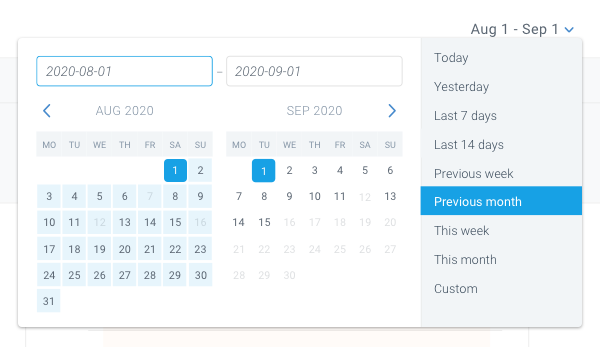 Get started now
The new dashboard ready and waiting for you to make it your own. Log in now to personalize it (opens in a new tab)!
Need more help setting it up? Learn how you can create segments relevant to you in our support article, and feel free to reach out if you have any questions.
Not using ContentKing yet? Do your website a favour and start your free trial right now.