Industry News
Google Newly Supports Meta Descriptions up to 320 Characters Long
What's happened?
Earlier this month, Google released an update to its search engine result pages (SERPs). Now they support meta descriptions up to 320 characters (1,840 pixels) long.
This is a big deal because your meta descriptions are probably a lot shorter than that, and Google may already be newly showing snippets from your pages instead of your meta descriptions.
Here's a tweet from Google's Spokesperson for the SEO community that confirmed the change:
Yes. It's not your imagination. Our snippets on Google have gotten slightly longer. And agree with @rustybrick (opens in a new tab) – don't go expanding your meta description tags. It's more a dynamic process. https://t.co/O1UTyFeNfA (opens in a new tab)

— Danny Sullivan (@dannysullivan) December 1, 2017 (opens in a new tab)
Regarding the new maximum length of the snippet Google's showing, Danny Sullivan said in response to Rand Fishkin:
I will ask around. But as a guide, it's not likely to be longer than 320 characters, which I believe is the max we show now. If you had a meta description longer than that – AND we used it exactly (which often isn't the case) – longer wouldn't show.

— Danny Sullivan (@dannysullivan) December 2, 2017 (opens in a new tab)
So, what does this look like in practice? Here's an example of an extended description for the search query "car insurance":

What's interesting here: their meta description is defined, but not used. In the page source it says:
So instead of the meta description, Google has decided to show part of the first paragraph of the content: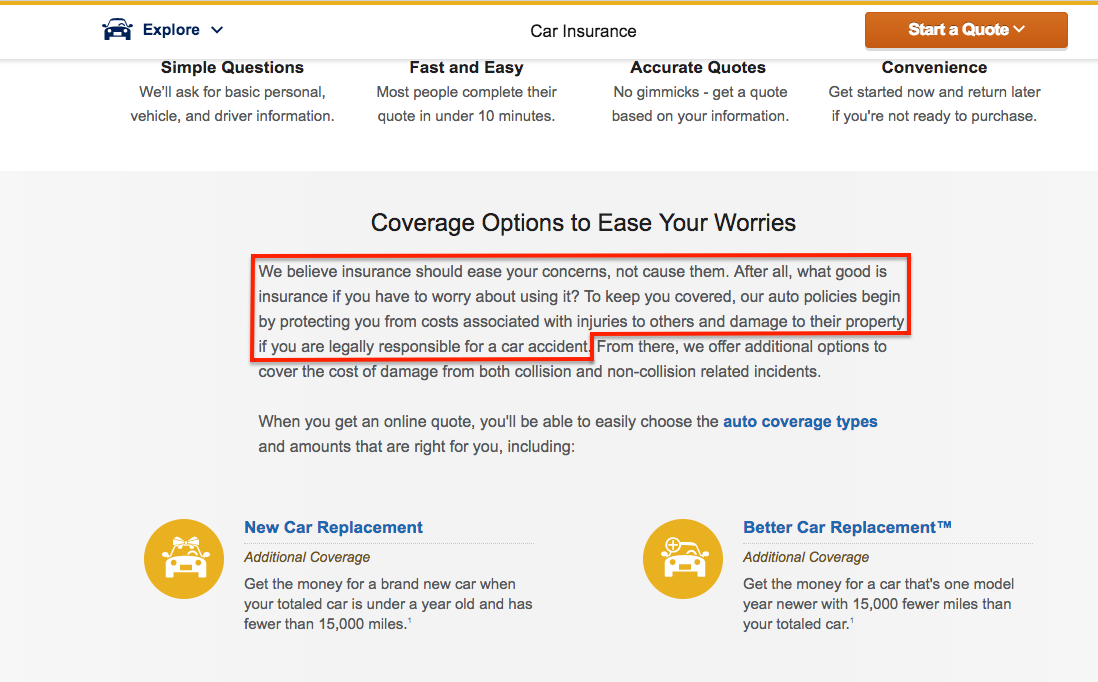 Google's choosing snippets over meta descriptions?
Yes. And in fact, long before these longer meta descriptions were introduced, Google was already replacing your carefully crafted meta description with a page snippet when they felt the snippet was more relevant for a search query than your meta description.
With this change, we're expecting Google to move even further away from using meta descriptions, towards instead using snippets from pages.
Why? Because of several reasons:
Google's algorithm is based more and more on machine learning, meaning that Google is making more and more use of artificial intelligence to drive its engine. This is what we think Google means when they say "It's more a dynamic process."
With the enormous amount of devices with different screen sizes out there, it's important for Google to show a good page description regardless of the device. As a website owner, you can only define one meta description.
We're calling these longer snippets page descriptions rather than meta descriptions (opens in a new tab), as the meta description refers to the HTML element that you define in the page source. If instead of the meta description a page snippet is used, we can't call that a meta description.
How can you increase your chances of Google using your meta description?
You want to control how your pages are presented in each SERP, so you need to craft great meta descriptions. But on top of that, to increase your chances of Google actually using a page's meta description, here's what you need to focus on:
Relevance: include relevant keywords.
Length: keep the length from 160 to 320 characters (920 to 1,840 pixels).
Uniqueness: it should be unique throughout your website.
Readability: it should be easy to read and process.
USPs:include your USPs in it. Remember: this is your sales pitch!
Why is this change a big deal?
Google may already be replacing your meta descriptions with snippets from your pages, simply because they don't adhere to the new length guidelines: they're too short.
Chances are you're not happy with the snippets they picked, and it's hurting your click-through-rate (CTR) simply because your snippet in the SERP does not appeal to your potential visitors.
This change doesn't have to be a bad thing: the longer meta descriptions give you more room to better convey your message to potential visitors!
Do your meta descriptions fit the new length?
Check whether your meta descriptions fit Google's new preferred length. If they are shorter or longer, Google may be replacing them with an unpreferred page snippet.
Should I extend my meta descriptions?
Yes. We recommend extending your meta descriptions so that they are between 160 and 320 characters (920 and 1,840 pixels) in length.
We understand that that's a lot of work, so we recommend setting up priorities for this. Start by updating the meta descriptions for your landing pages that receive the most organic traffic, and then work your way down.
You can find the landing pages that receive the most organic traffic through Google Analytics and the Google Search Console.
Finding landing pages in Google Analytics
Go to Acquisition > All Traffic > Channels and select Organic Search
Select Landing Page as Primary Dimension
Finding landing pages in Google Search Console
Go to Search Traffic > Search Analytics
Select Pages
What are the pros and cons of this change?
We're with SEO Expert Logan Ray on this (opens in a new tab) and expect this change to have the following pros and cons:
Pros
More room for your proposition: you now have more room to pitch your unique proposition to potential visitors. The previous maximum length of 150 characters (920 pixels) wasn't always enough to convey your message.
Cons
Cannibalization: the more information is shown directly in the SERP, the more likely it is that potential visitors have already gotten their answer from the extended snippet.
Information overload: the longer description could overwhelm potential visitors, driving them to click more on Google AdWords results.
Fewer clicks for the lowest results: because potential visitors have to scroll further down the SERP to reach the lowest snippets, these will likely get less clicks. We're also expecting the results above the lowest snippets to benefit from this.
With the longer descriptions, are there fewer results per page?
No, the SERP has just become longer. RankRanger's SERP Insights (opens in a new tab) shows that while the descriptions became longer, at roughly 228 characters, the number of snippets stayed the same, at about 9.8 snippets per page: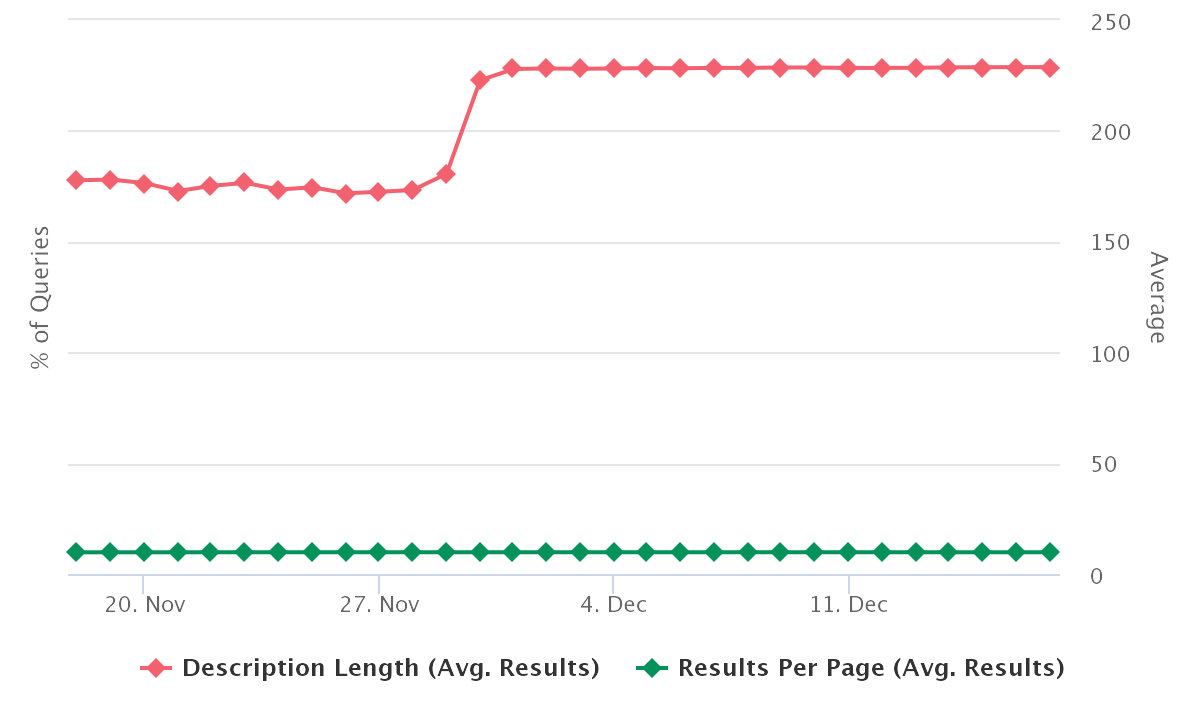 Wait, but what about mobile?
Google has increased the length of the meta descriptions on mobile too. Now the average meta description length for mobile is 193 characters (1,100 pixels).
Unfortunately there is no way to define separate meta descriptions for desktop and mobile. If the majority of your organic traffic is coming from mobile, then we recommend keeping your meta description under 190 characters.
Here's wishing you good luck optimizing your meta descriptions – and let us know if you have any questions!