Other
ContentKing Recognized with 8 Awards in G2's Spring 2022 Report
ContentKing has once again received top awards by G2 (opens in a new tab), earning a total of 8 badges across multiple categories in the Spring 2022 report!
Since Autumn 2021, ContentKing has been recognized at the Enterprise, Mid-Market and Small Business level with awards across several categories — and the addition of the Spring 2022 awards exemplifies a continuation of our progress in these market segments.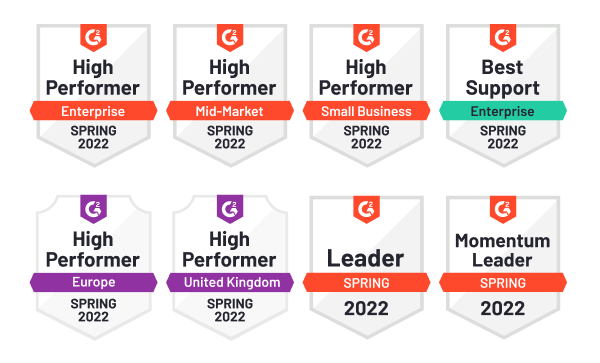 From our Head of Customer Success
"Being recognized for Best Support at the Enterprise level twice in a row makes me incredibly proud of our Customer Success team, and I would like to use this opportunity to thank the team as well as our amazing customers who make our work so enjoyable.
ContentKing has always been known for delivering exceptional customer support in the SMB space. Over the past year we have seen rapid expansion in the Enterprise segment as well, bringing along new exciting challenges to both our Product and Customer Success team.
This recognition gives us confidence that we are heading in the right direction, and we are going to use it as a foundation to build and improve our Customer Success efforts even further."
Vojtech Zach. Head of Customer SuccessView profile

LinkedIn (opens in a new tab)
Award highlights
G2 is the leading B2B software and services review platform for users, buyers, investors, and industry analysts. The quarterly awards by G2 recognize top software companies from around the world.
Here's what we won:
Leader
Momentum Leader
High Performer, United Kingdom
High Performer, Europe
High Performer, Small-Business
High Performer Mid-Market
High Performer Enterprise
Best Support, Enterprise
Additionally, we received recognition for Users Love Us based on positive customer reviews. See what our customers say on G2.
Thanks to our users!
Our goal has always been to create the best SEO software on the market — and hearing from users about their positive experiences and successes with ContentKing is proof that we are on the right track. As the saying goes, this wouldn't have been possible without you!
So thank you for loving SEO as much as we do.
That said, there's plenty more to come from us as we join Conductor in shaping the future of organic marketing!
See why SEOs love ContentKing!
Let Contentking monitor your website for any SEO issues in real time. Up and running in 20 seconds — no installation needed!