Industry News
Fastly broke the internet — we informed our customers about it before Fastly did
Earlier today, the internet was severely broken.
No, it wasn't Kim Kardashian's doing — CDN provider Fastly was experiencing issues (opens in a new tab).
The scope was massive, resulting in limited availability (if any) for sites like CNN, the Guardian, Hulu, Reddit, Spotify, Amazon, the UK government website and many others (opens in a new tab).
As a platform that monitors tens of thousands of websites, we immediately noticed something was very wrong.
ContentKing sent an abbundance of alerts
Our platform started firing off alerts as it saw our customer's pages suddenly started returning 5xx status codes (opens in a new tab):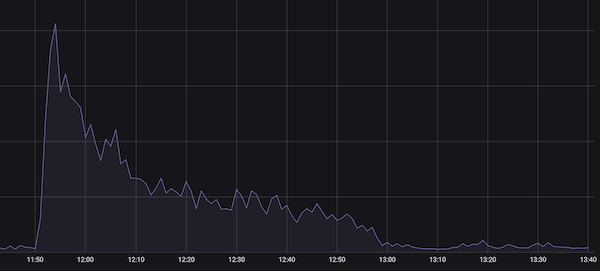 Pay close attention to the time (CET timezone) on the X-asis and compare that to the time when the Fastly incident was reported (11:58 CET) — we were informing our customers about it before Fastly even reported it 😎
The lesson learned here? We've got you. Let us monitor what you care about. Get started today.
24/7 SEO Alerting
ContentKing watchdogs your websites 24/7 for issues and changes. Up and running in 20 seconds — no installation needed!