Industry News
News Roundup: Bing Rolls Out New URL Inspection Tool and More
Bing Rolls Out Webmaster Tools URL Inspection Tool
Microsoft's very own search engine has been pushing out major improvements for website owners.
Two weeks ago, Bing launched an enhanced Robots.txt Testing Tool that lets you check the validity of robots.txt file for each of your URLs.
On top of that, Bing has also rolled out a new URL Inspection tool (opens in a new tab) that gives website owners a detailed overview on the indexability of their URLs, as well as an analysis of the state of their SEO requirements, or MarkUp details.
To give website owners a good overview of the state of their URLs, the Inspection Tool evaluates them in several aspects.
Firstly, it fetches the index details that show the URLs' properties and index status. It provides users with the exact time when a URL was discovered, crawled, and indexed.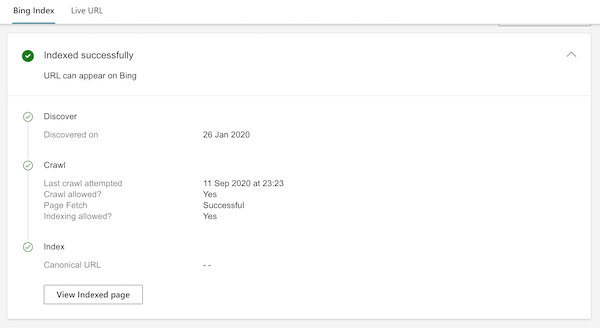 Secondly, the tool also lets users see SEO details regarding the featured URL. It looks for possible errors and highlights steps on how to fix them, and it shows the corresponding in-code HTML.

Like Google Search Console, the Bing Webmaster Inspection Tool can also look for Markup details too.

Combine this tool with live audits
According to their official announcement (opens in a new tab), Bing has big plans for the new tool.
"We hope that this tool not only becomes an integral part of the arsenal of every webmaster's toolbelt but also provides a structured way to update content and help you improve your search result rankings," they said.
"As always, we are excited to present new features to give you more details and insights about how we crawl, discover, and index content; especially now that we have migrated to a new and improved platform and experience."
Although the Bing Webmaster URL Inspection Tool is a major improvement when it comes to your SEO performance on Bing, it still lacks the ability to constantly monitor your website and inform you about any issues immediately.
Is your website safe from SEO mistakes?
Get alerted about any potential SEO issues your website is facing. Be ahead of the SEO game with ContentKing.
Google Search Console Index Coverage Report Is Finally Updated
SEOs were panicking of late, and the reason why was simple. One of the most crucial tools for measuring the state of a URL-heavy website—Google Search Console Index Coverage Report—wasn't providing updated data for the last two weeks.
But finally, the report is up to date!

Here's what hapenned: until Tuesday, September 15, the Index Coverage Report showed entires only until August 31 or September 1st.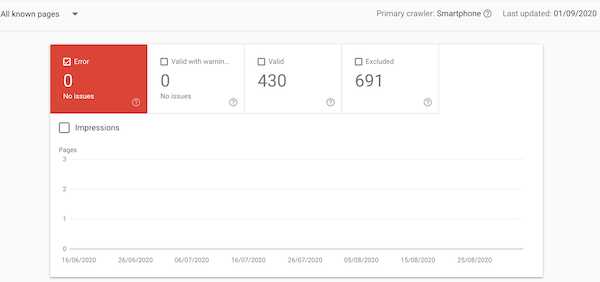 The Index Coverage Report usually provides data with a two- or three-day delay. But this time, it took more than two weeks.
In a response to a tweet by Arnout Hellemans who pointed it out, Google's John Mueller confirmed the delay.
In another tweet, he said that the report would be updated around Saturday, September 12th.
Mueller explained that the speed of the Index Coverage Report depends on the backlog of its processes, and it sometimes can take days to get everything visible in Search Console after things are unblocked.
On Monday September 14, Google Webmasters tweeted that they were experiencing longer than usual delays in the Index Coverage Report. However, they added that it didn't affect crawling, indexing, or ranking of websites.
Google Search Console Coverage Report is a handy tool for finding out about possible indexing issues on multiple URLs at once. It's especially neat if you are performing a website migration or if implementing significant changes to your website.
DuckDuckGo Reports Record Growth
Interesting news emerged from another search engine, one that has been stepping up its game—DuckDuckGo.
This search engine, which emphasizes the protection of privacy, experienced its best month so far in August this year. According to their official data (opens in a new tab), DuckDuckGo reached 2 billion monthly search queries, 64 active million users, and 4 million installs of their app or Chrome extension
In addition, the search engine managed to cross over yet another milestone last week. On Monday, DuckDuckGo had over 70 million daily search queries.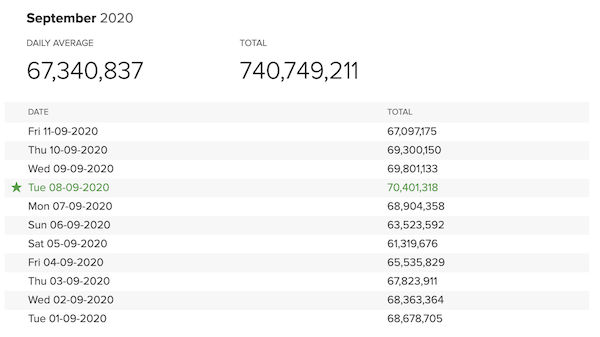 DuckDuckGo's Increasing Role in Mobile Search
According to their official statistics, this search engine has been constantly growing in terms of search query volume. DuckDuckGo has served over 15 billion search queries in 2020 so far.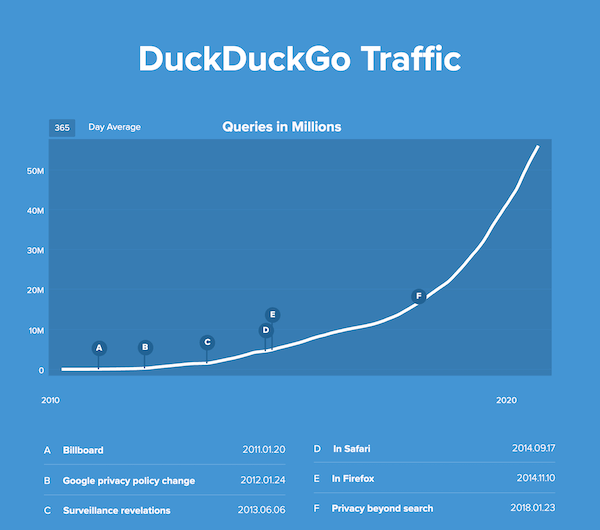 With the constant growth, it's getting obvious that SEOs shouldn't ignore optimization for DuckDuckGo.
Besides, as we recently reported, this search engine may benefit from the European Union's decision to make Google give new Android phone users a choice on what to use as their primary search platform when they first turn on their phone.
In June, the EU selected alternative search engines to choose from in each country in the Union. DuckDuckGo (and Info.com) managed to get on the list in all of them.
Notably, according to a study conducted by DuckDuckGo itself, if given a chance not to pick Google as their default search engine, 20% of Android users in the US, 22% in the UK, and 16% in Australia would not do so.
This means that there is a chance that optimizing your content for DuckDuckGo may soon become a significant part of your SEO workflow.
Keep up to date!
Want to be kept up to date on all things SEO?
Sign up for our newsletter and follow us on social media: