Travix (opens in a new tab) is the parent company of several major travel brands including CheapTickets, offering flight tickets, car rental and hotel bookings. They are headquartered in Amsterdam but have offices around the globe, employing 500 people in total.
The challenge
Travix operates 42 travel websites across 39 countries. Their digital marketing team is spread across three timezones, working from their offices in Amsterdam, San Jose and Singapore. The enormous time difference between offices made it difficult to respond quickly to SEO mistakes.
Making things even more challenging, Travix uses content exchange across brands and advanced content automation to generate content for the various brands, routes and destinations.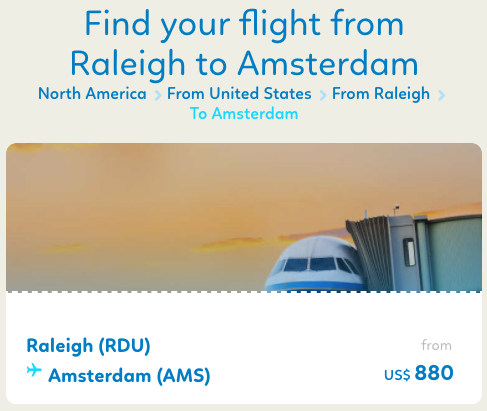 Diantha de Jong, Global SEO Lead at Travix, recognized she needed a solution to keep track of the staggering amount of content Travix manages.
The solution
Travix found the perfect solution in ContentKing. Thanks to its 24/7 monitoring capabilities it's a breeze to keep track of changes — content changes or technical changes — introduced across any of their websites.
ContentKing also facilitates collaboration across Travix' offices spanning three timezones, uniting people to collaborate on Travix' digital marketing success together. Thanks to ContentKing's ease of use, the Travix team is able to distribute SEO maintenance work across its many websites:
Since on-page optimization activities are divided among many different people in different locations in our company, ContentKing helps to schedule hygiene moments, where it is easy to divide the SEO activities among different people. Using the tool to tackle on-page issues requires very little explanation.
What's important for a company with so many websites is the ability to benchmark performance across brands:
The health score creates a comparable number between the brands which helps to see which websites need more attention and also creates a bit of competition.
The results
ContentKing has proven successful in facilitating collaboration, but what about the impact to Travix' bottom line? De Jong:
We started using ContentKing in January 2019. Since then we have improved our organic traffic by almost 5% globally, overscoring other unpaid channels in our marketing channel mix.
When asked about ContentKing Alerts, De Jong immediately pointed out to a specific disaster averted thanks to continuous monitoring:
After rolling out, it turned out that our dataset was incomplete and we were only covering 75% of existing route pages. Because all older pages were overwritten, we lost the other 25%. ContentKing alerted us that pages were removed, so we were able to quickly identify this issue and recover the missing pages.
The alert that ContentKing sent to de Jong and the rest of the team was crystal clear: take immediate action.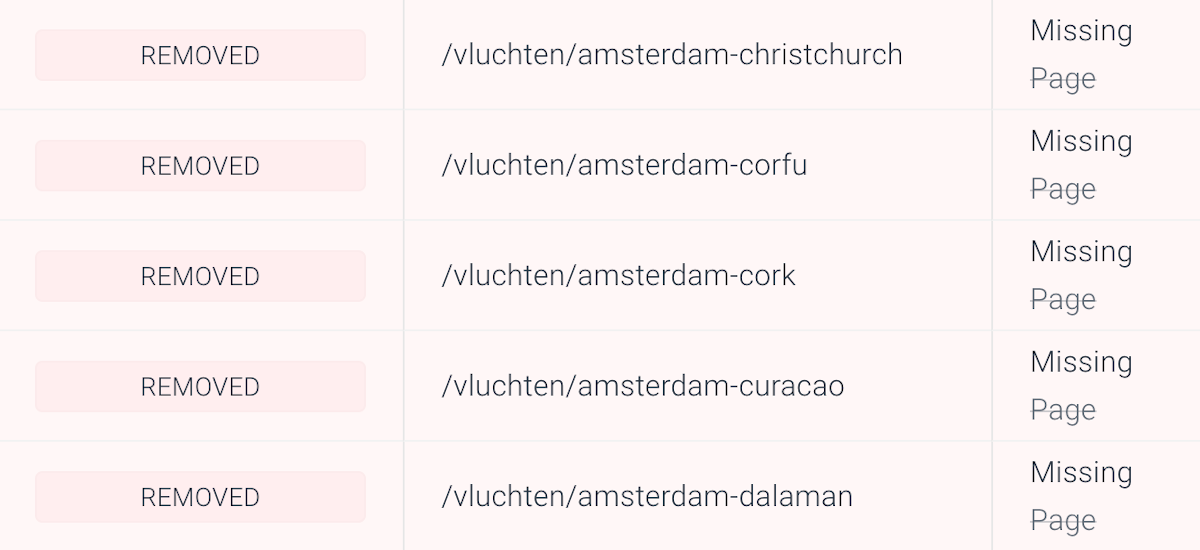 Asked about the potential impact, de Jong shared:
If we had not caught the issue, we would have missed thousands of impressions per day on this particular segment of pages.
To conclude, Travix:
grew organic traffic by 5%, overscoring other unpaid channels
can safely rely content automation and content exchange across its brands thanks to 24/7 monitoring
prevented significant revenue impact thanks to ContentKing Alerts
brings the international team together on a single platform
Are you monitoring your websites against SEO disasters?
Start your free trial and discover what ContentKing can do for your organization!