Industry News
SEO News: Google Suspends Request Indexing Feature and Updates Quality Rater Guidelines
Google suspends Request Indexing feature
Sad news shook the SEO world last week. One of the most powerful tools for getting your URLs indexed by Google has been temporarily suspended from the Search Console.
On Wednesday, Google tweeted that it's temporarily getting rid of the Request Indexing (opens in a new tab) functionality, stating that it did so "in order to make some infrastructure changes."
According to the tweet, the search engine expects to redeploy this feature in just a few weeks.
In a follow-up tweet, Google's John Mueller confirmed that the measure won't affect the normal crawling and indexing process.
To learn how to get Google to index your site quickly despite the suspension of Request Indexing, check out this 13-step guide (opens in a new tab).
Why has Google disabled the Request Indexing feature?
Google announced they disabled the "Request Indexing" feature in order to make infrastructure changes.
The fact that they'd need to make these changes is evident, as they've been suffering a number of indexing-related issues of late. Plus, we're getting strong signals from the SEO community that the search engine has been much slower at indexing new content since the broad core update in May.
On the other hand, there may be yet another indexing issue that's keeping Google from handling the requests properly.
Hopefully, we'll see the Request Indexing feature back in our Console accounts soon. In the meantime, we'll have to rely on following best practices for getting our URLs indexed by Google (opens in a new tab).
Get your URLs ready for Google
Are you sure there's nothing keeping your pages from shining on Google Search? Let ContentKing check your website for possible issues.
Google updates Search Quality Rater Guidelines
Seven extra pages, and new sections—not only has Google updated Google Search Console; they've also made some notable changes to their Search Quality Rater Guidelines (opens in a new tab).
It has been 10 months since Google updated its 168-page guidelines, used by their quality raters when they're evaluating a website.
And on Wednesday night last week, Google introduced a few changes. And for the first time, Google also published a change log to make it easier to see all the noteworthy changes to the document: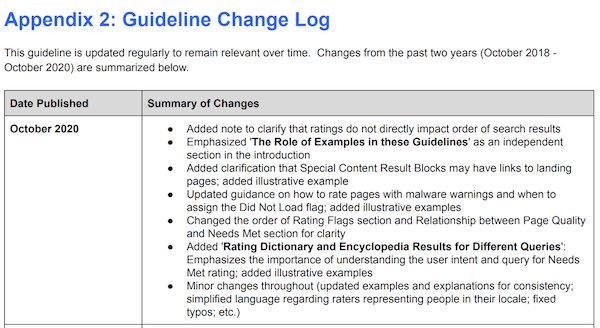 Apart from yet another statement that quality raters don't directly impact rankings, as mentioned in the first bullet in the changelog, the now 175-page guidelines have new sections that underline various aspects of websites to evaluate.
One section, included in the introduction to the guide, explains and emphasizes the role of examples as something the raters should follow.
Google also added a section about how to rate dictionary and encyclopedia results for different queries, in which they emphasize the importance of search intent and query for Needs Met rating.
Another section describes how to rate pages with malware warnings and when to assign the Did Not Load flag.
The update also includes some minor changes. These are mostly stylistic and consist of e.g. fixed typos, updated examples and explanations for consistency, and simplified language regarding raters representing people in their locale.
Keep up to date!
Want to be kept up to date on all things SEO?
Sign up for our newsletter and follow us on social media: