We've just released the latest version of ContentKing, which adds powerful new insights. Let's take a look at what's new!
Indexable vs. non-indexable pages
You can now easily toggle between indexable and non-indexable pages. Not interested in non-indexable pages? No problem, just filter them out and focus on what's relevant for your SEO progress.

Do you have any orphaned pages?
From now on you can easily drill down on linking status. Are there any orphaned pages (opens in a new tab)? Quickly find whether a page is linked or not with this easy-to-use filter:

Facebook or Twitter markup? We've got it!
Are you using Twitter Cards or Facebook's Open Graph markup? Easily get an overview and search through all of it with the new Social-columns:

Create your own Pages-screen
In total we've added twelve new columns and we'll add even more in the coming weeks! To keep you from losing overview we've grouped them together, so you can easily find all the related columns in the same group.
To save you from information overload you can now easily manage the columns shown, selecting which ones should be visible and in what order.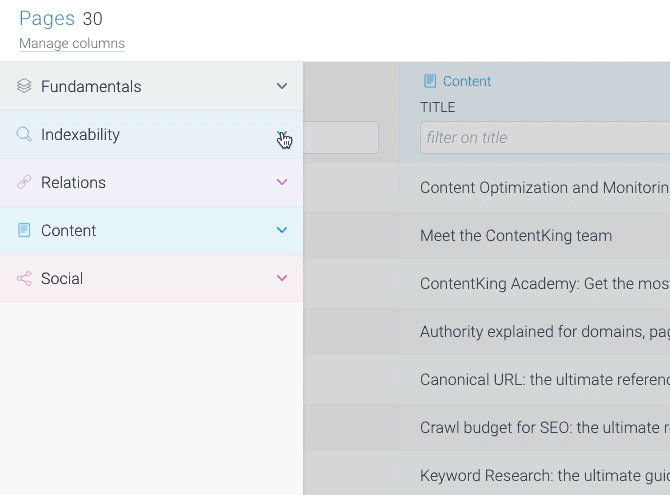 Make sure to try out this great new feature, it's immediately available to all our users.