You can now analyze your log files directly in ContentKing! Our new Log File Analysis feature reimagines how you work with log file data, making it both easily accessible and readily available.
Have a clear understanding of how search engines visit your site — without having to sift manually through the data yourself — so you can make data-driven decisions and valuable optimizations.
And as always with ContentKing, this all happens in real time.
See search engine activity across your entire site
Know when your site is visited by search engines and how often. Filter and segment to see:
Which pages are visited by Google or Bing the most?
Which indexable pages are Google or Bing not visiting?
Did Google and Bing already see the fresh content on pages that were recently updated?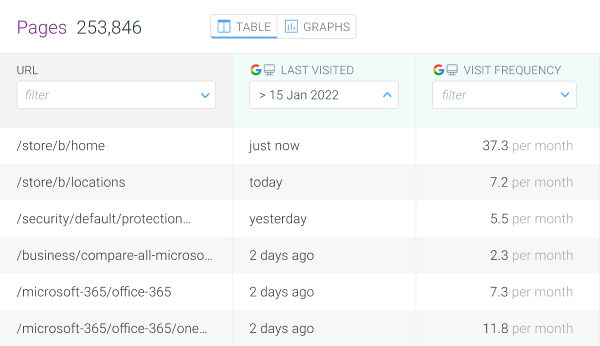 Zoom in on any individual page
Discover crawl frequency for any page on your site and use real-time data to learn:
When was Google and Bing's last visit and how often do they visit this page?
What is the frequency and pattern of Google's visits to this page?
Did Google already see the new content that's been added to this page an hour ago?
Track if, and when, changes are seen by search engines
With ContentKing Change Tracking, you'll be able to see if search engines have visited a page that was recently changed. Easily find out:
Did search engines already see the fix you've made?
Did Bing already visit the page that was just submitted to IndexNow?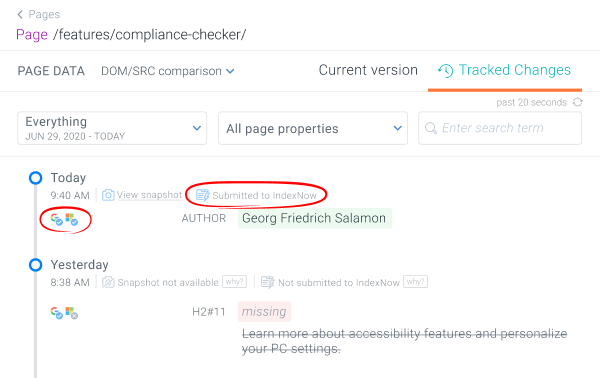 Sync your SEO efforts with search engine habits
On top of that, our Log File Analysis feature also gives you insights about how search engines crawl your robots.txt and XML sitemaps to help ensure that your site is crawled effectively and efficiently.
You'll have a reliable source of log file data that is quick and easy to understand, with an extra emphasis on security and privacy — and the best part is, you can get started right away!
Get started today
Log File Analysis is part of our Pro and Enterprise plan.
At this time, this feature is available only for websites on Cloudflare but will soon be available for any website.
Here's how to get started:
Create an API token in your Cloudflare account
Enter this token to a specific website in ContentKing
Want to learn more? Head over to our support article, or reach out to us if you have any questions.
Not using ContentKing yet? Do your website a favor and start your free trial right now!