Other
ContentKing Recognized as Leader in G2's Winter 2022 Report
For the first time, ContentKing was recognized in the Leader category in G2's quarterly reports.
This announcement has been much celebrated by our team, building on the momentum from previous G2 reports. Last quarter was the first time we were awarded in the Enterprise segment, as well as previous awards in the Small Business and Mid-Market.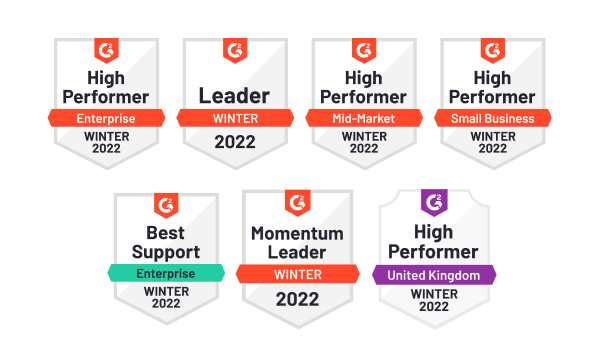 From our CEO
"It's incredibly humbling to be recognized as a Leader in the SEO category by G2! As a team we've focused relentlessly on delivering amazing value to the SEO community, and this is the validation for our efforts. Thank you to all our amazing customers, our dedicated team and everyone else who is helping us redefine how SEO is done."
Vincent van Scherpenseel. CEO

LinkedIn (opens in a new tab)
Award highlights
Along with being in the Leader quadrant, we have also received 7 awards overall.
Here's what we won:
Leader
Momentum Leader
High Performer, United Kingdom
High Performer, Small-Business
High Performer Mid-Market
High Performer Enterprise
Best Support, Enterprise
Users Love Us
G2 is the leading B2B software and services review platform for users, buyers, investors, and industry analysts. The quarterly awards by G2 recognize top software companies from around the world. See what our customers say on G2.
Thanks to our users!
As we grow, so do our interactions with customers.
It's the mega-threads on Twitter, the hellos at conferences (shoutout Brighton!), and the feeling of satisfaction when we get to tell you we implemented your feature request. We love it all.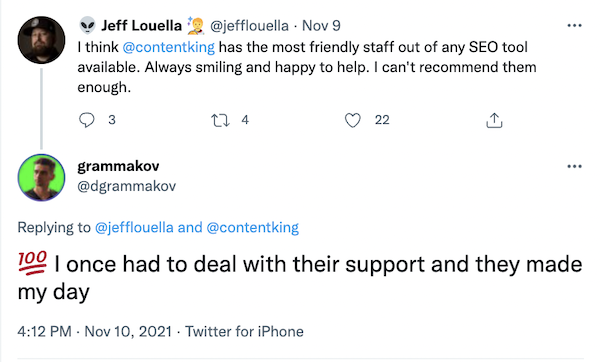 Thanks for being as into SEO as we are. Much, much more to come. Stay tuned.
See why SEOs love ContentKing!
Let Contentking monitor your website for any SEO issues in real time. Up and running in 20 seconds — no installation needed!