Other
G2 awards ContentKing with 7 Badges
We're excited to announce that in G2's Summer 2021 report, ContentKing earned a total of 7 awards across multiple categories!
These awards are not just a proud moment for our company and team, but also a representation of the hard work that got us here.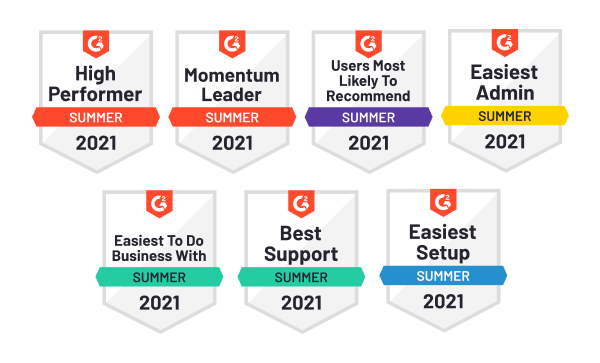 A word from our CEO
"Our mission is to empower digital marketers all around the world, regardless of their level of experience.
From the very start we've zealously focused on user experience, to make the complexity of SEO accessible to as many people as possible, without trading away accuracy.
SEO is such a knowledge-deep domain, with so many facets to it. Designing a platform that SEO novices and experts alike can extract value from is no easy task, and I'm incredibly proud of what our amazing team has been able to achieve.
These G2 awards are proof that this passionate focus about design and experience pays off. And it's proof that our customers, whether they work for small local businesses or large enterprises such as Netflix, H&M and Condé Nast, are getting the value they deserve."
Vincent van Scherpenseel. CEO

LinkedIn (opens in a new tab)
Award highlights
G2 is the leading B2B software and services review platform, featuring top software companies from around the world. The G2 awards rank companies based on real-user data from more than one million authentic, verified customer reviews.
Here's what we won:
High Performer
Momentum Leader
Users Most Likely to Recommend
Easiest Admin
Easiest to do business with
Best Support
Easiest Setup
Why our users love us (& why we love them)
While we're ready to celebrate, we can't do so without first thanking our awesome users.
We work day in and day out to create something that truly has value for those using it, and it's a good feeling to know that these efforts are appreciated. Our biggest thanks for everyone who has left us a review, it means the world to us!
Here's what our customers are saying about us on G2: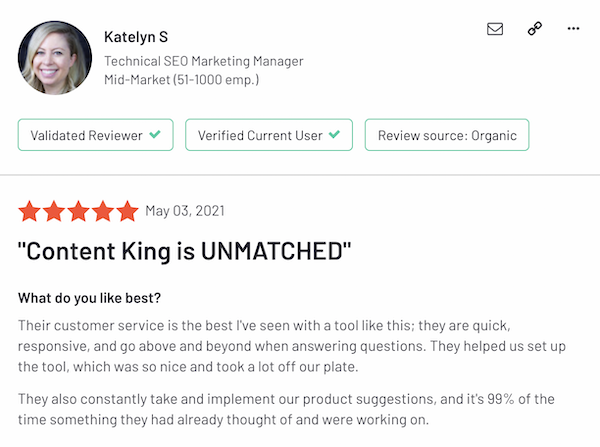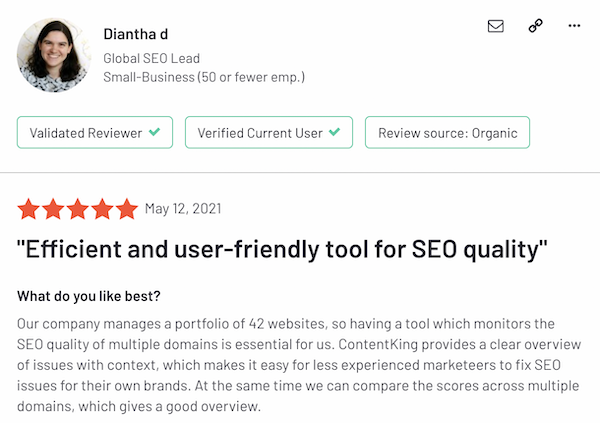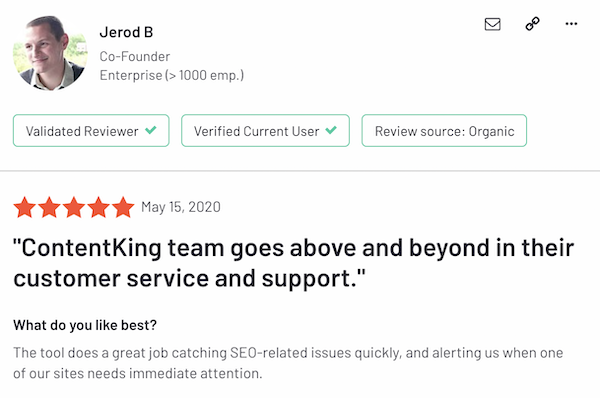 Thanks again for the support! Read more of our user reviews here.
See why SEOs love ContentKing!
Let Contentking monitor your website for any SEO issues in real time. Up and running in 20 seconds — no installation needed!