Other
ContentKing Earns G2 Enterprise Recognition and 13 Awards
We're excited to share that ContentKing has once again received top awards by G2 — earning a total of 13 badges across multiple categories in the Fall 2021 report.
And the excitement is even higher because it's our first time being awarded in the Enterprise segment! By working hard to offer more advanced features, along with emphasizing the customer experience, we've now reached recognition at the Enterprise level…all while still keeping our same High Performer status in Small Business and Mid-Market.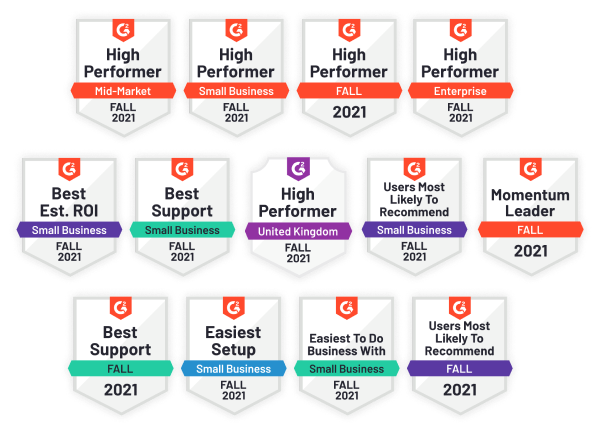 From our CEO
"From the very start we've been laser-focused on our mission: to build a best-in-class SEO platform, accessible to any organization serious about SEO. We're doing that through our unique real-time technology, combined with an unwavering focus on the user experience and top-notch customer support.
We initially concentrated on the SME segment of the market. But we soon started seeing traction in the enterprise space with customers like Netflix, Adidas, FedEx and many other global brands, and we are proud to count among our customer base today.
As we onboarded more and more enterprise-level customers, we quickly learnt that these large – often global – corporations have different needs.
We got to work addressing those needs by launching our Adobe Analytics integration, Data Enrichment API, organization management, and many other enterprise-specific features. We also designed our Customer Success and advanced training program, this was our way to even further reduce the time-to-value experience for our enterprise customers.
It's been an intense –but very rewarding– journey for us. Naturally, I'm more than proud to see the hard work of our team come to fruition by receiving such stellar reviews on G2, and being awarded the High Performer badge in G2's enterprise grid.
As we continue to disrupt the SEO auditing market with our real-time technology I want to thank all our customers who have been with us on this journey. Those who understand that the only way to win at Google's game is by playing it faster — and who keep us on our tip-toes with their unwavering stream of feature requests and suggestions."
Vincent van Scherpenseel. CEO

LinkedIn (opens in a new tab)
Award highlights
The quarterly awards by G2 recognize top software companies from around the world. G2 is the leading B2B software and services review platform for users, buyers, investors, and industry analysts.
Here's what we won:
Momentum Leader
Users Most Likely To Recommend
Best Support
High Performer
High Performer Enterprise
High Performer Mid-Market
High Performer, Small-Business
Users Most Likely To Recommend, Small-Business
Best Estimated ROI, Small-Business
Easiest To Do Business With, Small-Business
Best Support, Small-Business
Easiest Setup, Small-Business
High Performer, United Kingdom
Our biggest thanks you our users
Before we pop the champagne, we want to say thank you to all of our users!
We've set out to make a great SEO software, and awards like this are proof that our hard work is paying off. And there's plenty more to come from us.
But for now, here's what our customers are saying: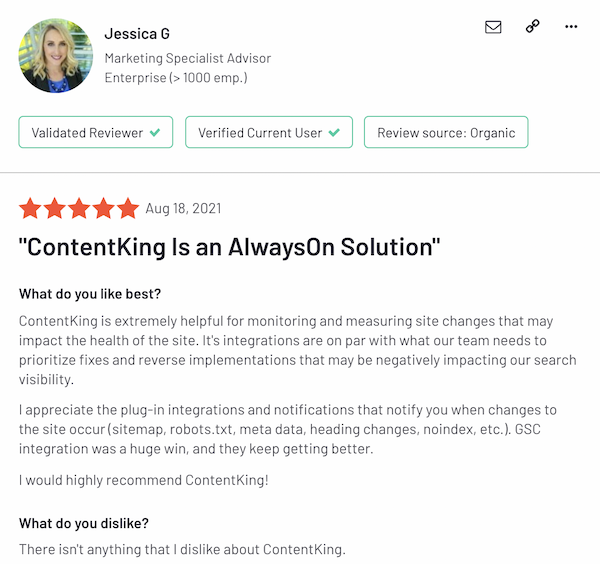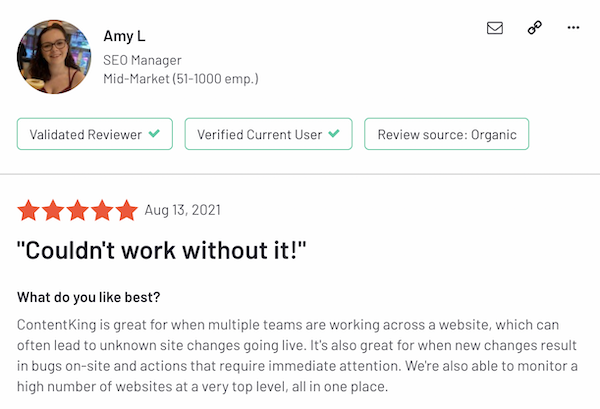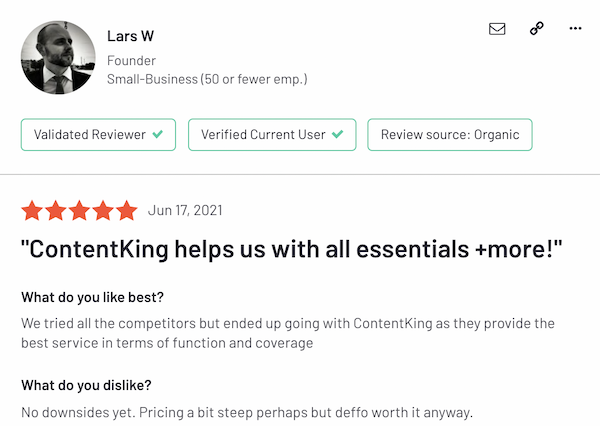 Thanks again for the support! Read more of our user reviews here.
See why SEOs love ContentKing!
Let Contentking monitor your website for any SEO issues in real time. Up and running in 20 seconds — no installation needed!