Are you using Data Studio for reporting? Whether it's for internal use or for your clients, now you can work with much more ContentKing data directly in Data Studio, all thanks to our expanded Data Studio connector!
Report on SEO issues
Keep track of SEO issues ContentKing found on your websites, by category or even by individual issue. For example: quickly check how many pages are missing a canonical URL, have a meta description that's too long or contain broken links.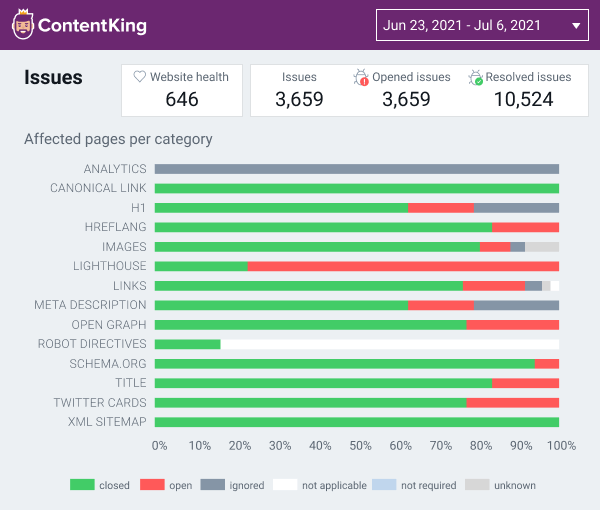 What's more, you can easily see how issues developed over time. Did yesterday's release break anything? Are we improving month-on-month? Our brand new Data Studio report has all the answers!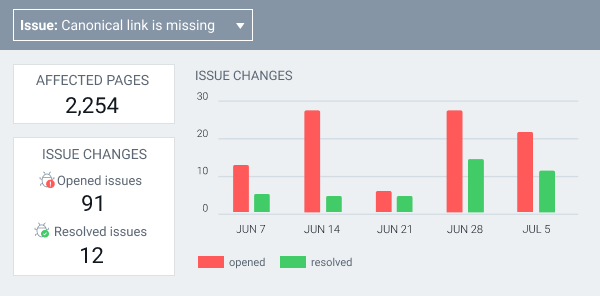 It's not all about issues: slice and dice on any page property
Apart from issues, you can easily slice and dice your data based on any page property. What portion of pages on the website is indexable? How many pages are available via HTTPS? How many pages are missing (4xx)? How many pages don't have a title? Our expanded connector makes it a breeze to report on these and many other page properties!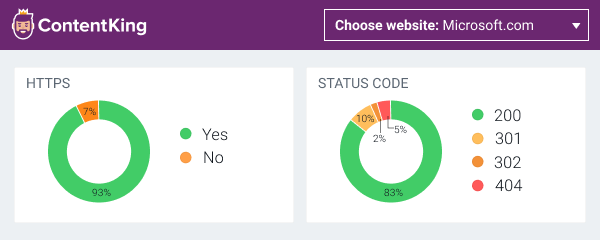 Lighthouse Web Vitals
You can also see how the pages on your website score on the Lighthouse Web Vitals! See what portion of pages have a Performance score that is good, needs improvement or is poor:

Switch between your websites
The new connector also makes it easy to switch between the websites in your ContentKing account:
Explore the new report template
We've put together a brand new report template (opens in a new tab) to help you hit the ground running with our expanded connector. Don't worry about information overload: we've divided it all up for your convenience.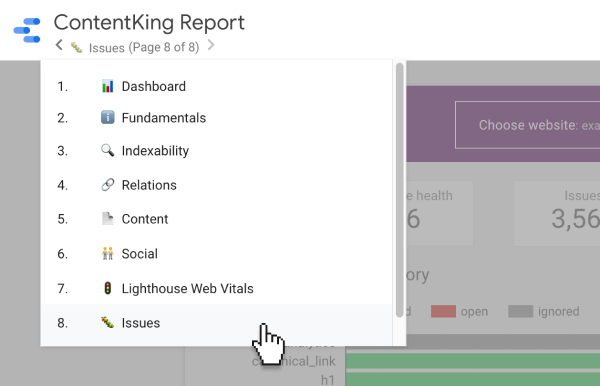 Check the expanded connector right now
ContentKing's Google Data Studio connector is available on our Pro and Enterprise plans. If you're on a Basic or Standard plan, you can try the Pro plan with this feature for free for 14 days. Check out our new report template (opens in a new tab) to see how it can speed up your reporting right now!
Set up the expanded Data Studio connector (opens in a new tab)
Need help setting it up? Learn more in our support article, or reach out to us if you have any questions.
Not using ContentKing yet? Do your website a favor and start your free trial right now!