Trusted by the best
Join 2,000+ customers like:
GET STARTED IN JUST 20 SECONDS
ContentKing is real-time
Unlike DeepCrawl, ContentKing is real-time. This means that whenever something changes on your website ContentKing notices it and takes action.
No more waiting for the results to come in while the full crawl is running. Simply make a change, switch into ContentKing and the results are there!
SEO is a 24/7 game. Search engines pick up on changes any time of the day. That's why your tooling should as well!
"Page titles were removed on 5,000 key transactional pages that were live and receiving a high amount of traffic. ContentKing rapidly alerted us, but this single incident could have cost upwards of $200,000!"
ContentKing does real monitoring
DeepCrawl
DeepCrawl claims to do monitoring, but in reality they don't. Instead, they support automatically starting a crawl, but this is not monitoring.
Crawling an entire website can easily take several hours if not days. Meaning that whenever something breaks, you will have to wait until the next crawl run starts. Can you really afford to wait hours or days?
ContentKing
ContentKing continuously checks your pages, relying on smart algorithms to determine when to check which page. Moreover, thanks to our easy-to-implement API you can easily include ContentKing in your publishing workflow. This means that whenever a change happens, ContentKing will check the page within a fraction of a second.
In today's digital world you can't afford to wait hours or days before being notified of problems. You need to know immediately to stay on top of the competition.
ContentKing tracks content changes
Ever been surprised by a clients or colleague making an unexpected change? Everyone has.
Well, with ContentKing you won't be. ContentKing is the only service on the market that tracks content changes, catching every minute change so that you're never surprised again. What's more, with ContentKing you search and filter all the tracked changes at the speed of light.
We all know that catching technical problems is important. But catching unwanted content changes can have an ever bigger impact! That's why you need to stay on top of your content.
We had several outages on Bitbucket.org and wouldn't have found out without ContentKing. That would have certainly cost organic traffic and business.
NEVER MISS AN SEO ISSUE AGAIN
You need to know before search engines know.
ContentKing provides actionable insights
We believe that SEO auditing can and should be automated as much as possible. That's why ContentKing provides actionable insights.
No more sifting through endless arrays of raw data, but immediately focusing your attention where it matters.
Your time is valuable and we believe it should be spent on advicing your stakeholders instead of doing tasks that a computer can do better.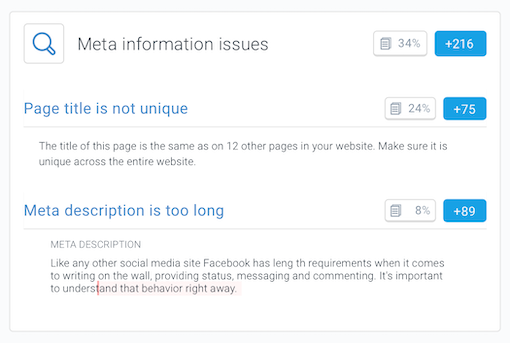 ContentKing pricing is flexible and affordable
Unlimited websites (pay only for pages)
Unlimited users for free
Adjust your plan at any time
We believe that a powerful tool like ContentKing should be accessible to any business, big or small. That's why we made our pricing as affordable and fair as possible.
GET STARTED IN JUST 20 SECONDS
A detailed comparison
| Feature | ContentKing | DeepCrawl |
| --- | --- | --- |
| Website auditing | | |
| Real-time | | |
| Monitoring | | |
| Content change Tracking | | |
| Actionable Insights | | |
| Pricing | Flexible | Rigid |
ContentKing is not affiliated with DeepCrawl in any way.
Trusted by the best
Join 2,000+ customers like:
Start your free trial
Get up and running in 20 seconds
No credit card required
No installation needed
No strings attached