Issue Configuration
ContentKing's auditing suite comes with a default configuration for each Issue. The default test parameters are based on industry surveys and best practices within SEO, and are therefore universally valid. However, if you are a power-user and want to gain full control over the test parameters used by ContentKing, you can use Issue Configuration.
Issue Configuration allows you to fine-tune ContentKing's test parameters to your needs. Thanks to this feature you can get even more relevant and more personalized reports about the issues present on your website.
What Issue parameters can be configured
The Issue Configuration allows you to adjust the following parameters:
Required on – defines the scope of the issue
Length units – you can switch between pixels or characters
Minimum length
Maximum length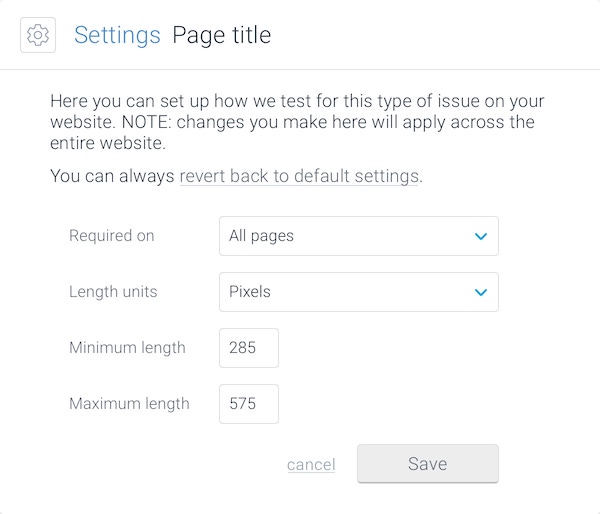 By nature, not all of the above-listed parameters are relevant for all Issue types. For example, Length units, Minimum length, and Maximum length are relevant to content-related issues like Page Titles, Meta Description, Content Headings, Twitter Cards, and Open Graph.
However, they are not relevant to the other Issue types like Links, Images, and Canonical links.
There are also Issue types for which the Issue Configuration is not available. This applies to Issues related to:
Domain
Robots.txt
XML Sitemap
Analytics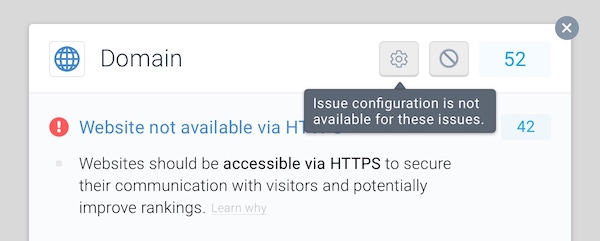 Example use cases
If you are still trying to understand how Issue Configuration could work for you, we have a couple of examples that might help you figure it out:
Meta Description
As we explained in our last year's blog post, Google enforces different meta description lengths in different markets. If you feel that ContentKing's default length settings don't fit your website's audience, you can now easily set custom lengths. ContentKing will then follow these new minimum- and maximum-length rules and audit your website accordingly.
Canonical Link
By default, ContentKing will only test Canonical Link Issues on indexable pages. However, you might want to make sure you got the canonicals right on the non-indexable pages as well.
Using the Issue Configuration, you can change the Required on parameter to All pages. ContentKing will now test Canonical Link Issues on both indexable and non-indexable pages.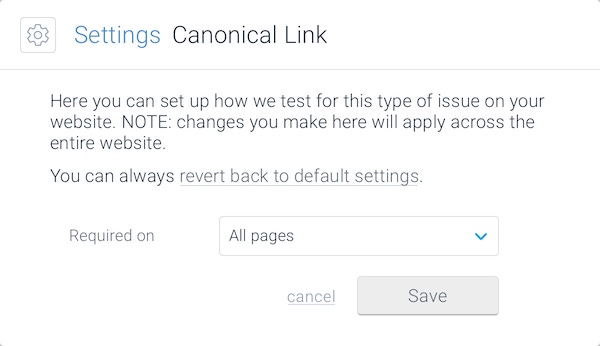 How to configure issues
Changing the issue configuration is simple:
Who can use Issue Configuration
Issue Configuration is available for users on the Standard, Pro, and Enterprise plans.
If Issue Configuration isn't available under your current plan, you can go for the free plan upgrade trial, which allows you to try and use our premium features for two weeks in your account.