Other
Our article about Biden's changes to the White House website went viral. Here's what happened next.
A few months back, we wrote an article on the transformation of the Whitehouse.gov website following the inauguration of President Joe Biden. We speculated that going from one president to another was likely to have a big impact on the site so when we started receiving alerts for increased activity, we began analyzing all the changes and updates as they unfolded. It turned out, we were right about that impact.
Our platform tracked every change in real-time, without this we would never have known the full-extent of what we described as a "seismic shift" on the site. And while we really had no expectations for what we would find, we had plenty to write about in the end.
Maybe it was human interest in the election, maybe it was genuine excitement for top-notch SEO monitoring…either way, this article proved to be a success almost immediately.
Now we want to share with you everything that's happened since. We'll hold nothing back in recounting how the article came to be and the traffic and buzz it generated — and also the recent noticeable improvements on the site by the White House team, ones that we'll happily take credit for 😎
Recorded changes on the White House website in brief
Short recap: massive changes occurred on the website during the transition from the Trump administration to the Biden administration. And when we say massive, we mean it — the site went from 11,500 pages to just around 250 pages almost overnight.
Starting with a clean slate, the Biden administration implemented a new information architecture to make the site more hierarchical and organized. Some of the key changes included:
Consolidation: the new website rearranged content into sections and related sub-sections. For example, there's now one single place where you'll find news — in the /briefing-room/ section.
Less is more: as part of the consolidation, entire sections were removed and redirected. For example, instead of having 15 different sections for issue-related topics, the new website removed these and redirected to /priorities/ so that all issues were listed on a single page, with the exception of a COVID-19 sub-page.
Future-proof: URLs were restructured so that they are more evergreen and can be re-used by future administrations. For example, the URL /the-trump-administration/ now redirects to /administration/.
24/7 Monitoring and alerts when things go wrong
No more worrying about unexpected changes — let go of the stress.
On top of that, the new website included some noteworthy additions.
Spanish version of the site: "La Casa Blanca", was brought back with a link added to the top-right corner and 41 new pages published in Spanish.
Prioritized accessibility: with new "dark mode" and font size settings, as well as

an accessibility statement

(opens in a new tab)

with the aspiration that "…all functionality and all content is accessible to all Americans".
As with any new site — even that of the White House — there was still room for improvement. So we offered our suggestions throughout the article, which we'll come back to in a little bit.
What we invested and what it lead to
We spent about a day analyzing and writing about what happened. Then we spent about another day promoting it — a healthy ratio every content marketer should strive for.
And of course we had ContentKing monitoring the White House website for science, which lucky for us wasn't a signficant investment, as our platform routinely monitors billions of URLs around the clock.
We knew the SEO community would appreciate our article, but we never expected it to take off like this!
First wave of social media shares
First came the social media upswing. With 91 Facebook engagements and 84 Twitter shares, our article began to really generate interest.
Google Discover
Then, we got a little help from Google. As a result from the interest generated on social media, the article was featured on Google Discover and was then being suggested to users from completely new audiences beyond our normal reach.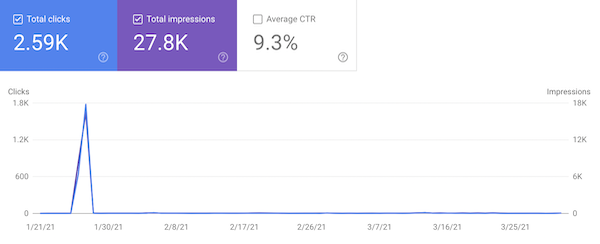 Within 24 hours of the article being published, Google Analytics tracked 5,539 sessions and 4,972 new users. A steady amount of traffic (44%) came from the Google Discover feature. Other traffic came primarily through social media channels like Twitter (29%), Reddit (11%), LinkedIn (9%), Facebook (5%) and GrowthHackers (2%).
But as they say: easy come, easy go. Traffic quickly declined to almost no visitors in the days following and just like that our 15-minutes of SEO-fame began fading away.

We'll be completely transparent in saying that this article wasn't our golden ticket to overnight success. Despite a lot of people coming to our site to read the article, we didn't see the same spike in conversions as we did traffic — so unfortunately, no hundreds of trial sign ups.
But there were still plenty of positive outcomes that we were excited to see! Some that stand out to us:
Brand visibility within the SEO community: in no-time, our article went viral within the SEO community. This was yet another moment for people to see us. Hard to quantify, but oh-so-important.
New audience: through Google Discover, we reached a whole new audience that likely didn't know us yet.
Capabilities of our platform explained: those that didn't yet know what our platform does, learned about that while reading a casual article about a topic they were following already.
The article stuck with people: in the weeks that followed especially, but even now, people still bring up the article when we talk to them. It really stuck with them. While it's hard to quantify, there's definitely value in that.
Recognition: our article was featured in several industry newsletters, received two dozen links and we built a lot of new connections through social media.
And the response from the White House
We not only had plenty of people read our article, we even had a few special readers take our advice:
Based on our recommendations, the web team responsible for the White House website actually made some improvements 🥳

Some were quick fixes, like linking the White House logo on the 404 Page to the homepage or fixing broken links on important pages:

Others were more technical in nature, such as the improvement to the hreflang setup. Initially, the hreflang value (opens in a new tab) for the Spanish content was es-MX. This means those pages were targeting Spanish speakers within Mexico, rather than all Spanish speakers living in the US or across the globe.
Fast forward to a few months later, we receive a ContentKing alert that the hreflang value was changed to our suggestion of es-US:

If anyone on the White House team is reading this; we're glad to see that you're continuously making improvements to the website. If you're interested in taking the SEO Quality Assurance process to the next level — our initial offer still stands. Reach out to us through the support chat on the bottom and we'll provide you with a free ContentKing account.
Don't wait four years to notice website changes
Gain insight in what changes were made, and when!
Key Takeaways
There's plenty of reasons this article took off the way it did.
It seized on the timeliness of the inauguration buzz. It contributed a fresh perspective for those in the SEO niche. And to a large extent, it supplied yet another piece of content to those absorbed in the frenzy that accompanied the US Presidential election.
Looking back, we think we could have made some adjustments so that the article appealed to those beyond the SEO world and more into the mainstream media, earning us coverage and links there. But this would have been a noticeably different article focusing on website content and design changes, rather than just SEO-related issues.
This has been fun, we'll see you in four years 😉