The Beginner's Guide to SEO
Search Engine Optimization (SEO) refers to all activities aimed at driving quality traffic to a website through organic search engine listings. To perform well, your website needs to:
be search engine friendly
have valuable content
bear certain authority and trust through links from other websites
Got that all sorted? Then your website's SEO performance will go through the roof!
SEO in a nutshell
In this beginner's guide to SEO we'll walk you step by step through the process of SEO-optimizing your websites. After reading this guide, you'll be able to start optimizing websites for more organic traffic by yourself. By organic traffic, we mean traffic that you haven't paid search engines for.
Let's take the query "buy t-shirt online." The section marked in green comprises the unpaid listings. These listings are what we're aiming for with SEO. The section marked in red contains advertisements. Advertising in Google is done through Google AdWords.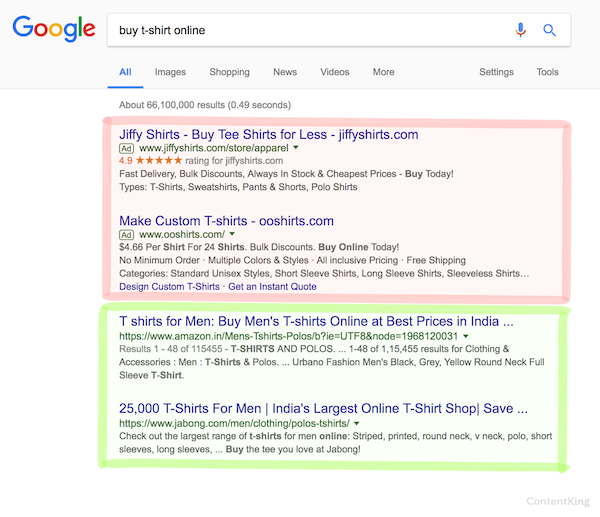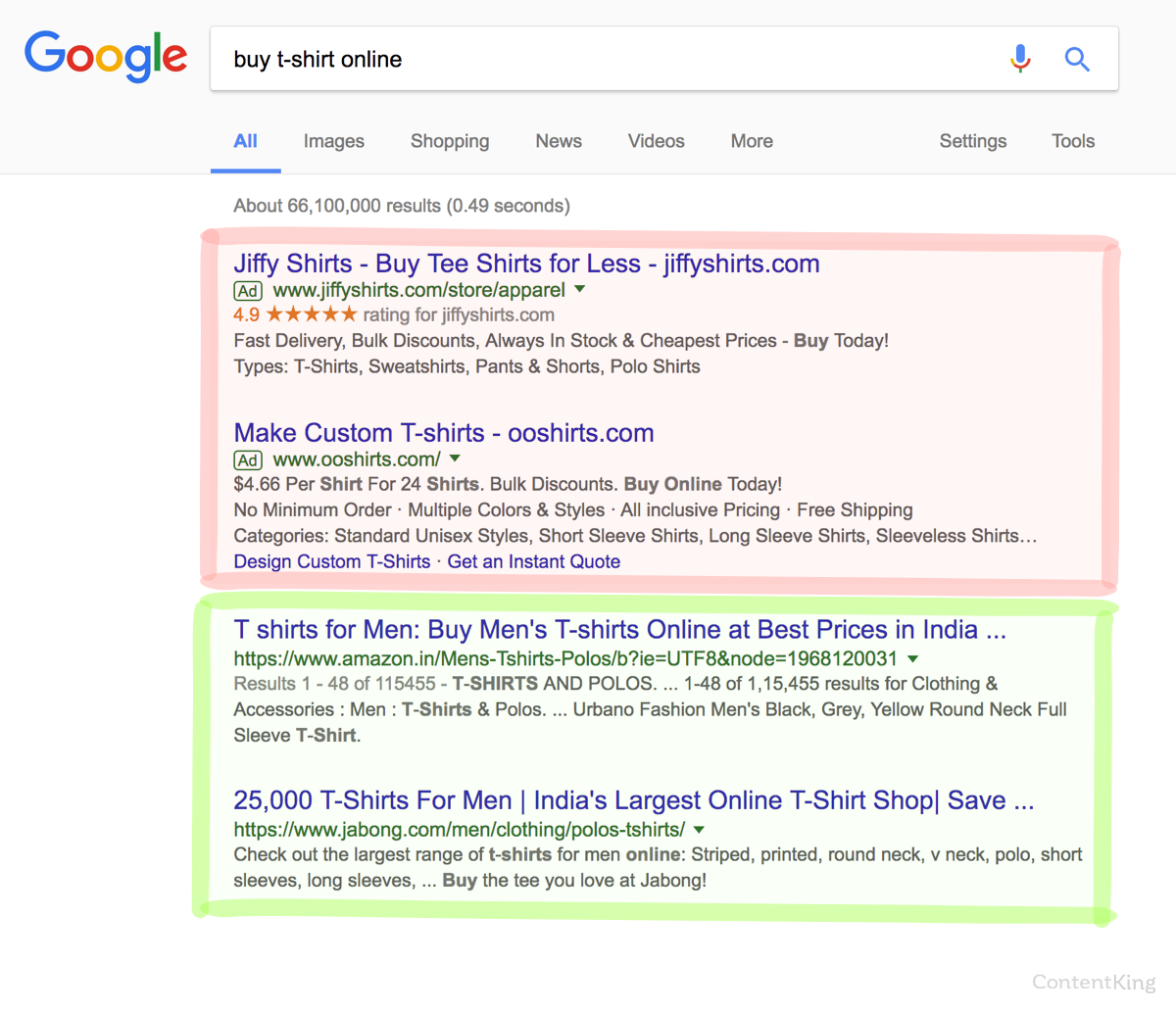 Throughout our SEO beginners' guide we'll be using "Google" and "search engines" interchangeably for the sake of convenience.
What is SEO?
SEO stands for Search Engine Optimization. SEO comprises all activities aimed at driving quality traffic to a website through organic search engine listings. Quality traffic means visitors that are highly relevant to your business.
How SEO works in a nutshell
In order to understand how SEO works, let's first take a look at how searching in Google works.
You ask and Google answers. When you type in a search query, Google answers it by returning the pages that it deems relevant.
Let's stop for a moment and think about that: how does Google know what pages to return, and in what order?
In order for Google to be able to return these pages, Google needs to know they exist, what they're about, and how popular they are.
Don't miss out on organic traffic
Can search engines find your page? Monitor and track your site in real-time with ContentKing.
What does it take to perform well in SEO?
In order for your website to perform well in SEO, it needs to
be search engine friendly
contain valuable content about topics that you want to rank for in search engines
bear authority and trust through links from other websites.
Where do these SEO requirements come from?
Search engines value what website visitors find important and try to capture that in their algorithms.
Give SEO time. Put in the work.
SEO success doesn't just happen overnight. SEO requires patience, persistence, and a lot of hard work. SEO is also never done; search engines are constantly tweaking their algorithms, and your competitors are constantly trying to outmaneuver you.
"Are there no shortcuts?" you may ask yourself.
There are SEO tactics to cut corners (often called black hat SEO) and get results fast, but we'd never recommend them, because they won't make for a sustainable SEO strategy. What works today may hurt you tomorrow when search engines catch up.
A search engine friendly website
Alright, so the first step towards SEO success is making sure your website is search engine friendly. But what does this mean? It means search engines should be able to find and access your pages easily.
Is your website search engine friendly?
Can search engines find your page? Use ContentKing to run a quick audit.
Help search engines find your pages
Search engines have so-called "crawlers" that are constantly searching the web for pages. They find pages by following links and parsing XML sitemaps.
Links
Make sure that all pages within your website are linked to. Otherwise search engines have a hard time finding your pages and assigning popularity to them. Link to your top pages the most, and keep in mind that links from topically related pages contribute more to topical relevance than links from irrelevant pages.
XML Sitemaps
An XML sitemap is a specially formatted file containing all of the pages that you want search engines like Google to index. XML sitemaps are only used by search engines. To prevent having to manually update your XML sitemap after changes, make sure it is automatically updated after each change.
Help search engines access your pages
Search engine crawlers don't see pages the way humans do. They look a page's source code to determine what it's about. So avoid relying entirely on images, frames, and JavaScript to build up your pages, because these don't provide the same context as regular text does.
Although Google executes JavaScript, it's a very inefficient way for search engines to make sense of a page. Generally, HTML-based pages will perform better than their competitors that heavily rely on JavaScript.
A clear URL structure
Choose one structure for your URLs and stick to that structure. Keep URLs as short as possible and make sure they are meaningful for users. Doing so improves the user experience and helps you prevent duplicate content issues.
Here's an example of a good URL:
And here's an example of a bad URL:
Which one would you rather click on?
Check if your URL structure is set up correctly
Get a second pair of eyes. Quickly check your site's URLs with ContentKing and see what can be improved.
User experience
User experience plays a growing role in SEO. It just makes sense: if visitors don't have a good experience on your website, then why should Google grant you top positions?
We all love fast loading websites, so make sure your website loads fast as well. Ideally your website should load in under 1 second, but under 2 seconds is still acceptable. The faster the website loads, the better your conversion rate will be. In fact, Amazon found that their revenue increased by 1% for every 100ms of decrease in load time.
We all hate websites that are hard to use on mobile devices, so make sure your website is mobile-friendly. If you're unsure about your website's mobile usability, check out Google's mobile-friendly testing tool (opens in a new tab).
Go easy on the popups and ads. When visitors come to a website, they arrive with a purpose. They won't appreciate distracting popups and ads. This will lead to a bad user experience and may very well result in lower positions in Google.
Valuable content
The second thing that you need in order to rank for keywords for given topics is content that's about these topics in the first place. The content also needs to be valuable to visitors and optimized for search engines.
Valuable content will let you meet business goals such as visitors contacting you for more information, as well as more SEO focused goals such as gaining links and social shares.
When we speak of content that's optimized for search engines, we mean that it's clear to search engines what your content is about and what keywords you should be found for.
But – what keywords are those?
Keyword Research: find keywords of interest
Every SEO strategy starts with figuring out what keywords you want to rank for. Without knowing these keywords, you have no way to optimize your website for search engines. The process of researching what keywords are of interest for a business is called Keyword Research.
Where does the Keyword Research process start? Your company has certain goals it wants to achieve, and your SEO strategy needs to support these. You also have a target audience. Let's focus on them:
What keywords does your target audience use?
What intention do they have when searching for a given keyword; are they looking to buy or just looking for information?
Do people actually search for those keywords?
Is it realistic that you'll rank for those keywords, considering the competition?
All of these questions are answered during the Keyword Research phase. Its outcome is the list of keywords that you're going to incorporate in your website.
Keyword Strategy: incorporate keywords into pages
Your Keyword Strategy describes exactly how you're going to incorporate the keywords you came up with in the Keyword Research phase. Doing so helps search engines to better understand what keywords they should rank a page for.
First you map keywords to pages based on relevance. If you're targeting a set of keywords with a similar meaning, then map them to the same page. Also take into account the fact that keywords with a lot of competition need to be mapped to strong pages within your website. Your homepage is a great example of a strong page.
After you've mapped the keywords to certain pages, you define where to incorporate the keywords within those pages. As a rule of thumb, pages with little content can only be optimized for one or two keywords. Pages with a lot of content, say more than 500 words, can often be optimized for 5 to 10 keywords.
So, where do you incorporate the keywords?
The most important places are in the meta information, headings, body content, and links.
Meta information
When we're talking about meta information for SEO, we mean the title tag and meta description. In the screenshot below, the title tag is marked in purple, and the meta description in yellow.

Title tag
The title tag has long been one of the most important factors in search engines' algorithms. The title describes a page's main topic in one short phrase. The title tag looks like this:
It's shown in browser tabs, but more importantly in search engine result pages, or SERPs for short. These results each show brief page info: the "snippet." To ensure that search engines show the title you've defined for a page, make sure it's relevant for the page, unique within your website, and between 30 characters (285 pixels) and 60 characters (575 pixels) long.
Meta description
The meta description describes a page in one or two sentences. It should describe what visitors can expect on a page.
Although the meta description isn't a factor in search engine algorithms, it plays an essential role in getting visitors to click on your snippet in the SERPs. Therefore it's important that you craft your meta description carefully. The meta description looks like this:
To ensure search engines show the meta description you've defined for a page, it should be: relevant for the page, unique within the website, and between 70 characters (430 pixels) and 150 characters (920 pixels) long.
Headings
Headings are used to visually indicate a hierarchy and help visitors quickly scan a page. Headings play a role in search engines' algorithms. Including keywords in your headings contributes to the rank for these keywords. There are six heading levels: H1–H6. An H1 heading looks like this:
If you haven't defined a page title, or if search engines haven't found your title to be relevant enough, they may show the H1 heading for a page as the title in the snippet.
H1 headings should be relevant for a page and unique within your website. While you shouldn't use more than one H1 heading per page, it is fine to to use multiple H2-H6 headings, as long as they support the page's visual hierarchy. The H1 heading should be the largest heading on a page, then the H2 heading, then the H3 heading, etc.
Body content
By body content, we mean the visible content on a page. When writing this content, apply the inverted pyramid approach (opens in a new tab). This means you start with the most important information first and then continue with the rest. As a rule of thumb, make sure a page contains at least 200 words of body content.
Furthermore, keywords shouldn't be driving your choice of words. Focus first on the readability of your text. Don't over-optimize your content by stuffing keywords; if it doesn't fit, it doesn't fit. Over-optimizing may hurt your rankings, and it causes visitors to leave.
Internal links
Links pass on authority and topical relevance from one page to another. This goes for links from within the same website – called internal – as well as for links from outside a website – external links.
If you want to rank with a page, you need to first make sure that page is getting as much authority and topical relevance as possible from your other pages. Your homepage is a great example of a page that carries a lot of authority. A page acquires topical relevance when it's linked to from topically related pages using anchor texts describing the topic.
Structured markup: help search engines understand your content
While search engines make their own efforts to determine what type of content is on a page, you can help them with this by adding structured markup. Structured markup tags are strong clues for search engines about content types. Some examples of content types are articles, courses, events, vacancies, and recipes.
Optimized Sites = More Organic Traffic
Don't miss out on potential traffic and revenue. Improve and monitor your site's SEO with ContentKing.
Authority and trust
The third and final pillar of SEO is authority and trust. But it's not third in importance. In fact, authority and trust have the biggest impact on your SEO success.
Authority is basically "SEO power". The more authority the better. Authority is gained through links from as many websites as possible, as well as from authoritative websites.
Trust is earned by sticking to search engines' guidelines and by gaining links from trustworthy websites.
It should be clear by now: links play a vital role in SEO success. That's not just because they pass on authority and trust. They also pass on topical relevance. A relevant link is a link from a page that's about the same topic. Meanwhile not all links are created equal. For example, a link in an article from a news website will typically pass authority and trust, but no relevance.
Link building tactics
Activities centered on gaining links are called link building. Link building is about understanding what makes people tick. If you figure that out, you'll be able to gain links that pack a punch.
Your website won't get many links naturally. You can't just publish your content, sit back, and wait for people to link to it. It doesn't work that way. You need to help them find it first.
Reaching your audience with your content is very hard. As a rule of thumb, you should spend as much time promoting your content as you do creating it.
How does content promotion work?
You need to give people an incentive to share and link to your content. If your content is amazing, the only thing you need to do is make people aware of it. The incentive for them to share it or link to it is because they want to be associated with it.
We can't all be #1, so your content is probably good, but not amazing. Thus getting links will require a lot of hard work. We recommend checking out the 12 link building tactics to get people to link to you for inspiration to make sure you can build up links to your content.
Conclusion
To be successful at SEO, your website needs to be search engine friendly, offer valuable content to your visitors, and have authority and trust. You need to work on all three aspects, and for example having great content but no links pointing to it won't cut it. If you don't fire on all cylinders, the return on investment for your SEO efforts will be very disappointing.
Put in the work, and don't lose focus of what matters most in SEO: your visitors.