Looka is an online logo maker and brand identity designer that uses machine learning and artificial intelligence to design custom logos and assets for startups, entrepreneurs, and small businesses. With a team of 40+ developers, designers, customer support reps, marketers and engineers in their Toronto-based headquarters they strive to make great design accessible for everyone.
The challenge
Looka recently rebranded from Logojoy and introduced a new domain name for their website along with the rebrand. As part of the website migration the team at Looka encountered difficulties with their 301 redirects and quickly realized they need a solution to monitor their overall SEO health in real-time.
Apart from improving and maintaining their SEO health Looka wanted to improve their productivity and response times. Up to that point Looka had been using a spreadsheet to manually keep track of on-page changes, which was both error-prone and resource intensive.
The solution
Elijah-Blue Vieau, SEO Manager at Looka, came across ContentKing and quickly realized this was the solution they were looking for. The manually updated spreadsheet immediately made way for ContentKing's automatic change tracking feature.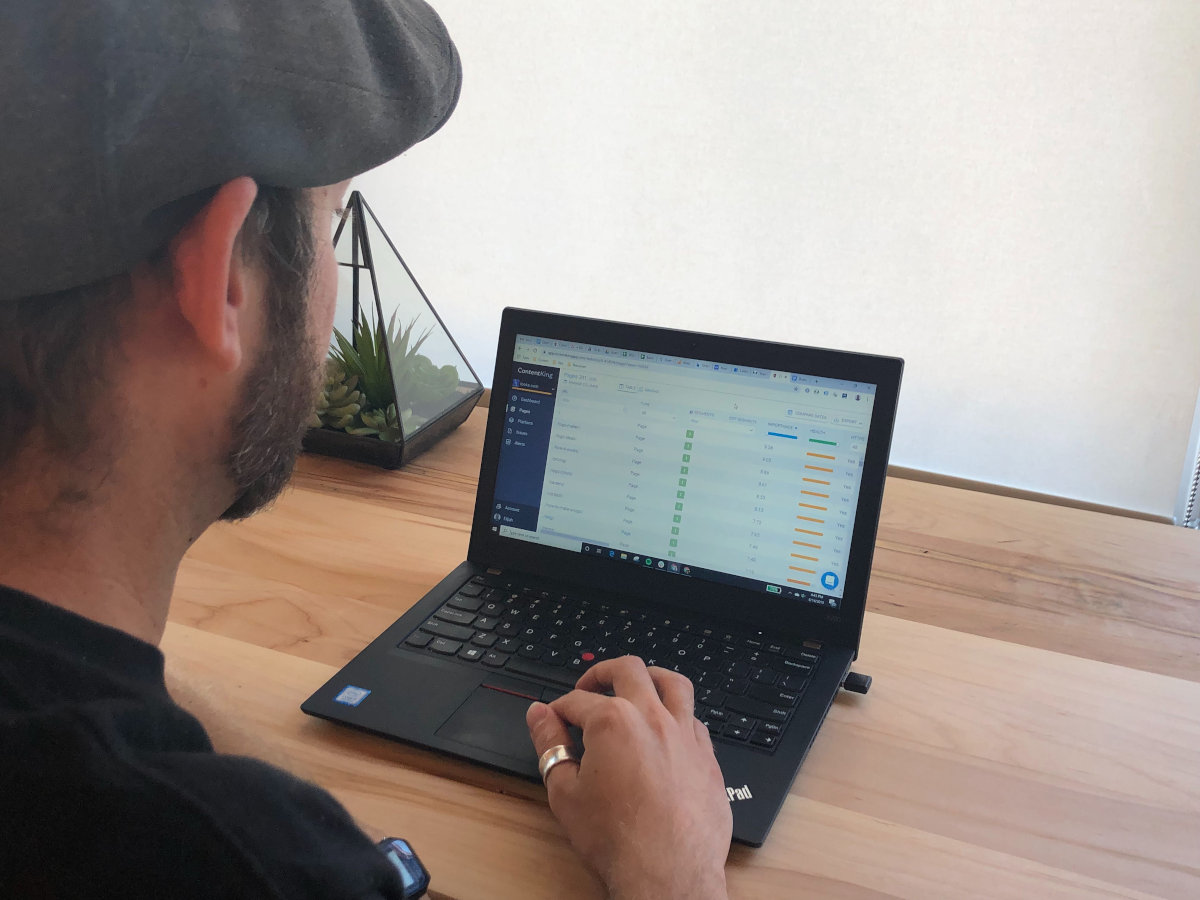 Getting started with ContentKing was super easy, and the team at Looka quickly set up the integrations with Google Search Console and Google Analytics, to make key performance indicators visible directly in ContentKing.
Quality control is what we needed, and quality control is what we now have with ContentKing.
Next, the team set up ContentKing's Slack integration, which delivers SEO issue and content change alerts directly to their team on Slack. Using a dedicated Slack channel ContentKing connects the SEO and the development team, leading to a dramatic decrease in response time when dealing with technical SEO issues.
Within our SEO process, ContentKing serves as our real-time auditing and alerts system. It connects our SEO and development teams with a log of all critical changes rolled out on the website, and ensures if something goes wrong, we all know about it.
Finally, the team is continuously optimizing their website to increase their overall SEO health using the issues automatically flagged by ContentKing.
The results
Thanks to improvements made based on issues reported by ContentKing Looka has been seeing a steady increase in search visibility. That search visibility is further maintained thanks to the automatic quality control process that ContentKing's monitoring introduced.
Thanks to the Slack integration Looka has increased collaboration within their team and significantly improved turn-around time:
Using ContentKing with Slack has decreased our technical response time by over 70%, ensuring SEO issues get resolved quicker. The ability to fix issues before they harm our website performance is crucial.
Also want to boost your team's productivity by 70%?
Don't wait: start your ContentKing trial right now!