Senior PHP Engineer
With us, you won't be writing another average website or web app – instead, you'll be designing, building and operating our perpetually-running monitoring engine and suite of surrounding systems. Not only will you have a direct hand in the product, you contribute towards further improving the scalability of a fast growing startup.
🇨🇿 Mluvíme i česky
Although this vacancy is in English, most of our team speak both English and Czech.
What is ContentKing?
ContentKing is a website monitoring service used by digital marketers around the globe. For customers like Netflix, Shopify, Adidas, and Fedex, we monitor their websites 24/7, keeping track of any changes and alerting them whenever anything goes wrong.
Trusted by 5,000+ digital marketers at companies like:
The Challenges
Being an engineer at ContentKing comes with a multitude of challenges:
ContentKing monitors sites with millions of pages and maintains an index with a huge amount of data that is constantly being updated.
Being a monitoring service, we have a strong focus on high availability and redundancy to minimize the risk of downtime.
We have a constant stream of new trial accounts coming in, and this requires our platform to support rapid scalability.
We deal with a vastly versatile data set: the web is very unstructured and comes with many challenges.
We are seeking someone to take on these battles with us.
Our Culture
If you're looking for a job where you get specs and then mindlessly jam out code, this won't be it.
We're a small team, so working at ContentKing means contributing to the product on a conceptual level as much as contributing to the codebase.
That's why every team member takes a lot of ownership, and we have a culture that's all about transparency and data sharing:
Want to know what features customers are requesting?
→ Check feedback and feature requests on Productboard.
Interested in seeing what users are reporting to Support?
→ Check Intercom or the #support channel on Slack.
Eager to know our business metrics, such as revenue?
→ Check Geckoboard on any of the screens in the office.
Have ideas how to improve the product or our processes?
→ Share them, and you'll likely see them get implemented.
Being an engineer at ContentKing means being part of a tightly knit team of people passionate about product.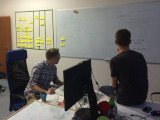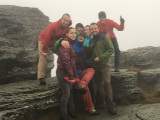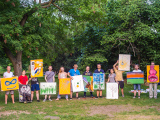 Our Craft
Our codebase is our crown jewel, and we take great care of it.
That's why we value:
Independent modular architecture,
Continuous refactoring to keep the code ready for changes (and simply a pleasure to work with), and
Iterative revisiting and polishing rather than rewrites.
Updates to our monitoring engine get released daily, while it runs 24/7 as an orchestra of connected subsystems.
On top of industry standards like Sentry and ELK, we invest in our own diagnostic tooling and measurements. The ability to monitor systems' performance on dedicated Grafana dashboards has proven invaluable to us.
We develop in swift cycles – not only to quickly respond to customer feedback, but also to continuously reflect on our processes and priorities. We employ PhpStan and a suite of automated tests to cover our back. We read and review each other's code both on GitHub and on-screen.
Project sponsorship
ContentKing is proud to sponsor the Nette PHP Framework and PHPStan projects.
Requirements
We are looking for colleagues who feel comfortable challenged by the above description and meet the following requirements:
Have 3+ years of experience with PHP,
Have 3+ years of experience with SQL,
Be familiar with modern design patterns,
Have the ability to clearly reason arguments, and
Be able to communicate in English.
Having experience with any of the following is a bonus:
Go
Elasticsearch
Graph databases
PHP in CLI
GraphQL
Message queues (RabbitMQ, Kafka)
Application architecture design
Our Interview Process
The interview process consists of three steps:
First interview, meeting our PHP engineers
The purpose of this meeting is to get to know each other's backgrounds and experience. We share our challenges and ways of working, and would love to get your thoughts on that.


Lukas Brecka

.

Backend Engineer

View profile

LinkedIn

(opens in a new tab)

Vojtech Dobes

.

Lead Engineer

View profile

LinkedIn

(opens in a new tab)

Second interview, meeting our Product Manager
As you will work closely with them on the product, it's essential that you get to know each other, and for both sides to see what it's like to work together.


Veronika Martosova

.

Product Manager

View profile

LinkedIn

(opens in a new tab)

Vojtech Dobes

.

Lead Engineer

View profile

LinkedIn

(opens in a new tab)

Third interview, meeting our CEO
In the third and final meeting, you will meet our CEO to discuss the contractual details and compensation package.


Vincent van Scherpenseel

.

CEO

View profile

LinkedIn

(opens in a new tab)

Vojtech Dobes

.

Lead Engineer

View profile

LinkedIn

(opens in a new tab)
What We Offer
First and foremost, we offer a position that's full of interesting challenges and opportunities to learn.
Secondly, we offer good conditions:
Work at a fast-growing SaaS startup – building a platform used daily by customers like Adidas, Netflix, and FedEx.
Full-time employment, 25 vacation days and additional perks.
Monthly salary of 80,000 - 100,000 Kč, based on your skill and experience.
A Macbook Pro laptop.
A personal development budget of 10,000 Kč per year for conferences, books and online courses.
A Vodafone mobile subscription with unlimited calls, text messages and data.
Collaboration with the eager go-getters building our global SaaS solution.
A road to a wealth of knowledge about digital marketing, SaaS, and what it takes to make a startup succeed.
A comfortable office in the city center of Brno (Masarykova street) with a fully stocked kitchen.
Weekly lunches with the whole team, paid for by the company.
Are you ready for your next challenge?
👉 Apply now by sending us an email or filling out this form (opens in a new tab)!
Ready for your next challenge? 🚀
Join our team of highly driven people passionate about product and building a scalable company.
Email us or fill out the form 👇